On April 1, Gotham Gazette held an online chat with Benjamin Miller, author of Fat of the Land, Garbage of New York, the Past Two Hundred Years.
---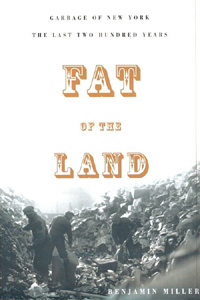 Gotham Gazette:
How did you become interested in garbage?
Benjamin Miller:
I came to garbage by a strange route, although all routes into garbage may be strange. I started out in anthropology: urban, ecological anthropology. I was interested in the planning process, and what it tells us about the way our society functions. I wanted to find a dissertation topic that would allow me to get inside a case study of an infrastructural planning decision -- and I ended up working for the Sanitation Department.
Once I started working in garbage, I found, as an anthropologist, that it was especially fertile ground because of our cultural blinders. It's something that we don't care to think about or examine closely, so it was at once something that hadn't been looked at before. In fact, when I spent years doing archival research, poring through old ledgers showing how much garbage had been picked up and where it had been taken, and things like that, I was quite certain that no one had ever opened those documents before. Because people don't pay much attention to it, the municipal processes that it reveals are that much cruder, more obvious.
But once I got my hands dirty, so to speak, I turned, as anthropologists say, native-- rather than academic anthropology, my primary focus was on the problems that I was working to solve, and as far as the writing part went, I became at once interested in a broader audience and a broader range of issues. I decided it would be a great way to write a book that at least would be amusing for me to write, and which would allow me to pull together lots of threads from New York history that I found fascinating.
GG:
You sort of blended together just now your decision to make a career in the Sanitation department and your decision to write a book. Were they one and the same to you?
BM:
Yes.
GG:
Is there anything unique about New York City's garbage, as opposed to garbage from other cities?
BM:
No major differences. One thing, of course, is that we have less yard waste. We didn't have in-sink food disposals until recently. And the space limits of apartments lead to less waste generation, the evidence seems to show.
GG:
So, New Yorkers produce less waste per capita than other places?
BM:
People may think differently--judging by the amount of waste generated overall in NYC. But that waste comes from a very large commuting, tourist, etc. influx as well as residents. We do know, from a 1990 waste composition/generation study that high-density areas correlated with somewhat lesser volumes of waste.
GG:
Approximately how much garbage does New York City produce in a day?
BM:
I'm not sure what the current figure is--and the numbers vary depending on where you get them. But something in the order of 11,000 tons of municipally collected waste. That is, from residences and non-profits, etc. And perhaps up to twice that--or in that order of magnitude from commercial generators whose waste is picked up by private carters. That number increases, of course, if you include construction/demolition debris, and other things that aren't normally considered "municipal solid waste."
GG:
What are some of the watershed moments in the history of garbage in New York City?
BM:
In NYC we see a cyclical pattern with regard to waste management -- continuity through decades of inertia is interspersed with sudden, unhappy disruptions, all of which is due to the fundamental difficulty of siting waste-management facilities-- and once a facility is sited, inertia takes over and it continues there for decades.We've had a particularly bad experience when we've been in a private phase of these cycles, because given the siting difficulties, it's an inherently noncompetitive situation and prices have gone straight up over time.
I'd say that the first watershed was the invention of the modern business model for waste-management, which occurred during that 1849 cholera epidemic, when Inspector White took charge-- an event that led directly, by 1852, to the beginning of that complex of garbage factories on Barren Island-- factories which operated through 1916 and lingered on into the 30s.
The only other REAL watershed we've had after that, and of course it just perpetuates the business model White and his crooked colleagues developed, was the decision to close the Fresh Kills landfill so that NYC, for the first time in its history, had absolutely no control over its waste-disposal destiny. From now on it will be utterly dependent on the kindness of strangers.
GG:
Greg Todd posted on the book club message board: "I enjoyed this book a lot - and it raises lots of questions about garbage in NY's future as well as covering them in NY's past. One of the biggest is - what are we going to do without the Fresh Kills landfill. Mayor Giuliani has kind of left this for future administrations to deal with."
Mr. Miller, what do you think the city should do?
BM:
We need to reduce the amount of waste we generate in the first place by instituting--as we finally did in the case of water--a metering system to give people an economic incentive to reduce waste. We need more effective recycling to that end, the recent news about the Hugo Neu company offering to process plastics at a rate much less than the waste-disposal firms were charging is welcome. There is clear evidence for instance, in the Environmental Protection Agency emissions results published last summer that waste-to-energy facilities produce fewer emissions of concern than landfilling, so we should consider developing waste-to-energy facilities either in the city or outside it either publicly or privately run and we should consider developing access to a regional New York State landfill--as Commissioner Doherty recently suggested.
I also think we need to do more composting. On that front there are a couple of welcome recent developments-- a proposal for an in-vessel facility for Hunts Point market waste and recent Environmental Protection Agency and New York State Energy Research and Development Authority funding for the Earth Pledge Foundation which proposes to develop a few small-scale anaerobic digestors, in locations such as high schools and community facilities. These would be the first anaerobic digesters for municipal solid waste in NYC.
Robin:
Hi, Ben -- Fat is a fabulous book. I have a question about landfills. The commissioner of sanitation recently endorsed the idea of an upstate landfill that would be owned and used by NYC. As long as we have to rely on them, it seems like a good idea. What needs to happen for that to come about?
BM:
I think the governor, for one thing, will have to show some leadership on this issue. I think it unconscionable for the governor of New York State not to assume any responsibility for 40 percent of the garbage generated in his state. We will also need to have a good system for transporting waste to a landfill, to minimize environmental and economic costs. To that end, I think the decision announced last summer by Commissioner Doherty and Mayor Bloomberg to retrofit marine transfer stations for containerized waste that could be put on barges or rails an important step in the right direction.
GG:
When then Mayor Rudy Giuliani decided in 1996 to close Fresh Kills, you suggested that the landfill should remain open. What was your reasoning and do you still feel the same way?
BM:
I said then that Fresh Kills had decades of remaining capacity and was, objectively speaking, one of the best-controlled landfills in the country with regard to environmental emissions. So that the decision to close it was an optional one which, given the structure of the private waste-management industry to which we would thus become utterly vulnerable would be VERY expensive over time.
After 9-11, with a budget crisis then predictable, and municipal lay-offs, perhaps, about to arrive this optional decision appears ever-more unconscionable. If we merely threatened to re-open it--a threat that, to be credible, would have to be backed up by a gubernatorial executive--I think we could save money by negotiating reductions in our current and future export costs. And re-opening the landfill, if necessary, by my estimate could cut our per-ton costs, for the stuff we put at Fresh Kills, approximately in half. Since I'm not suggesting that we put ALL our waste there, I think this could save us about $75m a year.
GG:
What is the practical possibility of the landfill reopening, considering how adamant public officials are?
BM:
I wouldn't give it a good shot.
GG:
Residents of Staten Island say that they have lived with the dump, and its environmental hazards, for long enough. Shouldn't they get a break?
BM:
Anyone could understand their position. My only point is that this is an optional decision which is costing the city a great deal of money and that, given the $300 million that has been spent there within the last decade to develop environmental controls which make it a well-operated landfill, I don't think Staten Islanders would actually perceive the effects of putting, say, half our garbage there for a period of time. I would also think that there would be some sympathy on Staten Island for the benefits of not laying of police, firemen, etc. I also think that we could PAY Staten Islanders, as we pay residents of, say, Virginia, as a partial compensation for any annoyances there might be.
GG:
We witnessed one public official getting red in the face and screaming at you. Why do you make some officials so angry?
BM:
Sorry about that!
cityworm:
As your book made clear, the disposal of garbage is always only about money and politics. So, do you think it would ever be possible to acknowledge that ALL solutions are expensive? And that we might move on to thinking what might be more socially responsible ways to deal with waste, what might be the ways that would involve individuals in the solution to the problem?
BM:
Sounds good to me! If you are asking how to move individuals--I'd start with some kind of pay-as-you-throw system. In the 6,000 US cities where such systems are in effect waste-disposal volumes have been reduced by an average of 17 percent.
GG:
What US cities have effective trash policies, and what can we learn from them?
BM:
Most cities have done some plannning in advance for their waste-disposal needs rather than, as we just did, jumping off the cliff first and planning later. Los Angeles, for example, also must use remote landfills for its waste. But rather than place itself in a situation over which it has no control it has bought landfills from the private sector and is planning rail facilities to get waste there.
Rhode Island and Delaware are examples of states who have had enough foresight to realize that the only way to control prices is to have publicly controlled facilities. Accordingly they have developed statewide waste-management authorities that effectively control costs. Connecticut has a similar arrangement. But sadly, they made a deal with Enron that was costly.
GG:
What actually is happening now to NYC's garbage? We don't hear about it much.
BM:
As I understand it the stuff we dispose of goes to Pennsylvania, Virginia, Ohio, and New Jersey in that volume order. We also recycle some waste, of course.
GG:
Many New Yorkers are confused about whether they will be recycling again soon. Can you give us an update on what is happening with recycling in the city? What do you think about the situation?
BM:
I'm not sure that I am the best source for current plans but my understanding is that the Hugo Neu recycling company intends to begin accepting plastics sometime this year --this is in addition to metals, and to the paper that other processors work with-- glass, I think, will be delayed longer.
I was not delighted to see the interruption in the recycling system, because I think the "front-end" --the people involved in putting out recyclables-- is more difficult to manage than the "back-end"--the collection, processing etc .,that the City handles. Starting and stopping is tough on the system-- which depends on so many New Yorkers, speaking different languages, and so on. Hopefully, once we get it re-engineered and started back up we won't change it on the FRONT-end again for a very long time.
cityworm:
This Saturday, April 5, there's an all-day conference put on by the Northern Manhattan Environmental Justice Coalition. My neighborhood is very concerned with increased waste coming in. Will we be seeing a neighborhod vs. neighborhood situation as marine transfer stations like ours are retrofitted to accept more garbage?
BM:
Nothing is ideal. But at least the marine transfer stations, as presently located, are relatively well-dispersed throughout the city so that the miles travelled by white garbage trucks are minimized to a fairly great extent.
Historically, of course--and I'm not talking very many years in the past--those facilities were open and received waste volumes that were larger than the present ones. There are no ideal solutions, but the Marine Transfer Station system is certainly better than a lot of alternatives including the present haphazard one of private transfer stations and the proposed (now dead) alternative of Linden, New Jersey.
GG:
Environmental justice activists say that transfer stations are dispersed primarily in communities of color and low-income neighborhoods.
BM:
That's right. The city took virtually no role in siting them. Just let the private market do what it wanted--for the most part. Since these areas were easiest to locate in since they were industrially zoned, etc. that's what happened. I think the city has to exert its responsibility to make planning decisions such as where transfer facilities are located, in order to minimize environmental and economic costs. That's a pretty basic public function, it seems to me.
GG:
There's a myth that colonial New Yorkers allowed pigs to roam freely in the streets to eat the rotting garbage that city residents had thrown to the curb. Is this true?
BM:
Not a myth. Gospel.
GG:
Robert Moses used garbage to fill in parts of New York City and create places like Orchard Beach in the Bronx and much of Riverside Park on Manhattan's west side. How much of the city and what other important places were built on top of garbage?
BM:
In 1934 alone Moses, as parks commissioner, was putting garbage, as fill, in, I believe, 94 parks/landfills. 25 percent of Manhattan is fill. A lot of that--but by no means all--was what we would now call municipal solid waste. If you look around the shorelines of the city from Orchard Beach in the north, all the way around the Bronx shore (well, much of the way) to Hunts Point, you'll find landfills. Northern Queens. LaGuardia Airport. Corona Meadows. In Brooklyn, everything along the southern shore. Coney Island was once actually an island, you know.
GG:
Is there any danger in building on top of garbage? On page 186, you quote from Moses' memoirs about LaGuardia Airport, built on a pile of garbage covering the old North Beach amusement park:
"We were intrigued to see a sixteen-foot lamppost sink slowly into the sand, ooze and garbage and to spot rats large enough to wear saddles leaping out of the crevasses."
BM:
It's certainly not an ideal building material! Moses, as I say in the book, sited Fresh Kills because he wanted to acquire land for and build the West Shore Expressway. So that's the first strip of land his muchachos got their hands on. They filled it with garbage. Then had to dig it back out, because his engineers couldn't build the road on it. That's one of the reasons it will be very hard ever to build on the filled parts of Fresh Kills, real built structures. LaGuardia, I was told by one of the engineers in charge of its reconstruction, is still settling as we speak.
That said, since a lot of the city actually IS built on that stuff--think of some of the housing projects in southern Brooklyn--in the old days it was somewhat different--more coal ash, and firmer stuff. Maybe not the nicest materials, from an environmental management perspective but at least more stable than the really putrescible stuff of which much of our present waste volumes are composed.
cityworm:
It is curious that the same Guiliani administration both began and ended an excellent composting program. I refer to the Master Composter training in all the boroughs. It was a pretty 1970s sort of idea for that administration and I wonder what inspired its beginning. Its end was, for many of us, along with the end of recycling, morally reprehensible. It had cost so much money and influenced so much behavior in a positive, community responsible way!
BM:
I'm sorry--I just don't know anything about that.
GG:
Much of the discussion today has been about present-day garbage. Is there a reason why you made your book basically the history of garbage?
BM:
I think that it is critical to an understanding of our current situation to understand how we got here.
GG:
After he was elected, Bloomberg came up with a garbage plan that sought to spread the burden around the city. What is the status of this plan and what do you think of it?
BM:
I am very impressed with the fresh tack this administration seems to be taking on a number of garbage fronts. My understanding is that there are still plenty of things being decided, which need to be studied, etc., so I'm not sure how far along toward implementation many elements are. But the move to retrofit Marine Transfer Stations is better than the Linden alternative--not to say that there were not other good options--such as the proposed Port Ivory transfer station on Staten Island, which we may yet see word of again. I'm impressed that somehow Hugo Neu, the recycling company, is now involved.
But we clearly still have a VERY long way to go before we get things properly planned and implemented. The Task Force report released last week, showed by its slimness how far the planning still has to go, but nonetheless I think the approaches suggested are good ones.
GG:
Who has the largest say in what happens to garbage in New York City?
BM:
At this moment? I presume that City Hall, in some fashion, is calling some of the fundamental plays. But unfortunately, given the vulnerable position that the last administration left us in, the private waste-disposal market is-- and no doubt will, for many years to come-- be calling most of the shots.
GG:
Are you working on another book?
BM:
Yes. It's a history of freight transportation planning in the region, from the Erie Canal up to the present. Again, as in Fat, I find that an understanding of how we got here is critical for figuring out where we should be going. Not to mention that I find that history absolutely fascinating! For example, a central theme is the proposed cross-harbor rail freight tunnel, which, as we speak, is moving at least fitfully ahead and may actually be built. That tunnel was first proposed, publicly, in 1888. And, since then, it's gone through some fascinating permutations!
GG:
Are you glad to be rid of garbage then?
BM:
I must say that I don't altogether mind--except that I AM still involved, to some extent. I'm working with a group at Columbia University, the Earth Engineering Center, which I think is generating some very useful policy recommendations and analyses.