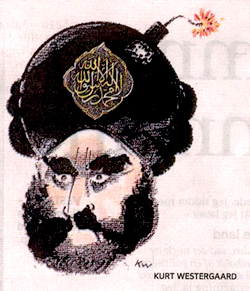 One of the disputed cartoons
Last night, the editorial staff of the New York Press resigned after management blocked their plans to reprint the controversial Danish cartoons depicting Muhammad. Today, the blogosphere is full of praise for the four men and criticism of city publications that have not run the cartoons.
In an e-mail to The Politicker, now former editor-in-chief Harry Siegel explained the decision by him, Azi Paybarah, Tim Marchman and Jonathan Leaf. "It would have been nakedly hypocritical to avoid the same cartoons we'd criticized others for not running, cartoons that however absurdly have inspired arson, kidnapping and murder and forced cartoonists in at least two continents to go into hiding," Siegel wrote. "We have no illusions about the power of the Press (NY Press, we mean), but even on the far margins of the world-historical stage, we are not willing to side with the enemies of the values we hold dear, a free press not least among them."
"Talk about principle, courage, and guts, on behalf of Free Speech!" writes Kiril Kundurazieff in his Sneakeasy's Joint blog.
Others contrasted the actions of Siegel et al with those of the mainstream press. "While I admire the courage of these individuals, I am disgusted by the abject cowardice of the supposedly 'free' press of this nation," said Live Journal. "Shame on the NYT and the NYP (and many others) for being afraid to print the cartoons," writes fnrd in a Politicker comment.
The Times explained its stand in an editorial yesterday, saying the Danish paper that first published the drawings "did so as an experiment to see whether political satirists were capable of being as harsh to Islam as they are to other organized religions." While this is protected speech, the Times is not willing to partake of it. The paper said, "The New York Times and much of the rest of the nation's news media have reported on the cartoons but refrained from showing them. That seems a reasonable choice for news organizations that usually refrain from gratuitous assaults on religious symbols, especially since the cartoons are so easy to describe in words."
But reader Michael Podmaniczsky wrote that that misses the point: "Printing them would show solidarity with the Danes and the other European newspapers that have already published them in a show of support. I am very disappointed that The New York Times does not have the courage to do likewise."
The Sun, which has assailed what it sees as anti-Semitism in universities and elsewhere, did publish the cartoons. It also featured a commentary by Daniel Pipes, asking "Will Westerners accede to a double standard by which Muslims are free to insult Judaism, Christianity, Hinduism, and Buddhism, while Muhammad, Islam, and Muslims enjoy immunity from insults?" To show how murky things can get, Pipes himself once criticized President George W. Bush for characterizing Islam as "peaceful" religion and has been assailed for his own allegedly anti-Muslim views.
Confronting all this, Ben Wheeler, writing from Tbilisi, Georgia, in the Ben and Alice blog he shares with New Yorker Alice Boone, tried to strike a middle ground: "I believe that the papers that have printed the cartoons, and the people of Denmark and Norway, deserve solidarity. And the issue of free speech as a universal value, not a subjective one, needs to be pushed. But is running the Muhammad cartoons, which are beyond the point of having any value in and of themselves as material, a smart way to do this?"
By Gail Robinson on February 8, 2006, 10:02 am
In category:
Civil Rights
,
Gotham City
|
3 Comments »
RSS Feed