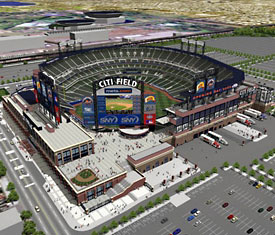 An editorial in the New York Post takes exception to the announcement that the new Mets stadium will be named Citi Field, after the bank that is giving them $20 million a year. "That's barely enough to pay a year's salary for Carlos Beltran alone." The Post wanted the stadium to be named after Jackie Robinson.
An editorial in the Daily News (scroll to the bottom) also regrets the new name, because it will no longer honor William Shea, "who brought National League ball back to the city after the Dodgers and the Giants skipped town."
Planned within the new stadium, however, are a William Shea Memorial and a Jackie Robinson Rotunda.
By Jonathan Mandell on November 14, 2006, 7:07 am
In category:
Gotham City
,
Land Use
|
3 Comments »
RSS Feed