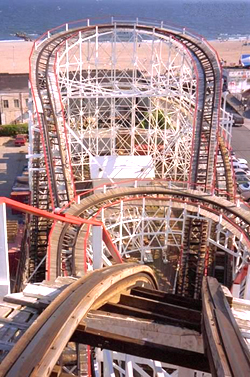 The Bloomberg administration seems about to put the kibosh on plans by developer Joel Stitt and his Thor Equities to redevelop the Coney Island property where Astroland now stands. The Daily News reported yesterday that a high-ranking city official termed the controversial and glitzy proposal "dead in the water" (or dead along the water, to be more precise).
The city has been concerned at Stitt's repeated attempts to try to sneak some residences into the plan – most recently under the guise of calling them time-shares – and is also concerned about Stitt's shenanigans at another Brooklyn site Albee Square (see related story). Meanwhile the city reportedly has been talking with the owners of Copenhagen's famed Tivoli amusement parkabout plans for Coney Island, an indication writes Gothamist that "the city is trying to come up with a back-up plan."
For more on changes at Coney Island, see Coney Island's Summer of Reckoning and With Pizza, Pinball and Panache, Vendors Face Changes.
By Gail Robinson on August 6, 2007, 11:38 am
In category:
Community Development
,
Gotham City
,
Land Use
,
Waterfront
|
No Comments »
RSS Feed