Gotham Gazette's Reading NYC Book Club Discussion With Kevin Baker
On July 9, Gotham Gazette's book club held its first in-person discussion, with Kevin Baker about his book Paradise Alley. An edited transcript of the talk is posted below.


---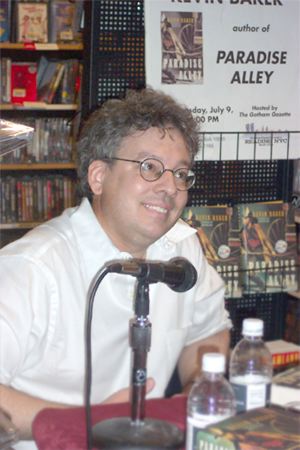 NYC Book Club: My name is Jonathan Mandell, I am the editor of Gotham Gazette, and this is Erica Pearson, editor of our book section. Welcome to the first three dimensional meeting of Gotham Gazette's book club. We have had a book section of one kind or another for three years, and we began our book club last year. We have held a discussion every month, but all of them online, including with author Tyler Anbinder who wrote Five Points and Jay Cocks, the screenwriter for Gangs of New York -- both of which cover the same era as Paradise Alley, the book by our guest this evening, Kevin Baker.
It was almost precisely 140 years ago that the events that are at the core of Mr. Baker's book took place. The draft riots of 1863 started on July 13 and lasted three days...
We have asked Mr. Baker to read a passage we particularly like. [Baker reads passage narrated by the character Herbert Willis Robinson, a writer, starting on page 358. It begins, "I am a hack...]
NYC Book Club: First of all, what should we make of the fact that the only character who is written in the first-person is a writer and writes a book called Paradise Alley?
Kevin Baker: Well, I needed somebody, above all, who could speak in a modern voice, I thought, to kind of give it a little bit of a tone, an explanation of what was going on for a modern reader. And, also, I needed somebody who would have an excuse to follow the riot, which was the worst riot in American history, around town, as opposed to hiding under their bed, which any sensible person would have done. So, who better than a journalist? And it really was kind of a spectacular period of ferment for American journalism. All those magazine names I read earlier were real magazines. A couple -- like Harpers -- still exist. But they were all around, and there were these hack writers who would write incessantly for them, there were printing presses throughout Manhattan, many of them going 24 hours a day.
Some of this was ripping off foreign writers, they would get the first edition of the new hot book in England, maybe a Dickens, off the boat, and you would go and churn it out before anyone else could plagiarize it. You had maybe 25 newspapers, Whitman estimated at the time, of which maybe 12 were stable. The society was just suddenly full of readers, and there were these society libraries, you would form a society -- working men, aristocrats; anyone could form a society -- and have your library there. Day and night you would see people reading in these rooms. It's really this kind of democracy of literature, as Poe called it, that was going up, particularly in this city. New York at that point had just taken over the publishing world from Boston, and this ferment of reading was everywhere.
NYC Book Club: But why has he written a book called Paradise Alley, what are we to make of that?
KB: He's written a book called Paradise Alley, it is based on a lot... There was an actual Paradise Alley, which was this alleyway going through this horrible old double tenement known as Gotham Court or Sweeney Shamble. It was behind where the old New York Post building is, on the East River between the bridges there, and it was this alley that went out there. The book he has written is very much a book of the time, kind of a temperance novel, it's based in part on one called Hot Corn, by Solon Robinson. And his name, Herbert Willis Robinson, is a combination of several leading journalists' names of the time. And this was also a popular form of literature, you would write these kind of improving novels. Hot Corn is all about the terrible things that will happen to you if you turn to liquor, it's about this poor hot corn girl and her parents have drunk themselves into poverty. These books had a certain popularity at the time, they were also somewhat disingenuous, because it was very easy to drop into poverty without taking a drop of liquor at the time.
But they were very much approved of in church circles. So this is one of the things he (Robinson) is writing, his other books too, incidentally are all based on books of the time. Like, Awful Revelations is based on a book called Awful Disclosures, which was this horribly anti-Catholic book put out, purported to be the memoirs of a woman in prison in a nunnery, convent, and she got out, a woman named Maria Monk. She was a huge sensation for awhile and then it was kind of proved that she had made it up, basically, and that this is all hogwash. Although, interestingly I ran across a copy of it a few years ago, it has been put back out by Random House U.K., and they are trying to sell it as kind of soft core pornography, you have this woman from the back kind of naked except for her nun's habit, you know. And sure enough, it is the same bit of 1840s racist propaganda, so maybe these books have more of a life than people think.
NYC Book Club: I am going to back up a little bit, and just ask, how did you first learn about the historical events in Paradise Alley, and why did you decide on the riots?
KB: It is originally inspired by Gangs of New York (by Herbert Asbury), which my father had an original copy of that he gave me when I was maybe 12 years old. It had come out during his childhood. This was during the 1960s, so I was not unused to seeing, you know, it seemed that every time you'd turn on the TV set... there were plenty of riots. But reading about this, this seemed to be something much beyond anything I had read, so it had a certain fascination. And that kind of came back to me a little later, when I was an adult, and it just stuck with me, this idea of, "why was this going on?" I mean it was really a terribly vicious riot, things that are going on in this riot are much beyond anything you see now, horrible lynchings, mutilations, people being burned to death.
What struck me was, who was doing this? What was going on? And, who were the people who put a stop to it? This led me very quickly to the Irish immigrant experience in New York. The Irish were both many of the leaders of the riot and also many of the people who put it down, and it struck me that that was a very interesting thing. This whole riot was really like a crucible in a way, of the whole immigrant experience. You know, shooting your friends and neighbors in the street to become a full American.
NYC Book Club: Hello, I am Caroline Hightower. The beginning with the Irish experience was just profound for me, because I had some sense of it, but I didn't realize how grim it was, and it reminded me of Hieronymus Bosch. I literally could not come to terms with what you were saying. I did, I believed it, but that was terrific because then when we get into the riots you have some sense about where these people are coming from. Not only that, but they have been there already. So it is not as if, say, mutilation or what have you is going to be something new, it is something that they dealt with already in some way or other. And that toughness of just survival, and then the rather touching part that it is the soldiers who come back, who are also Irish, who calm it down. I was intrigued by that, the way you started, it helped me a great deal to get into it. I also loved the Seneca Village, so other than I had thought, I never thought two churches, you know. I was really surprised, and Pig Town, and where it was, and the Park, the guy coming back after he has been away and asking, what is this? I appreciated it, because now I have it in me... I love the city, and now I have that immediacy which I didn't have before.
KB: Well, thanks very much. Just a side story on that, Frank McCourt, very nicely, picked the book for the Book of the Month selection on the Today show. So we go on there, and he is saying, "Oh, it's a brutal book. Oh, it's a gruesome story," and I am sitting there thinking, "Oh, I have to sell some copies, here." But we tend to think now of the Irish famine like, oh, the potato famine, its like green beer on St. Patty's day, and it really was this Irish holocaust, it is horrible. Everything in the book on that is pretty much based on real events in Ireland, and I had to go back to that, to show, what was stirring these people on. I mean, most immigrants, like most immigrants in any time in America, worked hard, paid their taxes and sent money back to their relatives. There has been a lot of overrating of how violent Five Points was, for example. Unlike in the movie Gangs of New York, they didn't crucify policemen there. But, there was this violent background that they came from, people had been brutalized by the experience, and I think it showed, for some of the people, how the riot went. This kind of violent background had to inform a lot of how they would act.
NYC Book Club: How did you find out such graphic, physical details about the famine? The mud, and all of that was extremely real, it was so extreme that it did raise the question in my mind, is this factual? So where did you get these things?
KB: It is all very closely drawn, and I list pretty much all of my sources in the back there, on page 674, Acknowledgements and a Note on Sources. That lists a whole bunch of them here. Cecil Woodham Smith's The Great Hunger, de Toqueville, also, wrote a very intelligent book about Ireland, The Irish Famine, A Documentary History by Noel Kissane, Robert Kee's The Green Flag series, Thomas Keneally's The Great Shame, and The Encyclopedia of Ireland... They were all terrific sources and I am sure there are many more. One thing that I found that was a little funny -- there is a great deal of terrific immigrant Jewish writing by the immigrants themselves in the later part of the 19th century, early 20th century. Not nearly as much Irish writing, which is interesting. I don't know if it is a cultural thing, or what.
NYC Book Club: And yet you think of the Irish as writers, and tale-tellers.
KB: You would think, but maybe it was that the whole thing of making a living was so taxing and all consuming...
NYC Book Club: Did you use a lot of old newspapers as sources?
KB: Somewhat, but not all that much on this, really. You really have to sort through a lot of misinformation in old newspapers, unfortunately. There were wild exaggerations of how many people were killed in the riot. For instance, at the time they were putting it at 2,000 dead, and there is like 119 documented, which still makes it the most violent riot in American history. But it is not really very efficacious to go and churn through all the information they have.
NYC Book Club: All those hacks!
KB: Yes, I preferred to kind of go with the books, pretty much. There is some good contemporary writing, and contemporary writing that appeared first in newspapers, but is collected in anthologies, so somebody else had already done the work and stuck it in a book for me.
NYC Book Club: I was curious, how many of the moments of the riots were based on actual recorded facts?
KB: Pretty much all of them. Every atrocity, and believe me, I left out like a dozen other atrocities that were as bad. The murder of Colonel O'Brien, which was particularly grisly, the lynchings of African Americans -- that was all recorded. And the central event, where Ruth goes out to defend her son, was based on a real story, a woman who lived on 11 Worth St, an Irish American woman married to an African American man, went out to the street to defend her son from the mob, who was trying to kill him. The result was very much as I have it in the book. So, yeah, you can't make this stuff up, but I would be a little frightened with myself if I had.
NYC Book Club: How vivid were the accounts that you read, and how much did you have to take the raw facts and use your imagination?
KB: These were pretty well documented. I added certain things, but I really pretty much went with the facts. They spoke for themselves on the atrocities and I didn't really need to or want to dress them up much. Obviously I had certain other characters there, and there is a bit of dialogue here and there that I invent. Even that girl who is disgusted at the killing of Col. O'Brien and she runs off and protests, and the mob is so enraged at her that they take her possessions out into the street and burn them. That actually happened.
NYC Book Club: I am about three quarters of the way through. I am at the part where Ruth has gone over with her children to live in Deirdre's house, and Deirdre is going through this process of self revelation, beginning to see differently from the way she saw before. Having believed that black people were really low... feeling like she has worked so hard to climb and that now there are black people on her block dragging her down... How did you get into her own enlightenment and how she begins to see what she has done?
KB: I was hoping to do, in her arc, as they say in the biz, show that the only way anyone overcomes racism is seeing by human example, that people aren't that different, that they aren't something lower than you or higher than you. Just seeing what she had done and the human faces, what they were going through. And I think that some of her sympathies are increased by her own suffering over how her husband was faring.
This was a time when race wasn't quite fully set yet in America. There's that book, How The Irish Became White. And it really was this period of social Darwinism and all these racial theories were really just coming in. People still thought of the Irish as a race, as opposed to the Italian race, and the idea was, who is going to be officially at the bottom of the pile? In the poorer sections of the city, this was not nearly as fixed a thing, there were a lot of whites and blacks living cheek by jowl, and there was plenty of racism between them and plenty of fights between them but there was also much more intermarriage and inter-living together than we would have thought. Dickens comes and is appalled by it, the sign of real poverty -- even black and white women co-habiting with the other race.
NYC Book Club: What book is that in?
KB: I think that is in his basic Journals of American Travels. And, sort of the sign of middle class respectability at the time, was, one thing you do is you don't associate with people of another race. And there were dissidents to that at the time, abolitionists, but for the most part, you were moving up the ladder.
NYC Book Club: And the abolitionists might not necessarily have lived with black people, some of them were upper class Boston Brahmins...
KB: There were plenty of abolitionists who didn't, and then of course there were abolitionists who thought blacks were free human beings but not Irish Catholics, which is one of the big resentments of Irish Catholic immigrants. Here are these people who were all concerned about black slaves hundreds of miles away, but treating them like dirt, so that was another feeling going on. It is a hugely interesting period in a way, race and class and all these things are mixing together. And the riot itself, Pete Hamill calls it three riots, there's a riot about the draft going on, there's a class riot, and there's a race riot. One of the things too that is going on, people are actually destroying the new street cleaning machines. They worked about as well as street cleaning machines do now, they were basically a barrel of water that you hauled along the street. But, this saved on street cleaners, so one of the things that the rioters did was tear up these machines, yelling "Death to the labor-saving devices!" So there is that element of it.
NYC Book Club: I would just like to go back to Deirdre for a moment, I think that you have done that very, very well. It is extremely real, and also essentially a quiet passage.
KB: Well, thanks a lot, that's kind of where the fiction part comes in. You gather the data on people and get the background on them but then you ask, what would they be thinking? And there is a certain amount of imagination on that end, what would cause them to do this or that. That's essentially the dilemma that any writer has.
NYC Book Club: I have to commend you on your fire scene. Just as a narrative, I thought that was just wonderful. Could you talk a little bit about how you got into the world of competitive fire fighters?
KB: Oh, it's fascinating stuff. It could be a whole novel unto itself. It's just such a strange weird world, and one of those things you like to find about a past time. It's so different in terms of the ritual and what was going on. And of course all the fire companies were, until they started the draft riots, all the fire companies were volunteer companies. They were kind of set up around -- they quickly became social clubs. I have a whole list of the names and they're all real names. They were often set up around neighborhoods or professions and you had one called "The Quills" because all of the people in the company were clerks, and writers and this was the nickname for them. They had other elaborate nicknames. This became a whole subculture in New York. I mean you have shouters and even literary societies at these firehouses.
They quickly became part of the political machine. You know Boss Tweed, as they showed in the movie Gangs of New York, did start off as a captain of a fire company, and in fact his fire company, "The Big 6," really was this leading fire company.
All these fire engines were elaborately painted too in all in all kinds of scenes. Everything from scenes of American history, to a Turkish harem, to prairie fires to, in the case of "The Big 6," a huge Bengal tiger's head. And that's why that becomes the Tammany tiger. It comes from that. And Thomas Nast takes that and makes it the symbol of Tammany. I think "The Big 6" engine is still around, I think it's in the basement of the Museum of the City of New York.
You know if you went to the fire, these guys were the ball players of their day to the little kids, they would take up collections to buy little things like lanterns you know, or maybe belt buckles for their favorite firemen, they would come out and watch them.
The engines were usually hauled through the streets, because it was hard to get horses through the very crowded streets; and you would need the men anyway to pump them, so you would have like 50 guys running these wagons through the street preceded by a boy blowing on a silver trumpet. There was a gang called the "Old Maid's Boys" who would set false alarms, and just wait to ambush the fire engines and try to break them up, which was really psychotic.
But anyway, you'd have these fires and they'd run the engines through the streets, and they'd come there. Then you'd usually have a fight with another fire company over who was going to control the local fire engines, and you'd have a brawl for a while and then one company would win and they'd hook themselves up to the next engine, or the one that got there much later. And then you'd have this contest where you were pumping the water out and you had to use the first one to pump water fast enough so that the second one couldn't keep up, and then the water would overflow it and ruin its great paint job. And there were guys who made a whole living painting fire wagons. It would ruin its whole paint job and it was called "washing it." That would be a big disgrace if you were "washed" by another engine.
And this became a spectacle. And you had people on each of the wagons who would come by and sing little ditties... and what were called fire tenors, guys who would come out there and make a living singing to the crowds watching the fires. And as I mentioned there was a guy called Frank Walton, who was kind of the Sinatra of his time, and he was renowned to be -- his voice was so beautiful that even the Quakers on Henry Street would open their windows to hear him sing "Napoleon's Dream," whatever that was. But you know, this was the sort of spectacle you would have; this is how much of life was lived on the street.
NYC Book Club: You said that this is something you have been dreaming about since you were 12. How long did it actually take you to write it?
KB: It took me about three years all together with the writing and the research, I always find myself going down blind alleys and when I finally got down to how I wanted to do it, it went really quickly. Maybe seven months for the first draft, and then there were a few months of revisions and things, but a lot of stuff in it. There's always a danger of being overwhelmed by the research. There's so many great peculiar facts, that you kind of hate to cut any of them out, but you have to.
NYC Book Club: You got a lot of them in there...
KB: It is part of the full ticket of a historical novel to give a whole account of the times but also to keep the narrative going a little bit.
NYC Book Club: Is there going to be another one?
KB: This is part of a trilogy. The first one was, not in chronological order, the first one was Dreamland, about the Jewish immigrant experience, and set around 1900, around the turn of the century... This is about the Irish experience, and the third one is going to be called Striver's Row, and it'll be set in Harlem in 1943, and so that will be the end of this particular trilogy. I am working on that now, I just started writing that this month.
NYC Book Club: When was the Harlem Renaissance?
KB: The Harlem Renaissance is really in the 20s. This is really afterwards, there was a terrible 30s in Harlem. The Depression really hit there harder than anywhere else in the city, and during the war, it had come up a little bit, there were a few more jobs, but still the glory of that era had gone.
It is set in that era though, and during the war, and has a young Malcolm X, then Malcolm Little, running around there and a few other characters. It's really the period where, a lot of the roots of the civil rights movements are germinating. People are very upset because all of these local boys are being drafted and sent down south, and often put under white, racist officers...
NYC Book Club: There's a very interesting film right now, playing at the Museum of the City of New York on the architecture of the time (in Harlem). I thought it was going to be more about society, but it is about society as it is in evidence through the architecture. It's very nice.
KB: What a beautiful architecture. Once they built the subway up there, it was really planned as an upper middle class white suburb. And they really overbuilt, and then they hit upon the scheme, hey you can overcharge. Blacks in New York were constantly charged much higher rent than whites, on the basis that they had very few neighborhoods they could go to. So this was like "A ha, we can get these black people up here and charge them much higher rents."
At the time there were all these anti-black riots going on among the Irish in what is called San Juan Hill, which is around now where Lincoln Center is, to the south, near Hell's Kitchen. They needed to leave that area, and find someplace else, and that's how Harlem came about. And that's really... I mentioned Seneca Village (in Paradise Alley), which was pretty much all black, well not all black, it's about 30 percent white, but it's a mostly black community -- once that is destroyed, the blacks are kind of scattered throughout the city, which is one reason they were so defenseless throughout much of the draft riots. There were some congregations of them, enough around Meadow Lane that they were able to defend themselves. They got rifles and defended themselves against the mob, but they were really victimized by the mob.
After that, the African American population in New York really lives in its own enclave. First in the West Village, and then up by San Juan Hill, and then really Harlem is the coming together of that as a community. And now Harlem's changing a great deal, and it will probably change again.
NYC Book Club: One of the things that struck me in reading Paradise Alley, is that they are fighting at the bottom of the economic ladder.
KB: Oh definitely, definitely. I mean it was it became imposed ideas about skin color and all that came in from the various idiots, English philosophers, but a lot of it was this kind of fighting it out. When the Irish immigrants come in, they literally, physically, take the lower jobs in the city from blacks. I mean blacks weren't having a great time of it, but they were often domestic, they were coach drivers, they were at least in jobs, they were laborers -- and they could make a living at it.
And the Irish come in and literally they go into places and push them out, and grab these jobs for themselves. When the Irish start coming over, there are about 13,000 blacks in the city, and there's like all of the sudden, in the space of five years, 200,000 Irish. So they kind of push them out, and at that point African Americans are really just living on the extreme edge of survival. You know, they are literally doing things like dancing for eels.
That was the real thing. They do errands and stuff. Women have a little bit of a better time finding jobs than men. A few hang on as domestics here and there, but it's really this life or death thing. And that led very directly to a lot of the Irish opposition to the war. They didn't like the idea of going down there, risking their lives, freeing all these slaves, many of whom were likely to come up to Manhattan and compete for these jobs all over again.
NYC Book Club: Why do you think the resentment flows downward? I mean, the Irish were angry at the people...
KB: Oh well, because of the terror that you're going to end up in that position, you know. It's classic. It goes on all the time. It was for that reason, to a certain degree, that Polish or Russian peasants hated Jews. You're just on the bottom -- you're pitted against each other.
NYC Book Club: I would hate to see time run out before asking you an important policy question about the book. There's a line in the book that every administration has tried to clear the pigs off the street, but nobody has been successful. So the question is, how did they finally get the pigs off the street?
KB: Yeah the pigs were a huge problem, because people liked to keep the pigs in these lots, and raise them, and they kept coming back. There were finally one too many cholera epidemics, and it finally led to, like right around the time of the Civil War, finally getting the pigs off the street...
Even though cholera had its cause much more in the water supply. And New York went on for years with a terrible water supply, and people dying in all classes. Horace Greeley has a beloved son who died, I think, of cholera. Cholera and typhus, all these things went ripping through, much more than in any other city in the United States probably. Traditionally the poor and the rich lived in relatively close proximity in New York, in Manhattan, and you know, these plagues broke out. People died.
There were all kinds of other things going on. For instance, one thing that I have in the book, a lot of the children of the Five Points raised spearmint leaves in boxes on top of their tenements. And they would sell them, and they would of course fertilize these with pig manure they would scoop off the streets, and they would sell them to the best hotels that would put them in these "gentlemen's drinks."
There was finally one too many epidemics and they finally got rid of the pigs. But the pigs really struck me as a telling detail, this thing that everyone remarked on, sophisticated visitors, like Dickens again, as being signs of how horrible the city was, and how out of control it was. But again it depends on your perspective. If you're an Irish immigrant, and killing the pig is the last thing you do when you're down to it and you're going to starve, if you come to a town, and here are pigs running in the streets, it would feel much like the streets are paved with gold, as opposed to pig shit.
NYC Book Club: Why would you keep pigs...
KB: You would sell them to be slaughtered, and they serve as kind of de facto garbage collectors in the streets. I mean pigs are, I think, smarter than dogs. They go running right up and grab stuff out of your hand and they knock you over. It was a real mess.
NYC Book Club: Were they on certain streets and not other streets?
KB: No, they were much more in the lower wards, downtown. But they got around. They'd wander in the fairly good neighborhoods as well. They were all over. New York today is probably generally like less corrupt, less noxious, even less noisy. I mean then when you had steel wagon wheels going over cobblestones... It's probably less noisy than it was in pretty much any era.
NYC Book Club: Arlene Herring, who is a club member, couldn't make it, but she sent us an email and asked a bunch of questions, and some of them have to do with Martin Scorcese's Gangs of New York. Basically, what did you think of the movie?
KB: I felt like a lot of the atmosphere it created was amazing, it was just brilliant to see that. It's like we always talk about what an immigrant country we are, blah de blah, but this is the first movie I can remember ever being made about antebellum immigrant New York. Or any other antebellum immigrant experience.
There are some incredible shots -- the whole beginning, the Irish people coming up, emerging from the dark ages, they're coming up from what looks like the catacombs, from the bottom of the Old Brewery, and they come up there and instead of the fife and drum, traditional fourth of July tableau, they're holding the claw from the dead rabbit. And they come out there, and they kick open this door and there's somebody there, and suddenly there they are in America. And the Five Points looks much more like the Five Points of the old slum New York than anything else you'll ever see. It's an amazing recreation, it's an amazing job in that sense. The story, I felt, didn't do a lot for me... it was overall a fable, a metaphor, for the United States. Daniel Day Lewis, this Uncle Sam type character with the long legs and the hat, the immigrant sons of other nations, they hate him, but they have no other choice but to cling to him. I thought in that sense, it's well worth seeing. Obviously certain things were changed from what the historical record is. I mean the ships didn't open fire on the island. The police didn't simply get pelted with cabbages and retreat. It was the great day in the history of the New York City police force. But again, Scorcese himself says that it's not a book, you have to condense, you have to make things into these symbolic things. It's well worth seeing. I hope it's the first of many movies.
NYC Book Club: In Paradise Alley, you mention dinosaur bones in Central Park, could you explain?
KB: Yeah, there was a professor who actually set up around this time these kind of plaster molds of dinosaur fossils right out in Central Park, not too far in from the Battleship Maine monument, and kids loved to go there, and visit them and play on them. And then Boss Tweed wanted to put a friend's restaurant there, so overnight he sent some guys with sledgehammers and they broke up all of this amazing work. That's the trouble with machine rule, we are kind of nostalgic for it now, because it got things done, but the things you got done were not necessarily wonderful, like we didn't have a subway for maybe an extra 20 years because Tammany controlled the street car permits.
NYC Book Club: I wondered, since you seem so clearly excited and engaged by your subject matter, was there anything that you found when doing your research that completely knocked your socks off, and you found yourself telling people, at the time you were writing, "You will never believe this"?
KB: Oh yeah, this is a part I love, but again, it is in the category of "Oh, it is so gruesome." I really liked finding out that the sewers were so bad and so stuffed with butchers' offal that you would have these pools of blood on the street, and that you would see small boys sailing boats in them. I loved that as a detail as to what a city is... A more fun thing I found out, the mob at one point attacks Horace Greeley's New York Tribune. It did not attack the New York Times, right next to them, because at the New York Times they were smart enough to set up Gatling guns in the windows. The co-owner is a guy named Leonard Jerome, who was at one of the Gatling guns. Leonard Jerome is the grandfather of Winston Churchill, Jenny Jerome is his daughter, who marries Randolph Churchill.... He was a New York sportsman, man about town, Jerome Boulevard is named after him, this is Winston Churchill's grandfather. And then also, the little kid who is wandering all through there. A little kid did save the orphans from the orphan asylum. It is not recorded who it is. I refer to the kid's name once, which is Henry McCarty, which is the original name of Billy the Kid, who was also a five-year-old (there is no record that he had anything to do with the riots) but he was a little child living on the streets of New York at the time... So I just love the idea of having Winston Churchill's grandfather and Billy the Kid running around this one island.
NYC Book Club: Could you list some of your favorite New York books for us, before you go?
KB: In terms of historical fiction I love all of the Doctorow books. Luc Sante's Low Life, an impressionistic book, beautifully written. Gangs of New York, don't read it for deadly accuracy or anything... Wallace and Burrows' book Gotham, Peter Quinn's book Banished Children of Eve, a terrific book on the draft riots.
NYC Book Club: How about The Power Broker?
KB: The Power Broker, that is just unparalleled history.
NYC Book Club: Because, that is the book we are reading next month. The next meeting of the book club will be here, at Borders, on August 20.