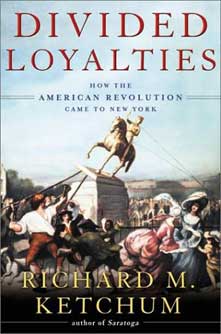 DIVIDED LOYALTIES
by Richard M. Ketchum
BATTLE FOR NEW YORK
by Barnet Schecter
Excerpt of review in the NY Times Book Review by Gil Troy
"It makes sense to call a look at how the American Revolution came to New York 'Divided Loyalties.' Richard M. Ketchum shows that the divisions were not only public but private as well -- families feuded, individuals agonized....The author of popular books on the battles of Saratoga and Bunker Hill, Ketchum roots 'Divided Loyalties' in New York and in the struggle between two clans, the revolutionary Livingstons and the loyalist DeLanceys, and sometimes within the families."


"Barnet Schecter's 'Battle for New York' plunges farther, viewing New York as the keystone to understanding the resulting Revolutionary War....Schecter's writing is more leaden than Ketchum's; still, his book effectively superimposes the historical geography of the Revolutionary War on today's New York...
"Thanks to footnotes and an appendix offering self-guided tours, 'The Battle for New York' bridges the gap between the city of today and yesterday. Imagine American roadblocks at Fifth Avenue and 23rd Street, or a fort where George Washington perched during battles on the site of the Independence Savings Bank at Court Street and Atlantic Avenue in Brooklyn."
Have you read the book? Give us your opinion.
Posted 10/07/2002