NYC BOOKSHELF
BOOKS ABOUT NEW YORK NEWSPAPERS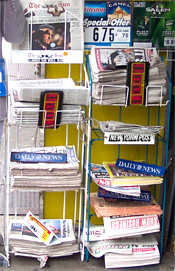 New Yorker media reporter Ken Auletta, when asked to name his favorite book about New York's newspaper industry, named The Kingdom and the Power, Gay Talese's history of the New York Times, describing it as "a still-unsurpassed portrait of the world's best newspaper."
Auletta's view is a common one among New York's newspapermen and women; reporters and publishers from Newsday to the New York Times itself immediately think of Talese's book as the benchmark book about their industry. But with a town that has always been full of newspapers, there are plenty of other choices as well.
Another perennial favorite is The Paper: The Life and Death of the New York Herald Tribune.
"It got the history of New York, it got the history of the paper itself, its own saga, the families, all the eras it passed through," said Steven Isenberg, a former New York Newsday publisher. "You traveled a long way with that book."
Seth Lipsky, who helped launch the weekly Jewish newspaper the Forward a little over a decade ago and now runs the New York Sun said that The Downtown Jews -- a history of the Jewish Daily Forward, his paper's 19th century predecessor -- is "one of the best, but least widely read, histories of a New York Newspaper."
But, perhaps unsurprisingly, the sheer volume of literature about the New York Times dwarfs what has been written about any other paper.
A favorite format has been the memoir; Gay Talese himself describes one of the most recent ones -- former editor Arthur Gelb's City Room -- as "essential reading for people who love (and hate) the Times." Other recent memoirs include former editor John Hess' Dissenting Times and scandalized reporter Jason Blair's Burning Down My Master's House.
Former Times reporter David Halberstam, after recommending -- like everyone else -- the Kingdom and the Power and The Paper, named two books about the Times that stuck with him: Mary Breasted's I Shouldn't be Telling you This, and Robert Daley's The Whole Truth, which is about "an era [at] the Times which I remember all too well, when the power of the copy editors over the reporters was infinite."
Longtime Washington Post columnist Richard Cohen named several fictitious accounts of the city as another good way to get a sense for its newspapers. Colin Harrison's Manhattan Nocturne, said Cohen, is "by far the best description of why we love deadlines, although we say we don't."
He also cited as a classic the depiction of the Daily Planet in the comic book Superman.
"I consider the comic book a book," he said. "Sue me."
MORE BOOKS ABOUT NYC NEWSPAPERS
The New York Times
Behind the Times: Inside the New New York Times by Edwin Diamond (U Chicago, October 1995)
Hard News: The Scandals at the New York Times and the Future of America Journalism by Seth Mnookin (Random House, October 2004)
History of The New York Times, 1851-1921 by Elmer Holmes Davis (Greenwood Press Reprint, January 1970)
Journalistic Fraud: How the NY Times Distorts the News and Why It Can No Longer Be Trusted by Bob and Robert Kohn (WND Books, August 2003)
Kill Duck before Serving: Red Faces at the New York Times by Linda Amster, Dylan Loeb McClain, Allan M. Siegal, and Tom Bloom (St. Martin's Press, January 2002)
Metropolitan Diary: The Best Selections from the New York Times Column by Ron Alexander and Susan Romano (William Morrow & Company, August 1997)
News Zero: The New York Times and the Bomb by Beverly Keever (consortium, June 2004)
The Gospel According to the New York Times: How the World's Most Powerful News Organization Shapes Your Mind and Values by William Proctor (Broadman & Holman Publishers, September 2000)
The Last Word: The New York Times Book of Obituaries and Farewells: A Celebration of Unusual Lives by Marvin Siegel (William Morrow & Company, November 1997)
The New York Times Page One: Major Events 1900-1998 As Present in the New York Times by The New York Times (Galahad Books, November 1998)

Other New York Papers
It's Alive!: How America's Oldest Newspaper Cheated Death and Why it Matters by Steven Cuozzo (Random House Inc., July 1996)
Labor Relations at the New York Daily News: Peripheral Bargaining and the 1990s Strike by Kenneth M. Jennings (Praeger Publishers, August 1993)
New York Daily News: Peripheral Bargaining and the 1990s Strike by Kenneth M. Jennings (Praeger Publishers, August 1993)
New York Noir: Crime Photos from the Daily News Archive by William Hannigan and Luc Sante (Rizzoli International Publications, October 1999)
The Paper: The Life and Death of the New York Herald Tribune by Richard Kluger (Vintage Books, January 1989)

Histories
New York Extra: A Newspaper History of the Greatest City in the World from 1671 to the 1939 World's Fair by Eric Caren (Book Sales, March 2000)
News is People: The Rise of Local TV News and the Fall of News from New York by Craig Allen (Iowa State Press, March 2001)
Origins of the Black Press: New York, 1827-1846 by Bernell Tripp (Vision Press, March 1992)
The Post's New York: Celebrating 200 Years of New York City As Seen Through the Pages and Pictures of the New York Postby New York Post (HarperResource, October 2001)
The World and the 20's: The Golden Years of New York's Legendary Newspaper by James R., Comp. Boylan (Bantam Doubleday Dell Pub, November 1973)
When Giants Ruled: The Story of Park Row, New York's Great Newspaper Street by Hy B. Turner (Fordham University Press, July 1999

Memoirs
Burning Down My Masters' House: My Life at the New York Times by Jayson Blair (New Millennium Audio, March 2004)
City Editor by Stanley Walker (Johns Hopkins University Press, September 1999)
Deadline: A Memoir by James Reston (Random House, 1991)
Iphigene: My Life and the New York Times: The Memoirs of Iphigene Ochs Sulzberger by Iphigene Ochs Sulzberger, Susan W. Dryfoos (Random House Inc., September 1987)
My Times: A Memoir of Dissent by John L. Hess (Seven Stories Press, September 2003)
New York Days, by Willie Morris (Back Bay Books November 1994)
The Times of My Life: And My Life With the Times by Max Frankel (Delta, March 2000)

Anthologies
52 McGs: The Best Obituaries from Legendary New York Times Writer Robert McG. Thomas Jr. by Robert McG Thomas, Thomas Malln, Chris Calhoun (Scribner Book Company, October 2001)
Backstory: Inside the Business of News by Ken Auletta (The Penguin Press, December 2003)
Margaret Fuller's New York Journalism: A Biographical Essay and Key Writings by Margaret Fuller, Catherine C. Mitchell (University of Tennessee Press, February 1995)
Meyer Berger's New York by Meyer Bergen (Fordham University Press, re-released March 2004)