Civic Conversations: Far West Side of Manhattan - Opening Statements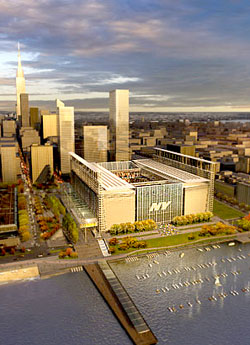 Proposed Stadium at Hudson Yards
Citizens Union Foundation's
Civic Conversation on
West Side Development,
June 24, 2004:
The following are excerpts of opening statements made at a June 24 forum on the city's plan to develop the far West Side of Manhattan. The forum was a Civic Conversation sponsored by Citizens Union Foundation, the publisher of Gotham Gazette.
Joyce Purnick, New York Times:
Here we are, on a summer night when we could all be home relaxing or taking in a movie. And instead we're meeting in a midtown auditorium to talk about a development proposal.
I don't think the city has seen anything quite like this since Westway, which is saying quite a lot. If you're too young to remember Westway, it is worth looking up. At least this is not in the courts yet. It's just on TV -- and in our minds. It's on TV in an ad campaign of a scale that is unprecedented even for New York City. The two sides, it seems are spending more money on TV ad campaigns than the presidential candidates are, but then both George Bush and John Kerry think that they know how New Yorkers are going to vote in November.
Development of a city that has limited space is always controversial, and the far West Side is the last large undeveloped area in Manhattan. This kind of controversy, I think traditionally, centers on the fundamental economic question: Who will really pay to develop the complex and will the stadium yield the economic benefits the city predicts?
So we have a lot to discuss and a number of experts to hear from.
Daniel Doctoroff, deputy mayor for economic development:
I rushed here from my previous engagement, which was hosting a party for the 60 or so people in the Department of City Planning who this week really crossed a major, major threshold by submitting the 6,000-page draft environmental impact statement [for the West Side development]. I asked the resident expert at the Department of City Planning, "Is this the biggest, most complicated, longest environmental impact statement of all time?" And without hesitating he said, "No, actually it's number two." I said, "What was number one?" He said, "Did you ever hear of Yucca Mountain?" I said, "No what's that?" He said, "Well that's where we dispose of our nuclear waste."
I'm not exactly sure what that story means.
What we are here to talk about is the future of New York City. New York has a history, at critical junctures, of taking bold action that sets the city on a completely different course. And the Hudson Yard Plan falls into that tradition: The tradition of Central Park, which was thought to be impossible and took years to get done. The tradition of the Brooklyn Bridge. Also the tradition of Park Avenue.
There was no Park Avenue 100 years ago. Instead what there was was dirty, twisting rail yards. In 1903, the state legislature, in one of its acts of infinite wisdom, actually ordered the New York Central Railroad to cover its tracks. The New York Central Railroad said, "OK how do we pay for it?''
They hit upon an ingenious solution -- one that is our inspiration in many ways for what to do with the Hudson Yards. What they did was they built a big deck over those yards. Down the middle of it they built a magnificent new boulevard, Park Avenue. They crowned it with a spectacular new train station, Grand Central. And to pay for it, they sold the plots of land that they'd created on a platform. By 1935, the Waldorf Astoria, the Helmsley Building, St. Bartholomew's Church, Grand Central itself, and a series of apartment buildings, hotels and office buildings were built on that platform. Today 160,000 people work on that platform, and the train, 100 years later, still runs under it.
We have a comparable opportunity to change the future of New York City in a dramatic way and do it over rail yards. And we have a comparable need, because the plain fact of the matter is we are running out of space in New York City, and the far West Side over the Hudson Yards is Manhattan's last frontier.
Go ahead and walk to this area on the far West Side of Manhattan. What you'll see are rail yards, you'll see abandoned lots, unused lots, parking lots, warehouses, auto body shops. What you'll also see is a completely inadequate convention center. Our convention center, the Javits Center, is the 16th largest convention center in North America. Even [the convention center in] Rosemont, Illinois, is bigger than the Javits Convention Center.
So, the city and state working together have developed a plan to transform this rather forlorn area into one of New York's great places. The key elements of the plan are first to extend the Number 7 subway line. The reason nothing has happened in that area in 80 years is because there's no mass transit. So we will extend the Number 7 line west under 41st Street and go down under 11th Avenue to a new station at 34th Street and 11th Avenue.
We will deck over those rail yards just like we did 100 years ago. We'll add parks and open space to an area that will help lure commercial and residential developers, commercial and residential tenants. Today the 360-acre area has a grand total of 615 trees, shrubs and bushes. We will add over 20 acres of parkland. We will rezone the area from its current zoning of manufacturing to a higher density, higher value commercial and residential development.
West of 11th Avenue, we will finally address the inadequacies of the Javits Center in two steps that will be done simultaneously. First we will expand Javits, ultimately up to 42nd street. And secondly, we'll create a convention corridor that extends down to 30th Street by building the New York Sports and Convention Center, obviously the least controversial element of our plan.
This is not just a sports stadium -- this is a building that we project to be in use 17 days out of the year as a stadium. But because it will be one of the most technologically advanced facilities of its type in the world, with a retractable roof, removable seating, with a lighting grid that will come down from a retractable roof and a removable field, it will be easily converted into a 200,000 square foot, column free exhibition and meeting convention hall.
Altogether, we will create in this area over a 30-year period of time, roughly 120,000 new permanent jobs Over 12,000 units of housing, roughly 2,000 of them affordable. Twenty acres of new open space. And we will create a place for millions of conventioneers and other visitors.
It will be a spectacular investment for the city and state. Under a roughly $4.5 billion public-sector investment over the next 30 years, we will generate we believe roughly $67 billion in new revenue. That's enough to pay the cost of the police force for 30 years. It's enough to build 1.5 million new units of housing in Brooklyn or the Bronx.
So the question is clear. Are we going to invest in the future in a way that makes financial sense for the city, that makes planning sense? We believe we have a once in a lifetime opportunity to firmly establish New York's financial future. And we hope you agree that it's time to take it.
Christine Quinn, City Council member from District 3, which includes the Hudson Yards:
I represent the area that is being rezoned and targeted for the stadium.
I first want to say something very important that I think sometimes gets lost in the debate on this. Neither myself or the other elected officials who are here tonight or the community board members or neighborhood residents are opposed to this stadium in a major anti-development way. Those of us on the West Side feel strongly -- we don't necessarily call it a wasteland, a word that has been used - that it is an area that in need of rezoning. We don't agree that only a couple of hundred people live there - in fact, according to the census, there's 21,000 people who live in the 50-square block area that would be rezoned -- but we do agree that the area should be rebuilt and upzoned. And we do believe that the heart of that rezoning and up-building should be an expansion of the Javits Center. And we wish this plan was more squarely poled on the Javits center and its expansion into a model that would truly bring convention business to the city without being attached to the stadium.
It's true that the city of New York is woefully far behind as it relates to bringing conventions to the city, but if you look at the 18 cities that beat us, so to speak, only one of those has a model where the convention center flows into a stadium and another one has a stadium across the street. So, only two of the 18 have a model like the one that we're proposing here. The other 16 do not but nonetheless beat us. I think that and other facts show that this is not the model one has to have to truly be competitive in the 21st century convention business.
Let me say a little bit more about the plans for the Jets stadium to be built on the Hudson Rail Yard, which has been put forth by the Bloomberg administration. I and many others have deep concerns about the financing plan, in particular, the amount of public money that is going to go into this plan. The Jets stadium I think will be the most expensive stadium we've seen built. It's going to cost in the end $1.4 billion. The city will pick up $300 million of that and the state another $300 million. We hear a lot in the economic analysis, in the economic justification of this stadium, that the money that is spent will be made up by increased revenue, increased tax dollars.
I don't think that is actually true for a couple of reasons. I am troubled by the fact that the environmental impact statement and most of the economic discussion about the stadium is based on an Ernst & Young statement, and nothing against Ernst & Young, but they were hired to do that study by the New York Jets. That does not make them an independent voice in this process -- it makes them an equal voice, not an independent voice. I don't know of any time before -- certainly it's not frequent in the municipal government -- that projects, particularly massive projects like this, are debated and deliberated based on an analysis that was done by one of the parties with a major interest at hand.
It would have been as if myself or Community Board 4 had commissioned the people to do an economic analysis. I think the Jets would be right to say, "You're going to go by their numbers? They're against this, they said they're against this, they hate this. Why would you go by their numbers?"
I think we're right to say, "The Jets! They're for this -- they want this. They're going to make a lot of money, why should we go by their numbers?" I am very troubled by that.
I am also troubled by the fact that if you look at the analysis that is put out by the city of how much tax money will come in, they're based on some fairly flawed ideas. When the deputy mayor testified at the City Council a couple of weeks ago, there was discussion about the stadium bringing in many events to the city -- the Superbowl, the Final Four, other major sporting events. In that analysis, there was some projection that we would get those types of events in some cases every five years.
Later on in our hearing, sports and convention financial experts came forward and said that those numbers are the most optimistic numbers they have ever seen for any convention center. In fact, it is their experience that the National Football League and other leagues do not go to cities more than once a decade. And that for a city to get that much business out of it is just impossible to imagine given these experts' knowledge of sports scheduling. Also, many of the events, which are projected to happen at the stadium, are events that require pressure from a home team. As far as we know, besides the Jets, there aren't going to be any other home teams of other leagues. Maybe there will be and maybe that will change the economics, but maybe there won't be in which case things will come in a great deal shorter than is being anticipated.
The thing that's perhaps most troubling about this plan is the degree by which it's moving forward out of the public domain and public debate. We're here tonight having a public discussion because Citizens Union stepped forward and said that we need to have this discussion. But the movement of the $300 million dollars of city and state money -- neither will be voted on by the City Council or state legislature. Such a massive project -- whether you are for or against it -- needs to have more opportunity for public debate, public modification and moments where elected officials can weigh in and convey the opinions of their constituents by voting yea or nay.
Adam Barsky, deputy secretary to the governor for finance & housing:
It is good to have the public debate. That's why we're here tonight. We want to have the discussion. We want to have the input.
Currently the state and the governor support this plan the mayor has put forth. We are a partner with them on this project. We negotiated a memorandum of understanding that laid out our intentions of going forward, and we believe that, from the state's perspective, it is a very, very good and wise investment that will have tremendous return, that will increase the revenue to the state to support all of the state's programs.
That's how we're able to pay for the programs that you pay for in the state. You have to have a tax base. You have to invest in your tax base. You have to expand and grow. You have to keep the state viable and competitive. Projects like this are the way you do that.
Critics come out and point to, "Well, if you don't spend $600 million on this, you can spend it on these other [things]." That's not a good characterization of how things really work.
I was a former city budget director and a budget adviser. We're talking about $600 million of combined city and state money that comes out of the capital budget, as opposed to an operating budget.
We want to look at these things with a little bit of context. Let's assume that we spend $600 million in public investment in this project. What that means is we go out and borrow the money. Because we are a municipality, we can borrow at a tax-exempt rate which is the lowest rate you can possibly get. That way to do a $600 million project, it's about $40 million to $42 million in a year in debt service. When you combine that $42 million a year, out of a combined $140 billion budget, that's about 1/300th of one percent.
In terms of the magnitude, for a project of that scope, we're getting revenue that would far exceed that investment. [[The projection of revenues]] don't necessarily take into account all all the multipler effects, the indirect spending and the indirect revenue. They were very conservatively put together. They analyzed this using the same models that our state Economic Development Corporation uses to analyze all projects. They didn't just rely on the Ernst and Young study. They put it through their model and they came up with the same answer: This is a very good investment to generate a tremendous amount of revenue for the state and the city.
Looking at it from the state's perspective, our $300 million in this project means we're going to be spending $15 million to $20 million a year in additional appropriations. In return for that, we're getting $3 billion to $5 billion of investment for the West Side of Manhattan. That's a pretty good deal. That is something we think is really worth doing.
The governor has been out there for years now, since 1995, trying to gather political support, trying to get the convention center that this city needs, and do the kind of things we need to do. We lose business every year, we lose hotel rooms every year. People are very anxious and very excited about having conventions here; they were very disappointed that the state legislature this week would not approve the legislation to move forward on the [expansion of the] Javits center. We will continue working with them to try to get that legislation moving forward.
James Parrot, deputy director and chief economist of the Fiscal Policy Institute:
The Fiscal Policy Institute has not taken a position for or against any of the components of the West Side proposal. At this point, it's a very complicated proposal. We're trying to understand it. We've been fairly engaged with the city in discussing this. We applaud the city's openness and willingness to share information on this.
One of the aspects that we've been particularly keen to understand is the calculation behind the $67 billion in revenue that would be created over the next 30 years. We've yet to see sufficient back up of that. I understand that those calculations are being reviewed, and we will look forward to seeing the revisions of that.
What I do want to talk about is an aspect of the financing that is clearly very large and complicated. The city is proposing to borrow $4.65 billion dollars and the state another $1.15 billion Ð at least. That's most of the financing that goes into this. The Jets are supposed to be contributing $800 million dollars, and a hotel investor to be identified is contributing $200 million dollars. So, it's a fairly large public investment. In an effort to make the project self-financing, though, it has increased the risk involved.
We have particular concerns about the subsidy policy that's being proposed. There's a name for this, UTEP: the Uniform Tax Expenditure Policy, which basically involves the developers of residential and commercial buildings entering into private agreements with the city's Industrial Development Authority that will allow them to pay a reduced rate of property taxation. Now this involves an implicit subsidy to the developers of the commercial property.
We tried to understand the justification for this. We have looked at the real estate model. While they project the future need for office demand in the region, and in the city and in Manhattan, we don't know at what prices a given office building is being projected for. So, we don't know whether or not a subsidy is going to be needed. In effect, the UTEP policy is a tax subsidy approach on automatic pilot.
Some city representatives will say that the city subsidized every office building in Manhattan for the last 25 years. That goes back to 1979. Certainly, you can understand some need for the city to induce development, to induce investment back in New York City in the years immediately following the 1975 fiscal crisis and the decade of 1970s when the city lost 600,000 jobs and there was this big outmigration of corporate headquarters. And in the early 1990s recession when the city lost 400,000 jobs in a matter of two or three years, the city was very concerned that there be a recurrence of the massive job flight among corporate headquarters that had occurred in the 1970S.
The deputy mayor does a superb job in projecting to people, not only in New York City, but as he goes around trying to convince the International Olympic Committee representatives about how compelling New York is for the games and as a location for global business. Because it's so compelling, why do we have to continue giving subsidies?
We should turn off the autopilot on the subsidies policy. It does a lot to antagonize small and medium sized businesses in New York who don't have the same access to those tax breaks. A lot of companies are getting tax breaks -- Madison Square Garden is one of them. They have a full property tax exemption -- $10.6 million a year -- and they have it for several years.
The annual cost for tax subsidies in New York City that goes to business, commercial and industrial activites, is $1.3 billion dollars. The city's proposal is basically to continue providing subsidies. Now, what are the consequences of this? I think it makes the financing riskier. Increased pressure for development. It probably creates pressure for more subsidies because the tax collections related to development will be less. The city will be under pressure to foster more development at a faster pace and it may then resort to even deeper subsidies in the future. It's a treadmill. Once you get on it, it's hard to get off. We've been on it for 25 years. I think its time to get off.
Putting UTEP in to the plan locks the city into the subsidy policy for the next 40 years. Given the uncertainty of projecting what all the development needs are going to be and to understand what the market rate will be at those times, I think it's a flawed part of the policy to say now -- 10 years before any development starts -- that we're going to offer tax breaks. So, my recommendation as we proceed in our analysis of this is that this UTEP policy seems to be a wrong approach and that by taking this out of the proposal, it would improve the outlook of the city budget. It would improve the financing behind the Hudson Yards Infrastructure Corporation, and it would be good economic development policy.
Richard Ravitch, former chair, Metropolitan Transportation Authority:
I have not spoken out on an issue of this kind in the city since I left the public sector many years ago. I am a great admirer of Deputy Mayor Daniel Doctoroff. I admire his audaciousness and his vision and it pains me to disagree with him on this issue. But I feel I have to do so and I will try to explain why.
Number one, I had the honor of becoming chairman of the MTA during a period of serious neglect by the governments of the state and the city of New York of the conditions of the public transportation system. The 1960s was a time of great preoccupation with new projects, bold visions, and no money for capital maintenance of transportation system.
During my tenure, the air rights over the rail yards that are now the focus of our attention were considered to be a very valuable asset for the MTA. And I, with more than a passing interest, entertained many proposals for private development of those air rights. I rejected all of them because I did not think any of them would give fair value to the MTA.
It is hard to be precise about the value of those air rights over the rail yards. But in my judgment, they belong to the MTA and any sale or development of those rights must be for the ultimate benefit of the transit system in the city of New York. This is particularly true since the MTA will be coming out with a capital plan in July that requires $15 billion for maintenance, without any consideration of new projects or routes.
My successor Robert Kiley and I recently wrote the current MTA chairman Peter Kalikow a letter in which we urged him to respect the fact that he has the power and the duty to make sure that that the transportation authority is not shorted in this deal.
The second thing that bothers me about this plan is that the State Legislature has been asked to enact legislation that will further the power of public authorities in the state of New York to act with respect to this site even though there is no firm deal with the MTA and there is no firm deal with the New York Jets.
We have been told anecdotally that the Jets are going to put up $800 million and everyone seems to accept that. But there is no evidence that they are going to put up $800 million. They are going to put some equity in, they are going to get a very attractive loan from the National Football League, and the rest of the money they plan to borrow.
I don't blame the Jets for a second. I admire their willingness to go through what they are going through to try to get a stadium in New York City, but I want to disabuse anyone of the idea that the Jets are going to put $800 million in credit or cash into this project.
So how can the public, how can the legislative bodies of the city and state of New York properly make a decision about the wisdom of this or about the real economic benefits? Nobody of course can predict the future. And I have no question in my mind that the rosy predictions have as much validity as the pessimistic predictions. But how can those decisions be made without knowing what the business deal is and how much money is actually going to be put into this project?
My third major problem with this is that the city plans to use the Transitional Finance Authority to insure the financing of this project. The Transitional Finance Authority was created to generate borrowing capacity for the city for capital purposes when it was up against its constitutional debt limit.
The city's intention to use this kind of revenue to back up the financing for this project is very troublesome. The Transitional Finance Authority has about $5.5 billion in revenue from the city income tax and sales tax, and they have $550 million of debt service on its existing bonds.
If the board of the authority, which is in a sense a mayoral agency, has the power to expend excess revenue without going through the budget process, then the City Council might as well close its tent and go home, because it is a total circumvention of the budgetary process set out in the charter of the city of New York.
If we can do it for $20 million or $40 million, then we can do it for $5 billion. This is a serious issue of governmental process.
Number four, I have no problem with the legislative body deciding to spend this money if they understand the risks that they are taking. There are serious cost overrun risks for the Jets stadium. And we don't know how they are going to bear it or what credit they are going to put behind their promise. And if they have no assets other than a contract, then that does not ensure completion of the stadium.
So, to sum it up, I think this is a very bold effort. But I think at this point in time, the details, the financial burden for the taxpayers of New York, and the interests in maintaining the city's public transportation system have to be clearly understood. And they are not.
React to this article on our Feature-Commentary Message Board
For more read Excerpts from the question and answer session