Be A Cheerleader
By Ed Koch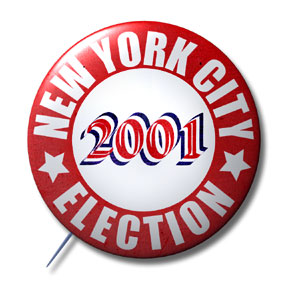 The first thing a mayor should do is be a cheerleader for the city. What the next mayor has to do is inspire people and businesses to stay in New York. There is a failure of hope among some in this city at the moment. But people are bucked up by knowing that others in the same boat have a verve and an intent to survive and overcome. That is what the new mayor can do.
The moment I enjoyed the most in my 12 years as mayor was when we had a transit strike. One morning, I was in the office of Police Commissioner Bob McGuire, and he was telling us that all we could do about the strike was provide parking lots. Everyone was wondering how we were going to keep the city going.
I looked out the window of the Police Plaza building, and I saw tens of thousands of people walking over the Brooklyn Bridge. I said to the police commissioner, "Continue, I'll be back." I got in the elevator, and I ran down to the Brooklyn Bridge. I went onto the bridge and I shouted, "Walk over the b ridge! We aren't going to let these bastards drag us to our knees." People began to applaud. It was not meant to be theatrical. I felt it. But I realized I was on to something. For the next 11 days, which was the duration of the transit strike, I went to every single bridge connecting Manhattan in the morning and in the evening encouraging people.
Today, the new mayor should buck us all up in a similar way. He should immediately call together every CEO of any institution, commercial, academic, and non-profit to Madison Square Garden. Call them in and say, "You are our troops. You have contacts all over this country. We want you to use them. And we want you to put pressure on the people in this room who are thinking of bailing out."
My second piece of advice for the next mayor is to NOT do what every mayor, myself included, has done. We all thought that anyone who came before us did not have anything to add to the equation. Experience brings a certain benefit and knowledge, but new mayors do not call on those leaders of the past. I never invited the advice of Mayor Beame, David Dinkins did not invite me, and Rudy Giuliani did not invite David Dinkins. We have to stop that.
When I was with Mark Green the other day he said, "Do you have any advice?" I said yes. If you become mayor, invite Rudy Giuliani back to Gracie Mansion. Mark Green said, "Do I have to?" He was only following the path that we all take, but it is a mistake, particularly at this time.
The next mayor must also call on the other experienced politicians in this city and state who know people in Congress and the White House. People with connections that can help the city in this time of need have to be drawn in. There is one thing in government that works. If you can call on a friend, if you can call on someone you know who can help get things done, then you have an edge.
I am not disparaging the new mayor when I say he does not have those contacts. He can not be expected to have them. You acquire them when you have been in government for years. The next mayor should call on the former governors, congressional members, senators, mayors, and business people who live in this city and ask them to help.
Not only does the next mayor have to assemble a first class team, but he also has to avoid political patronage of any kind. This is the time for the best people. We all like to say we brought in the best people, but in my administration some of them were friends of mine and that was part of the equation. Patronage should not be part of the equation anymore.
In my estimation, those of us who have lived in New York are incredibly lucky. The next mayor must inspire all of us -- businesses, government, and private individuals -- to give back to a city that has given so much.
Edward Koch served as Mayor of New York City from 1978 to 1989.
###
Read Show Up by Andrew S. Eristoff
Check out the Feature Archives!