Avoiding the Next Crisis
By Marcia Van Wagner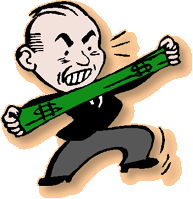 New York City has faced hard times before, but by at least one measure, the situation confronting Mayor Bloomberg is more serious than any in 25 years. As daunting as the $4 billion to $5 billion budget gap for fiscal year 2003 is, however, an array of measures, beyond simply slashing budgets or boosting taxes, can provide some relief.
To get a sense of the scale of the problem, the Citizens Budget Commission calculated the budget gap as a percentage of total city-funded expenditures. By that measure, the city faced its largest shortfall in 1976 when the gap would have equaled 19 percent of all city-funded expenditures by current accounting methods. Since then, other mayors have faced large gaps but none as severe as the one facing Mayor Bloomberg. Estimates vary, but he confronts a shortfall for next fiscal year equivalent to 13 to 16 percent of city-funded expenditures.
What have other mayors done about their gaps of eight, nine or even 12 percent? In Ed Koch's first term, he cut spending by 15 percent. Rudolph Giuliani also reduced spending. There were tax increases in Koch's first term, and David Dinkins raised taxes considerably, partly to pay for extra policing. In the past, some mayors, particularly Koch in the 1970s, received help from the state. That, though, is unlikely to occur again.
Spending cuts and tax hikes remain options for Mayor Bloomberg. However, he ruled out tax increases in his inaugural speech. For the most part, this makes sense, since New York City already places a higher tax burden on businesses and residents than almost any other U.S. city.
What's left? First, there are a couple of easy things the mayor might do. For example, he can use the so-called personnel service accrual funds, money that has been earmarked for positions that have not been filled.
He can try to find some one-shots, revenue measures that can apply to the current year's budget but don't have any recurring value. For example, in the past the government has sold some of its assets, such as the UN Plaza Hotel and WNYC. The city has been criticized roundly by many of us for doing that, but one shots are not all inherently bad if they are pursued as part of a larger plan to achieve recurring budget balance.
Then come things such as further service cuts for libraries that have already had to scale back their hours and other cultural institutions. But the entire budget for these areas total only $1.6 billion
Often in the past, the city had to flail about filling budget gaps as revenue and spending predictions changed. Such constant scrambling to simply get through each week creates panic and makes it hard to arrive at good decisions.
BEYOND TAX AND CUT
To avoid that, there are practices the city should adopt to close not just the current budget gap - but future ones as well. As a guiding principle, officials should keep their eyes on the prize. The typical city budget looks four years ahead. Over that period, you want to see a balanced budget with a competitive tax system. And you want to be efficiently delivering quality services to satisfied residents.
Here are some specifics.
Shift some responsibilities back to the state: Part of what makes our taxes high is that New York State places heavier mandates on localities than virtually any other state in the nation. This includes a large portion of Medicaid costs. So, the first proposal is to simply place a greater part of the burden for funding the safety net -- Medicaid and public assistance -- on the broader tax base of the state. This would save perhaps about $1.3 billion a year since city residents would still be contributing to Medicaid through their normal state tax payments. Admittedly the state is having budget problems of its own right now but this is the right thing to do.
Explore tax sharing with New Jersey for transportation: Some of that already exists through the Port Authority. Doing more to broaden the regional tax base for transportation would take some of the burden off New York City economy.
Bring back the commuter tax: The tax was 0.45 percent of a worker's wages, worth a total of about $500 million a year. The state legislature decided to eliminate it. It is time to reverse that. The commuter tax is not anti competitive, and its demise certainly left a big hole in our budget.
Promote productivity: This entails many different things including pay policy. If wages were set more in accord with labor market conditions, the city could pay more to workers whose skills are in short supply and less to those where applicants for positions far outnumber the number of available jobs. This would help the city get quality workers and increase flexibility for managers.
We also need to create incentives for city workers to find better ways to do things and institute merit pay to reward people for a job well done. Now, there are basically no incentives for people to excel in their jobs:
Modernize the health insurance program for municipal workers: By requiring employees to contribute some portion of health-care costs, the city would simply be conforming with the practices of many other states and localities.
Develop a smarter capital program: That means keeping facilities open for longer hours where appropriate and better maintaining existing facilities.
Operate new construction projects more efficiently: The state Wicks law, which requires public entities to hire multiple subcontractors, is a major barrier to this and should be repealed. The city has estimated this law raises the cost of capital projects by about 14 percent.
Set new state limits on borrowing for municipal projects: All too often the city sees borrowing for capital projects as an unlimited source of funds. A new state constitutional amendment placing clear, comprehensive and realistic limits on such borrowing would provide a clear incentive for better capital planing and help ensure that municipal borrowing would not get out of hand.
These measures do not provide a quick or painless solution to New York's current budget problems. But taken together, they could help ease the current problems and, perhaps more importantly, help keep us from confronting new and perhaps even bigger gaps in the years to come.
--
Click here to view the entire Citizens Budget Commission report, "Managing the Budget in the Bloomberg Administration." (in pdf format)
Marcia Van Wagner is chief economist for the Citizens Budget Commission.
See "The Case For Raising Revenues" by Mike Musuraca
###
Check out the Feature Archives!