Atlantic Men's Shelter
By Nada El Sawy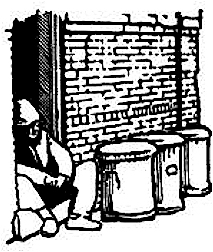 The sign says "No Loitering," but outside on Atlantic Avenue in Brooklyn on this recent chilly morning, some dozen men, most of them homeless, do nothing but loiter -- with a purpose. They stamp their feet, hoping an employer will come by offering them a day job as a roofer or a painter.
Finally, a police van arrives. Five of the men pile into it. This is not an arrest; this is employment. The men are on their way to a police line-up. Though they risk being improperly identified as the perpetrator of a crime, the police are offering what to the homeless is real money - ten dollars.
As unsettling as the situation may seem, the homeless on the street see themselves as luckier than the ones inside the building they are standing in front of.
The Bedford-Atlantic men's shelter in Brooklyn, one of the last remaining shelters run by the city, has had a reputation for being among the worst in New York. Residents call it jail, but without bars. Community members call it foul and dangerous. Police call it a "situation." The Department of Homeless Services calls it an improvement.
The homeless have been back in the news in recent weeks. Some 29,000 homeless people are seeking shelter each night, which is a record; there have never been so many homeless seeking shelter in the history of New York City. At the same time, a new court ruling (which the Bloomberg administration is appealing) allows the homeless to sleep on the steps of the Fifth Avenue Presbyterian Church, though not on the sidewalk -- which brings up the question, why people would want to sleep on the streets (or the steps) if there are shelters.
The answer, some say, is places like the Atlantic, a five-story relic from the nineteenth century with a dungeon-like atmosphere; its reluctant residents have nicknamed it Castle Grayskull. Gregory Marcellin, 33, spent two weeks there, and, feeling unsafe, moved back onto the streets. "I just don't like the situation inside," he said. "Some of the people, they treat you like nothing."
"People are getting robbed left and right," said a current resident, Gardner Mendez, 23. "They fight over nonsense, like beds. There are security cameras everywhere, but people are still doing drugs and smoking crack. People are in bad shape."
The new Bloomberg administration has taken note of the problems, and made promises to do something about it. Mayor Michael Bloomberg appointed a new commissioner for the Department of Homeless Services, Linda Gibbs, who said their goal "is to guarantee that every homeless person and their family has a safe bed and the services they need." Among other things, they are considering posting a police officer in every facility. Police Commissioner Raymond Kelly visited Atlantic a couple of weeks ago, stating that there are still some "challenges" there.
Ultimately, as an article in Sunday's Times pointed out, many hope that the city will come up with a solution that, as Gibbs puts it, "will result in having fewer people in the shelter system" - advocates say no people in the temporary shelters - "and more people in permanent housing."
But for now, the policy for handling the homeless includes a reliance on the shelters. And for two decades, through all the ups and downs in the number and condition of New York's homeless, and in the government's policy toward them, the Atlantic shelter has stood as a solid and persistent example of how slow the progress.
THE NEED FOR ATLANTIC
As early as the 1600's, New York City has tried to provide shelter for some of its homeless. In the 1800's, they were often put in police stations, a practice ended in 1896 by Police Commissioner Theodore Roosevelt. In the 1970's, the homeless had become very visible throughout the city, because the vastly higher prices for housing gave landlords incentive to shut down the flophouses and the single-room occupancy hotels that had been home to more than 100,000 of the poor. At the same time, the large mental institutions were discharging many of their patients, supposedly to live independently with the aid of community-based care, but little was done to provide that care.
In 1979, a young Wall Street lawyer named Robert Hayes took both the city and the state to court, saying that they were in violation of their own laws by their failure to provide adequate shelter for the homeless. The court agreed, and in 1981, submitting to a settlement, Mayor Edward Koch made New York the first city in the nation responsible for the direct care of homeless people. The city and state agreed to provide shelter to homeless single adults who qualified for home relief or who needed shelter because of "physical, mental, or social dysfunction."
The shelter system they created was a series of huge facilities that looked like warehouses. Many offered a place to sleep to more than 1,000 people a night. Hayes, and the organization he founded, the Coalition for the Homeless, took the lead in a struggle that continues to this day to force the city to abide by the spirit of its commitment
One of the facilities the city opened was the Atlantic on the border between Crown Heights and Bedford-Stuyesant, which had been built as a towering armory, and was "converted" in 1982 (though little was done physically to change it). At its most crowded, some 900 men slept on the floor of a massive drill hall.
Elijah Holland spent three months at Atlantic in 1989. He was able to leave the shelter when he enlisted in the army. "I got out. I wouldn't even call it a success story. I just got out."
Now 35 years old, he owns a one-bedroom apartment in Bed- Stuy, and still comes to the corner outside of the shelter looking for a job - not in a police lineup, but as a roofer or a painter. Holland is dismayed by the stories he still hears from the homeless.
"The same problems that exist now existed then," he said. "A lot of the time we create our own situations, but these people have no support. There aren't the appropriate personnel to address each individual situation."
MAJOR SHIFTS IN THE SHELTERS
A decade after his predecessor had created them, Mayor David Dinkins thought these massive shelters caused more problems than they solved, and sought to change the city's homeless policy. There were several major shifts in the shelters.
First, there was an attempt to make them smaller. The Department of Homeless Services, which was established in 1993, reduced the Greenpoint men's shelter in Brooklyn from 450 to 200 beds, and Fort Washington in Manhattan from 800 to 200.
Second, a 1992 report by the New York City Commission on the Homeless suggested that private organizations are better equipped than the city government to help residents who are mentally ill, drug abusers or both. Now some 80 percent of the shelters are run by private non-profit agencies like Volunteers of America, the Salvation Army, or such community-based organizations as the Lenox Hill Neighborhood House. Out of the 44 "transitional housing facilities" for single adults, 37 have been contracted out to private nonprofit organizations; of the 80 family shelters, 74 are now privately operated.
Finally, officials realized that a place to sleep was not enough; many of the homeless needed additional services. At Fort Washington, case management and onsite rehabilitation services help 200 mentally ill men obtain permanent housing and jobs. In collaboration with the Department of Psychiatry of Columbia Presbyterian Hospital, Project Renewal provides treatment.
The Atlantic, too, was made smaller. From a high of 900, it now has a total of 350 beds. There are 20 people to each dorm room on the five floors, and a third-floor recreation area.
Richard Matthews, who has been director of Atlantic for the past two years, acknowledged Atlantic's notorious reputation. He insisted, however, that the people who call it dirty and dangerous are "living in the past."
But Atlantic is still run by the city, and it still lacks services.
LIMITED SERVICES
Atlantic is called an assessment shelter. It is designed to evaluate clients and refer them to specific programs within 21 days. The goal of assessment shelters like Atlantic is to place people in an appropriate shelter or, even better, get them out of the system entirely. In January 2000, the Department of Homeless Services declared an emphasis on what it called START - which stands for self- sufficiency, treatment, addiction control, rehabilitation and training.
But that year, the actual average maximum length of stay at Atlantic was 124 days.
In May of that year, a non-profit group called Project for Psychiatric Outreach to the Homeless began a pilot project providing onsite psychiatric services, with trained clinicians spending about four hours each week at the shelter. The Project gave psychiatric training to the shelter staff. The number of men staying at the shelter longer than 21 days decreased from 77 to 46, and the average maximum length o stay went from 124 days to 50 days.
For all the progress, Psychiatric Outreach left after 14 months because its funding ran out, and Atlantic no longer has its own onsite psychiatric services. There are still services available outside the facility, but, said the Psychiatric Outreach's clinical coordinator, Cathy Treiber, "sometimes the problems that the clients have don't match the kind of services that are available."
Matthews, Atlantic's director, said the average stay is now about 11 days, and those who stay longer are either being uncooperative or are in denial about their problems.
Mendez has been in Atlantic, off and on, for more than five months. "The only reason why I'm still here is that they try to transfer me to a drug programs, and I don't have a drug problem," he said. "I need a work program. Mabye there should be a psychiatrist in here every day. Maybe they'd transfer people to the right places then."
Before coming to the shelter, Medez was living with his girlfriend and her daughter in the Bronx. When they broke up, he said, he had nowhere else to go. He has a job as a messenger for A plus Couriers, working 12 hours a day, saving up for money to get an apartment.
His prospects, judging by the statistics, are slim. Less than six percent of the nearly 25,000 homeless single adults who went through shelters run by the Department of Homeless Services were placed in permanent housing between July 2000 and June 2001, and this was a slight decrease from the year before.
"They're just warehousing people there, people who have no other alternative," said Nazerine Griffin, director of the Bedford- Stuyvesant branch of Ready, Willing & Able, a work program for the homeless.
Eric Fuller, 27, has been in Atlantic since October, having dropped out after four months from a 12-month program for homeless alcoholic and drug-abusing men. Now he has to start all over again. Fuller said that the caseworkers would probably send him to another drug rehabilitation program in one of the shelters. Meanwhile, he waits.
"Really, you're not supposed to stay here that long," Fuller said. "Me, personally, I don't have no where else to go."
SHELTER CONDITIONS
Permanent jobs and permanent housing may be a fantasy beyond the control of the city right now, but even reasonable shelter conditions seem like a luxury.
Patrick Markee of the Coalition for the Homeless said that the shelter does not always provide basic supplies, such as sheets, towels and locks for the lockers. When the coalition inspects the facilities, common violations are dirty bathroom and shower areas and, less frequently, reports of alleged mistreatment by the staff. Mistreatment can include threats of violence and harassment. In past years, there were some cases of assault.
More often, the staff does not commit the violence, but neither has it prevented it from happening. "Fights break out, people steal from one another and the staff does nothing but give you three meals and a cot," said Eric Fuller. (The city refuses to release statistics on violent incidents at the shelter, which might either back up or refute the accusations).
Markee said that one problem is that peace officers are only at the patrol entrance and first floor, and not on the three sleeping area floors.
"There was a client in here the other day who was beaten up," Markee said. He is now living in the street.
INCREASED SECURITY
Security, though, has improved in Atlantic as in all the shelters. There are reportedly surveillance cameras in 13 shelters, metal detectors at every entrance, private security personnel contracted by the city and more than 240 peace officers.
For every eight-hour shift at Atlantic, there are 22 contracted security officers and six to eight police officers on duty.
"They have trained peace officers at the front," Markee said. "They used to be 'rent-a-cop,' poorly trained officers." A lawsuit, Markee said, forced the city to terminate its contract with a previous private security company.
The local police precinct sees an improvement, at least for the surrounding community. The new security force, which was installed about a year ago, has made the load on police lighter, said Inspector Michael Marino of the 77th precinct.
Police pass by Atlantic 20 to 30 times each day, according to Marino. They hand out 30 to 60 tickets a month, on violations such as loitering and panhandling. The precinct receives two to three calls a week, mostly disturbance complaints, such as someone staying in the shelter who should not be there.
"The shelter staff work very well with us," Marino said. "They have their own security force now."
Mayor Bloomberg has proposed additional strategies for increased safety, such as a crime-tracking system like the Police Department's Compstat program.
MIXED OUTLOOK
Homeless advocates view the mayor's recent comments as a positive sign, but warn that the future may not see much improvement. As the economy weakens, city officials project a continued shortage in affordable housing and increase in the number of homeless. The 2002 budget for the Department of Homeless Services was increased by $17 million to $497 million, but cutbacks are a concern.
"With the new administration, we just hope our resources don't shrivel up," Matthews said.
Increased demand means less hope for permanent help. At Atlantic, where residents are given temporary refuge, 21 days or 11 days or 1 day is already too long to the people who live there.
"You can talk to any homeless man on the street, who has been to Atlantic. They have all had bad experiences," Markee said. "It's an absolute testament to the city's failure in policy."
###
Check out the Feature Archives!