Shaky And Sacrificial
By Glenn Pasanen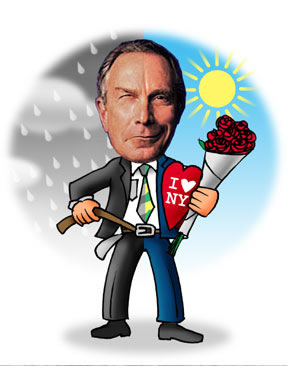 Mayor Mike Bloomberg's preliminary budget for fiscal year 2003 is an unusual - and shaky - combination of cuts, new debts, and pleas for state and federal aid. It is refreshingly transparent in identifying the depth of the city's budget deficit for next year, $4.8 billion. But with the exception of dozens of specific cuts in health, education, library, cultural affairs and other services, the budget proposal is largely an ambitious wish list: $1.5 billion from borrowing (usually a no-no), $800 million in new federal and state funding, and $600 million in concessions from labor unions.
On the city revenue side, the mayor has backtracked a bit on his pledge not to increase tax revenues by proposing a $1.42 cent per pack increase in cigarette tax, worth $249 million if the state legislature approves. He has also added $260 million in increases in various fees, fines, and charges. But the lack of a more substantial revenue plan underscores the instability of his plan.
While a budget ideally offers a set of priorities rather than just numbers, this one presents no vision about re-building, economic development, or human capital development. And, while the mayor has asked for sacrifice from all New Yorkers, it turns out the sacrifices spelled out in his budget narrowly target New York's most vulnerable.
Mayor Bloomberg worries eloquently about the budget consequences of September 11, but he sees the deficit as mostly a one-year project, overlooking underlying budget and policy problems that have existed for years. He graciously overlooks the elephant in the room, but he is in some danger of following in his tracks. Perhaps one-quarter of the deficit is related to September 11. The rest was caused by Rudy Giuliani. It was Giuliani who reduced tax revenues by $2.1 billion a year for tax cuts, and used an average of $2.5 billion a year in budget surpluses for one-shot gap-fillers in each of the last five years.
Budget Cuts ($1.9 billion in Savings)
The sacrifice in program cuts is borne almost exclusively by those with the greatest needs, such as school children, seniors, youth services, libraries, cultural institutions, and local housing programs. Among the most disturbing cuts: The public schools are cut by $358 million (seven percent), seniors by $26 million (16 percent, including the cancellation of weekend meals!), the libraries by $39 million (15 percent), cultural institutions by $19 million (15 percent), day care by $80 million (10,000 to 12,000 slots). The city's housing agency drops several anti-eviction and other housing-preservation programs. Parks lose another 80 workers and are expected to sell corporate "naming rights" to parks to raise $2 million.
The mayor rather bravely looks for savings from the police department, although the 1,600 officers who will be "cut" are actually individuals who will now not be hired. (There will, in fact, be a few more officers on the force next year than this year.) By hiring 800 civilians to replace uniformed officers doing civilian work - an excellent reform - this plan will save $44 million. Another plan for the uniformed services, the Sanitation Department, is a proposed 18-month suspension of metal, glass, and plastic recycling. This would save $51 million next year. But over time the recycling program has become more cost effective, while the cost of waste export has jumped dramatically.
The $1.9 billion in "cuts" includes a lot of different actions. Many of them are revenue gap-fillers, substituting federal or state funds for city funds. Others savings come from attrition, as in the Department of Corrections, where fewer prisoners means 511 fewer officers are necessary, saving $20 million. Other savings come from lower estimates of such services as foster care ($7 million) and federal reimbursement of foster care expenses ($13 million). Some $400 million is to be saved by refinancing existing bonds. But there is some concern that the way these bonds are structured may mean higher costs in the long run.
What is striking about the cuts to human services is that they look so similar to Rudy Giuliani's annual ritual of cutting services close to the heart of City Council members. Most observers thought the former mayor used the exercise to keep the council busy with a relatively small part of the budget, so that the mayor could have his way with the rest of it. These program cuts do not represent a lot of money, except to those affected. Perhaps old budget habits, or old politics, die hard.
Federal and State Actions ($800 million)
The federal and state portions of the budget is a $2.1 billion wish list, $1.3 billion of it on the state side, from which the preliminary budget assumes $800 million can be realized. The state list includes the cigarette tax proposal (the state wants its own $1.50 tax), tort reform ($100 million, but a lost cause over the years), refinancing of pension liabilities ($286 million), and a restoration of state budget cuts to the city ($215 million). There is no plea, however, for the restoration of the city's commuter tax, the loss of which costs the city $500 million a year. The federal wish list includes debt finance reform ($150 million), flexible use of the hazard mitigation grant program ($150 million), a fair share of Homeland Security Funds ($200 million), and a three percent increase in the federal share of Medicaid ($146 million). At first glance, few of these proposals look very realistic.
Labor Savings ($600 million)
The plan includes no layoffs of city employees, but the city will negotiate with the municipal unions on fringe benefits and incentive severance programs. With many contracts about to run out and others still unresolved, there is no telling how realistic this $600 million assumption of savings is at this point.
September 11 Debt Financing ($1.5 billion)
The state authorized the city on September 13 to raise as much as $2.5 billion from Transitional Finance Authority bonds to deal with the costs associated with the World Trade Center disaster. The city could use the money as a short-term cash flow vehicle, while waiting for federal reimbursement, or it can choose to use the money for city expenses and capitalize repayment over 20 years. Mayor Bloomberg wants to use the money in the latter way, using $1.5 billion to balance next year's budget. His reasoning is that September was a unique event, justifying the otherwise unlikely choice. The Independent Budget Office has estimated that repayment would cost about $100 million a year for 20 years. That seems a high price to pay, a sacrifice by a generation of city taxpayers - especially with no substantial revenue budget in place.
The re-financing and September 11 debt financing alone add up to $1.9 billion in one-shot gap fillings. Then there are the fragile assumptions about state and federal aid. These one-time solutions and soft assumptions look worse in the context of the four-year plan, which shows the city's plight is not a one-year problem. In fact the city is facing $5 billion and $5.4 billion deficits in fiscal years 2004 and 2005, respectively.
But this is a preliminary budget, perhaps more preliminary than most. With a richer revenue budget - one that asks for a little sacrifice at the top rather than a lot at the bottom - the executive budget in April may look more solid and more equitable. Keeping the weekend meals for seniors is a good place to start.
Glenn Pasanen is associate director of City Project
Read "At Least He's Clearer" by Doug Turetsky
Read "Bloomberg's (Misplaced) Compassionate Side" by E.J. McMahon
###
Check out the Feature Archives!