Look At The People, Not The Numbers
By Verna Eggleston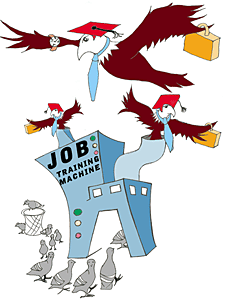 I first joined the Human Resources Administration more than 20 years ago when it was trying to figure out how to house homeless people. Without any policy at the time, we addressed the issue as a crisis and housed more than 450 families -- average family size of four -- on the floor of a gymnasium in a state park.
In the world of human services, you get strange rewards for success, so my next assignment was to begin to build a structure for dealing with homelessness. We ran what were called Emergency Assistance Units. They opened at 4 p.m. and dispensed cash grants to families who were in crisis.
My next reward was working in the administration in the middle of the crack baby epidemic, the AIDS baby epidemic, and opening 25 group homes, one group home a week, for homeless children.
So my experience and my training as I moved through government was in responding to crisis. The Human Resources Administration I was at for 11 years was a responsive Human Resources Administration. Any time there was a crisis we'd jump up and deal with it because that's what we were ready to do.
The Human Resources Administration has one big agenda: Get people into the world of work now!
The last mayor wanted to reduce the rolls; this one wants to do it compassionately. People need to delay the dialogue about decreasing numbers. That cannot be the milestone we use to see if welfare reform is working. We need to look at the people, what they are doing and how they are faring.
We must engage people in planning their lives and must move away from the cookie cutter model: i.e., This is what we have and this is what you're going to get. Instead of saying, "Welcome to HRA, we're going to help you find a job," we are going to say, "Welcome to HRA. What interests you in the world of work?"
There are many people on welfare who have already been in the world of work. Why use up eight hours of a person's time watching a training video when they have already worked and could be doing interviews or something else? There must be flexibility.
For those people we have moved off the rolls, my mission must be to keep them off. That is retention.
But what does retention mean in a new job market? In a world of recession? With the backdrop of the World Trade Center? We must work with people who lost their jobs at the trade center and with another group who might have lived generation after generation in poverty, receiving benefits, and must now think about work.
For people who want to move higher, to move beyond a minimum wage job doing the same thing over and over and over again, we will provide continued training. If you care about retention, you have to talk about education.
How do we do this? First, it's not something that Human Resources can do alone. I am meeting with all the commissioners citywide who do human services and discussing with them how we can develop a one city, one client plan.
What does that mean? You have to pull the resources together and work with the families of the clients and the homeless community. We have to separate out the clients with special needs.
We have thousands of senior citizens on the rolls because someone is not focusing on the seniors in this city who are entitled to Social Security because they have had jobs, but who do not collect benefits. They've contributed to society, and they're languishing on welfare rolls.
Why are folks suffering from AIDS collecting welfare instead of Social Security benefits? And why are we asking people with AIDS and HIV to recertify for benefits every year? There is still no cure.
The new commissioner of Housing Preservation and Development has a mandate to provide low income housing. If I have money to pay for housing, then she and I need to join together and advocate to the state that we be allowed to use that money for housing. In addition, we have to begin a partnership with private nonprofit agencies that have funding.
Some of the contracts that were let by HRA during welfare reform need to be reviewed. In February, I created a contract review board that will make recommendations to me.
One of the other things we will do is open the doors, open the windows and let the people in. Open the doors to the press, invite them in. I'm doing all of this as quickly as I can. Verna Eggleston is the commissioner of the New York City Human Resources Administration.
Read also:
###
Check out the Feature Archives!