Animal Abuse And Neglect
By Tracey Middlekauff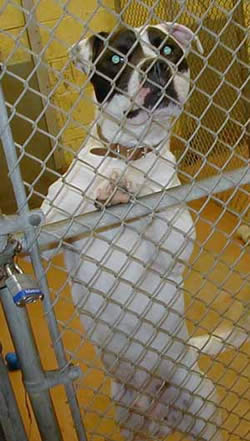 Timothy Stack has seen some sickening acts perpetrated against animals in his 12-year career as a humane law enforcement officer with the New York-based American Society for the Prevention of Cruelty to Animals, including people burning or stabbing their pets, or throwing them off the roof. But Stack knows that animal abuse does not have to be so blatant. Some owners abandon their pets. Some neglect them. Some simply do not spay or neuter them. And he knows that no form of abuse is without consequences; the results can be not just ugly, but deadly.
When a group of stray dogs late last year broke into the Staten Island Zoo and killed several animals, and then two days later another group attacked and mauled two people on the boardwalk in the Rockaways, the press focused on the "bloodthirsty strays" going on a "bloody rampage." News accounts made no mention of where these dogs came from - that they were abandoned pets, or the offspring of abandoned pets - and so did not finger the real culprits.
The same has happened again and again with the pit bull, a breed once owned by Theodore Roosevelt and Helen Keller, but now often associated in the public mind with viciousness. "There's no way to determine that any breed of dog is more dangerous than another," says Jane Berkey, founder of Animal Farm Foundation, which takes in abandoned, adoptable pit bulls, a breed she describes as "so trainable, so soft." The pit bull's negative image began in the 1980's, Berkey believes, when sensational coverage of dog fighting, which is a felony in New York, focused on the dogs themselves rather than the inhumane owners who instigated their behavior. "It's about what's at the other end of the leash," Berkey says, "never the dog."
But last month, blame was placed where it belonged, when in a highly publicized case a jury in San Francisco found Marjorie Knoller guilty of second degree murder because her two dogs, both Presa Canarios, had mauled to death a neighbor named Diane Whipple. "They were dangerous dogs, but it wasn't the dogs' fault," jury foreman Don Newton said. "They were never trained, never properly conditioned to be around people."
In New York, educating the public about responsible pet ownership is high on the agenda of animal welfare groups, as is making sure that New York has a humane and effective shelter system, and ensuring that felonious acts of abuse are recognized and prosecuted. There are plenty of laws already on the books, but much more could be done to combat the abuse and neglect of animals by human beings.
POPULATION EXPLOSION
Since November of 2000, a city law has required that all animals adopted from shelters be spayed or neutered. But the law has not done much good in curbing the growing problem of pet overpopulation. Not everyone gets pets from a shelter. The law would have required pet stores as well to sterilize all animals before selling them, but state law specifically prohibits this; proponents of more widespread mandatory sterilization laws point out that animal breeders typically resist such regulations.
The city could take steps to make spaying and neutering more convenient and inexpensive for pet owners, says Lisa Weisberg, policy director of the American Society for the Prevention of Cruelty to Animals. One way to do that is with roving vans that go into underserved neighborhoods. The society has two such vans, and is soon to get more. The Center for Animal Care and Control, the agency which has been contracted by the city since 1995 to round up strays, has another two vans, though they do not rove; they remain parked in their lot and used to alter the dogs just from their own shelters.
Another initiative in the attempt to curb overpopulation was the recent passage of a law allowing residents of New York City public housing to own pets, at the discretion of each building manager. It is too soon to tell if the legislation has had any impact on the stray population. But it cannot hurt to have more potential homes for animals, and less incentive to abandon them.
Pet abandonment is a misdemeanor in New York, but Samantha Mullen of the regional office of the Humane Society of the United States says that often people would rather abandon their animals than take them to a shelter. "What an ignorant and inhumane way to give up your animal," she says. They are afraid that in the shelter, the animal may be euthanized.
THE EUTHANASIA DEBATE
Many animal activists are not happy with the shelter system as it exists now, criticizing the Center for Animal Care and Control, which runs shelters in Brooklyn and Manhattan, for a policy that, they claim, emphasizes euthanasia (i.e. killing) over adoption.
Julie Van Ness of United Action for Animals charges that Mayor Rudy Giuliani was never motivated by concerns for animal welfare when he contracted with the Center for Animal Care and Control, but rather simply wanted "to get animals off the street and euthanize them so they wouldn't bother anyone." (It is unclear what Mayor Michael Bloomberg's position will be regarding animal welfare issues).
But Samantha Mullen of the Humane Society believes that often people see euthanasia as the problem, rather than the symptom. And Doris Meyer of the Center for Animal Care and Control says that they run an "open admission shelter. Every animal that shows up at our door is accepted." Such a situation can lead to some difficult choices, she says, but "no animal is euthanized until the staff vet confirms that it's legitimate."
CRUEL AND UNUSUAL BEHAVIOR
Debate over euthanasia often boils down to personal convictions. There are other issues on which everyone agrees, at least in theory, such as animal cruelty. But it is sometimes difficult to convince lawmakers, prosecutors and police to take animal cruelty cases seriously.
The Humane Society's First Strike campaign makes the connection between violence done to animals and to humans. In many cases, it demonstrates, animal abusers also engage in domestic violence.
The ASPCA is also working to educate police officers about their duties regarding animal cruelty. "Police need to be trained in detecting and dealing with the problem, and not always deferring to the ASPCA," says Barbara Stagno, northeast director of In Defense of Animals. Though some police officers are responsible and responsive, many seem unaware that they must pursue animal offenders just like any other crime, and as a result the ASPCA's Humane Law Enforcement unit ends up with an overwhelming caseload. "There's no other law where the police abdicate their responsibility to a private agency," says Jane Hoffman, of the committee on animals of the Association of the Bar of the City of New York.
While Hoffman says that she would like to see stronger penalties in abuse cases, she is more interested in seeing the current laws enforced. The Humane Society's First Strike manager, Virginia Prevas, says that cruelty reporting is up across the nation due to greater public awareness, but Hoffman points out that whether or not the case is pursued depends on the individual prosecutor. Lisa Weisberg says that enforcement of current dog licensing laws would also help, as such enforcement would demand accountability for abused and abandoned animals.
But dogs are not the only domestic animals to suffer from abuse and neglect in New York. Packs of roaming cats do not make the front page, but Timothy Stack says that he receives at least as many calls about cruelty to cats as to dogs. Weisberg says that there is a tremendous cat overpopulation problem, but there are not that many laws governing felines. Last year, the ASPCA drafted legislation that would penalize New York cat owners who let their cats roam outside, thereby contributing to overpopulation, but such laws would be difficult to enforce.
Trying to protect every pet in New York City is a daunting task. Some say that education will be the key. Barbara Stagno points out that New York City has an old law on the books mandating humane education in public schools, but it is generally ignored. This is too bad. "It starts in the schools," Jane Berkey says. "We should teach compassion and love of all life from the very beginning."
###
Check out the Feature Archives!