Public Funds, Empty Ferries
By Matthew Schuerman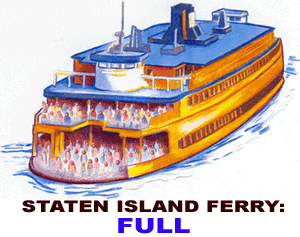 Even before September 11, regional planners were looking to ferry boats to provide a third type of mass transit, something as nimble as a bus and as quick as a subway. Local and federal governments were expecting to spend more than $100 million to build or renovate terminals along the Hudson River. Last February, the Metropolitan Waterfront Alliance, a nonprofit organization, called for a "ferry loop" that would make 25 stops around Upper New York Bay, likening the idea to the regional highway system.
When the terrorist attack crushed the downtown PATH terminal and disrupted tunnel traffic, ferries became even more important. Unable to go under the Hudson, many New Jersey commuters went across it. Weekday ferry ridership, measured in one-way trips, grew from an average of 36,000 to 65,000.
But it is easy to exaggerate the potential of running boats across the harbor. The Port Authority of New York and New Jersey, prompted by Deputy Mayor Daniel Doctoroff, has since put into place an agreement that is a case study in how governments should not subsidize private companies.
TAXPAYERS PAY, BUT FEW PEOPLE RIDE
The Port Authority offered a money-back guarantee for increasing ferry service from Hoboken to Lower Manhattan, and from the East Side to the West Side, to a company called NY Waterway. Unlike the Staten Island Ferry, which is owned and run by the city, NY Waterway is a private company, the dominant ferry company in the metropolitan area. The Port Authority said it would pay NY Waterway for any additional expenses not covered by the fare box with money from the Federal Emergency Management Agency. It also agreed to pay the company a management fee, recently disclosed as about $300,000 a month. In announcing the agreement, Mayor Michael Bloomberg called the new services, "a fast, convenient and economical option for getting to and around downtown." Governor George Pataki said it would be "much easier for tens of thousands of commuters and visitors to get into, and to stay in, Lower Manhattan." Arthur Imperatore Jr., president of NY Waterway, said his company would "carry thousands of new commuters to work."
The press could hardly find anyone to speak against the idea. Gene Russianoff, a staff lawyer for the New York Public Interest Research Group, sums up the prevailing sentiment this way: "It's hard to be anti- ferry. It's like being anti-Bambi." Russianoff, however, does have reservations. "I have questions about how much it is going to cost, what the demographics of the riders getting the subsidies are. The Bloomberg administration says [they're] a hard-nosed, green eye shade group that is closing a $5 billion budget gap. I'm concerned that in the excitement of getting a new ferry service they're not asking all the right questions."
The answers to those questions are becoming clear. Ferry ridership did double in the first six months after September 11th, when there were no government subsidies. But ironically it has grown very little since the subsidies kicked in, in April. NY Waterway counted 21,884 one-way rides on the new cross-Hudson lines on May 1, compared to the 21,103 counted on March 20 before the new service went into effect, according to spokesman Pat Smith. That is about 780 new rides per weekday. (That comes to just 390 new ferry commuters who go across the Hudson in the morning and back in the evening). Port Authority officials recently estimated the total cost of the additional services to be as much as about $120,000 per weekday. Since the ferry riders who are benefiting from these new services pay three dollars per ride, doing some arithmetic reveals that taxpayers are subsidizing the new passengers to the tune of about $149 for each ride.
Another subsidized line, a free shuttle boat connecting a pier on the east end of Wall Street with the World Financial Center, is downright embarrassing. It carries only 50 passengers a day, according to NY Waterway. Since it makes more than 100 trips a day, at least half of them must be empty.
"It's too soon to evaluate the additional riders," replied George Cancro, the supervisor of ferry services for the Port Authority. Both the Port Authority and the Bloomberg administration say it struck the agreement with NY Waterway in response to an emergency situation. "We were ensuring that employers remained in lower Manhattan and employees did not leave their employment because of access issues," said Cancro,. "We were also ensuring equal access in anticipation of employers returning as repairs to their building were completed and the red zone shrunk. We need to be pro-active, not re-active." Cancro expects ridership to increase in the coming months.
But will passengers ever materialize in large numbers? After all, the ferries are best for people who live on the edge of one bank of the Hudson and work exactly on the other bank. Otherwise, commuters need to take a bus to the pier, transfer to the ferry, and transfer again on the other side. The pier where the subsidized routes originate is by the Hoboken train terminal, which has no parking lot nearby.
Had there been a real demand for a Hoboken-to-Battery Park City service, NY Waterway would probably have tried to meet it on its own. Arthur Imperatore, and his father, Arthur Imperatore Sr., who founded the company 15 years ago, are smart businessmen. They have turned the company into the nation's largest private ferry service. If NY Waterway had sensed a demand, it would not have waited until April to sail more boats out of Hoboken to Lower Manhattan. (The company had already added seven routes from other parts of New Jersey since September 11 on its own dime.) But when the government came by and guaranteed a profit, the Imperatores had nothing to lose.
NY WATERWAY'S CONNECTIONS
As it happens, NY Waterway has ties to the politicians and officials involved in forging the subsidy. The Imperatores have helped Governor Pataki's run for re-election. The company confirmed that family members were the hosts of a recent fundraiser, and campaign finance records show a $1,000 cash contribution from the younger Imperatore. Some time ago, NY Waterway hired as a vice president Donald Liloia, the former supervisor of ferry services at the Port Authority. Last summer, the company helped out NYC 2012, the committee, at the time headed by now-Deputy Mayor Doctoroff, trying to bring the Olympics to town. Smith, the company spokesman, confirmed that NY Waterway charged only for labor when it lent a boat to chauffeur Olympic officials on a site evaluation trip.
As it also happens, the expanded ferry service was never put out to bid. Smaller companies were not even asked. "There was an emergency need," Jennifer Falk, a spokeswoman for the mayor's office, said in March. "NY Waterway was the only private entity that could accommodate our needs."
But it is easy to dispute that there was much of an emergency need, since the new lines have gotten riders, but mainly by pulling them away from NY Waterway's other, older routes, according to the city Department of Transportation figures. And the other ferry companies dispute that NY Waterway was the only alternative. One of those companies, SeaStreak, said it would have liked at least a chance to bid on the extra service. "We would have been interested if we had known about it," said David Stafford, SeaStreak's general manager. "We bid on most things that come through." It doesn't matter that NY Waterway is bigger, Stafford says. The Imperatores did not have the equipment on hand either. They had to go out and lease boats and crews to take on the new routes. And that has caused problems for another operator. John Koenig, president of New York Fast Ferry, says he wanted to expand his own service from Monmouth County along the New Jersey Shore to Wall Street but couldn't find more boats. NY Waterway, backed by government funds, has locked down all available ferries on the East Coast, he said.
"There was not any recognition or awareness of what effect this would have on other operators," Koenig said. "We carry a lot of people who now ride ferries who previously may have been taking the PATH. We would like to add ferries [from Monmouth County] but it's damn near impossible to get the equipment." In other words, instead of allowing market forces to determine where the limited supply of ferry boats would meet the demand for ferry service, instead the Port Authority steered those boats to the Hoboken routes. So the commuters from Monmouth County lose out while a NY Waterway boat shuttles from Wall Street to World Financial with no one on board.
MONOPOLIES THEN AND NOW
Monopolies are nothing new to the New York ferry industry. Robert Fulton, whose business partner was developing Brooklyn real estate at the time, was given a state charter in the early 19th century for the exclusive right to sail steamers into the city. (Interestingly, the senior Imperatore also owns real estate on the New Jersey side of the Hudson. His tenants are many of the same people who take his son's ferries.) Fulton would then sell the right to operate certain lines to other companies. Cornelius Vanderbilt was one of those who defied those franchises and steamed into New York without permission. After the U.S. Supreme Court struck down the monopoly, the ferry industry really took off and Vanderbilt became one of the wealthiest men in the city.
NY Waterway's near monopoly -- it controls 90 percent of private ferry traffic -- is not officially sanctioned by the state, but the state subsidy since September 11th has solidified the company's dominant position.
NY Waterway has its defenders, among them Carter Craft, program director of the Metropolitan Waterfront Alliance. The only problem he sees with a monopoly is if the Imperatores sell the company to someone less civic minded. "They have created a public service over the last 15 years that is unsurpassed by any contribution to water transit that all of our public agencies put together have been able to create," he said. Craft aptly draws a parallel with the way New York City subsidizes private bus companies to operate lines so the transit authority does not need to.
Fair enough. But those bus lines are required to keep regular fares to $1.50 and to accept MetroCards. The bus lines are also required to meet certain performance standards. (A recent Independent Budget Office Report, available in pdf format, found that those standards are not always met.) NY Waterway now charges three dollars or more for its routes, and its monthly passes, for $80, do not work on New York subways. If NY Waterway wants to receive public funds, it should also submit to regulation of its fares and service quality. Right now it is unclear what sort of regulation they are being held to. There is as of last week no written agreement, though the city says it is preparing one.
It is undeniable that ferries can connect places that are close geographically but far apart logistically. It is also undeniable that alternatives to bridge and tunnel traffic should be welcome. But if some government agency -- the city or the state or some economic development corporation -- is going to step in and support ferry operations, it's got to do a better job than the Port Authority has done this spring. First, it must figure out a way to increase competition, not lessen it. Then, it will have to write clear contracts that actually do make ferry transport convenient and economical. In the meantime, hold the hype about tens of thousands of commuters. Let's just say the Port Authority found a way to get a few hundred more people to work, at a cost of a few million more dollars.
Matthew Schuerman is a freelance journalist in Brooklyn.
###
Check out the Feature Archives!