Registering More Voters
By David R. Jones
9 September 02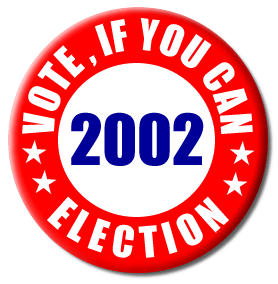 The number of people in New York City who are eligible to vote but not registered is staggering -- an estimated 1,700,000. That's 32 percent of the eligible population whose voices are not heard on issues that affect their lives and who have no influence on decisions that determine public policy and the allocation of resources. These unregistered voters are predominately low-income and people of color.
Mayor Michael Bloomberg's concern about low voter turnout in partisan primary elections has led him to urge that city elections be nonpartisan. That effort has been derailed for at least a year. But whatever the eventual outcome, the mayor's proposal misses the point: First, we must register voters. That is the only way we can have a fair representation of New York City communities at the polls.
The good news is that we don't have to reinvent the wheel to accomplish this. The City Charter approved by voters in 1989 created the Voter Assistance Commission (VAC), an independent nonpartisan agency, to register voters.
The commission's main objective -- enlarging the electorate -- is often covertly opposed by politicians and leaders of political organizations who worry that they could lose power if more poor people and people of color vote. This issue cuts across party lines. No political party has been active in allocating resources for increasing voter participation. Incumbents are threatened by increased registration because they cannot be sure who the new voters will cast ballot for. New voters are an unknown quantity, and so expanding the number of voters destabilizes the status quo.
Early in its existence, the Voter Assistance Commission registered people who came in contact with various city social service agencies. This was a good way to efficiently target lower income and minority voters -- a kind of urban equivalent of the "motor voter" law that seeks to register people when they get or renew driver's licenses. To increase registration, the commission worked closely with local groups to develop initiatives based in their communities and launched media campaigns in a number of languages.
The Voter Assistance Commission, however, has been slowly diminished by each successive city administration since 1989. First, political infighting between the Koch and Dinkins administrations damaged the commission. Then Mayor Rudolph Giuliani cut the agency's budget and staff until it could no longer function. The Bloomberg administration has continued in this destructive direction, reducing the commission's budget to $40,000 and destroying its nonpartisan character by running it directly out of the mayor's office.
In June, a bill was introduced in the City Council that would breathe new life into the commission. Resolution 245 introduced by Councilmember Charles Barron and supported by Speaker Gifford Miller and Councilmembers Yvette Clarke, Leroy Comrie, James Davis, Bill deBlasio, Helen Foster, John Liu, Joel Rivera, James Sanders, Larry Seabrook and Al Vann, calls for the reactivation of the Voter Assistance Commission with a budget of $1 million a year.
In order to increase voter participation, it is crucial to decrease barriers such as broken machines, names left off voter lists and lack of translators at polling sites. (See article on reforming voting in New York State). These and other obstacles discourage voting, keeping turnout low and effectively disenfranchising hundreds of thousands of New Yorkers. Such problems occur disproportionately in low-income neighborhoods and communities of color.
Today, we have a generation of youth in poor communities who were born after the historic civil rights struggles. Many of these people are not engaged in the political process and don't see it as relevant to them. But low-income voters have the most to gain by having their voices heard in state and city elections. As we choose a governor and other elected officials, the need for increased electoral participation by low-income people and communities of color becomes especially critical.
David R. Jones is president of the Community Service Society of New York, a nonprofit social services organization that has registered more than 210,000 new voters over the past 20 years.
###
See also: "A Broken Election System" by Puja Kumar
Check out the Feature Archives!