A Broken Election System
By Puja Kumar
9 September 02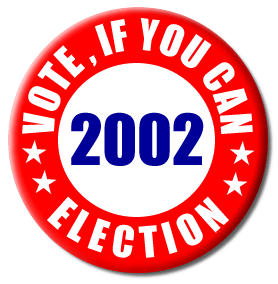 Before any Election Day, Richard Wagner likes to say, election workers all say the same prayer: "Please let it be a landslide." That is because Wagner, the head of the union representing election workers, knows that in a lopsided victory, nobody looks too closely at the voting process.
But in 2000, the race in one Manhattan State Senate district was so tight that it took longer to resolve than the contest between George W. Bush and Al Gore. Then in the 2001 runoff for the Democratic nominee for mayor, the Board of Elections somehow counted the total number of votes twice, leading to inaccurate reporting of the inflated figure and a delay in the official results.
And every year, in polling places throughout the city, chaos prevails because voters do not know where they should vote, and no one can direct them. When machines break down, voters must stand in lines snaking out the door while waiting for repair crews to arrive.
This year promises to offer the same kind of mess-ups. Already the Board of Elections has become ensnared in a dispute over registering new members of the Independence Party. Faced with registrants named "Cinderella" and "Romeo Shagwell," the board conceded that a third of the 18,000 new members might be fraudulent. But despite that -- and charges by gubernatorial candidate Tom Golisano that registrations were part of a scheme hatched by Governor George Pataki to keep Golisano from getting the Independence Party nomination -- the board refused to take any action.
New York voters tend to blame the long lines, ancient voting machines, untrained poll workers and other problems on poll workers or the local Board of Elections. But the state government holds a great deal of power over how local elections are conducted throughout New York -- including who gets to work at the polls, the type of voting machine used and the overall structure of each local board of elections. Real reform would require changing New York State's election law and the state constitution, as well as overcoming decades-old political traditions.
FIRST PROBLEM: WHO'S IN CHARGE?
The Governor's Task Force on Election Modernization describes New York as having "a decentralized election structure." This means that in New York, as in most other states, the State Board of Elections oversees each local board of elections.
Those boards are responsible for day-to-day operations and pay the expenses of conducting elections, but they must follow state election procedures. Even in presidential elections, the federal government has left the costs of administering elections to the states, which in turn have delegated it to the county level. "Election administration, until now, has been funded primarily at the local government level," wrote Roy G. Saltman, a consultant on election policy and technology.
Having both local and state control clouds the issue of accountability and responsibility. Confusion arises over who is in charge of what. For example, the local board hires, trains and assigns poll workers, but the state says that half those workers must be Democrats and half Republicans. Members of other political parties need not apply. Each local board has to buy, maintain and store its voting machines, but the machines must meet state standards.
Because it is responsible to the state, and not to the city, the city Board of Elections, has occasionally "used its independence to avoid accountability," according to a 2001 report of the Mayor's Task Force on Elections, created by Rudolph Giuliani.
MECHANICAL PROBLEMS
The city's 40-tear-old mechanical lever voting machines often break down or jam. The machines are no longer manufactured so that when one of them jams, or a lever fails to operate, another machine may have to be cannibalized to repair it. "In all honesty, the complement of 6,800 machines should be retired and replaced," the New York City Board of Elections 2000 annual report said.
In 1986, New York State mandated that only machines that are approved and certified by the State Board of Elections can be used. It can take as long as a couple of years for the state to certify a new voting machine. And so, with rapid advances in technology, New York runs the risk of always being left behind. In response, the Governor's Task Force on Election Modernization has recommended that the process of approval and certification be "streamlined."
The state requires that the machines present what is called a "full face ballot." Every candidate for every office and all proposals have to be displayed on a single page. New York has eight political parties, and in New York City, each candidate's name and party has to be translated into Spanish and Chinese. Cramming all this information on a single sheet can make for a bewildering ballot. In addition, the requirement for the "full face ballot" prevents New York from using a touch screen machine, similar to an automatic teller machine that lists races one at a time.
PARTISANS AT THE POLLS
The two major parties -- the only parties that matter to the Board of Elections -- have primary responsibility for recruiting poll inspectors. An equal number of Democrats and Republicans must work at each poll site. Both parties traditionally turn to their party faithful to work on Election Day. Applicants who come through the political parties have first choice in work site assignments and training sessions and are difficult to remove or sanction when they make errors, because party leaders protect them. Some other poll workers, such as interpreters and information clerks, don't have to be registered with one of the two major political parties. However, these workers do not process voters.
The Board of Elections needs 30,000 poll workers for each election event (primaries, any runoffs and general elections). Almost every year, the board has vacancies for from 4,000 to 7,000 poll workers. Elizabeth Rose Daly, a Democratic committeewoman and district leader in Brooklyn, says people today are less willing than they once were to take a couple of days off during the work week and put in long hours on Election Day. Daly, who believes the current recruitment system has not been effective, suggests that the board seek out New Yorkers who have flexible schedules. She also thinks allowing poll inspectors to work a split shift, as opposed to a full 6 a.m. to 9 p.m. day, would help.
Last year, Citizens Union Foundation launched a drive to recruit students and others as poll workers. After the election, the good government group surveyed the poll worker recruits and found that the Board of Elections had never contacted many. This suggests that the board does not handle poll worker applicants efficiently.
Some observers say the requirement for an equal number of Democrats and Republicans helps guards against fraud. But the balance poses problems in New York City because, in 2000, there were 2,475,627 registered Democrats but only 472,092 registered Republicans. As a result, poll workers who are actually Democrats are sometimes converted into a Republican just for the day.
To compensate for the shortages, Daly the district leader in Brooklyn found that the board "hires quite a few people on Election Day itself, despite the board's stated opposition to hiring people who haven't been trained."
BASTION OF PATRONAGE
The 316 year-round employees of the Board of Elections are also equally balanced between the Republicans and Democrats, since nobody outside the two parties can get hired, except in technical positions such as webmaster.
If the executive director of the board is a Democrat, the deputy must be a registered Republican. This equal division is followed at every level from the commissioners to the temporary staff. To maintain this balance, the board often hires people based on their party affiliation rather than their skills. It is a "system driven by patronage rather than merit," said Marina Sheriff, the legislative director of the New York Civil Liberties Union. "As we saw during the [2000] controversy in Florida, a system controlled by the Democratic and Republican parties also may not sustain the confidence of voters in a disputed election."
Each of the city's five boroughs is represented by a Democratic and Republican commissioner who together make up the governing body of the New York City Board of Elections. The commissioners are nominated by party leaders and appointed by the City Council, which invariably follows the recommendations of local party leaders.
To have real reform, Sheriff says, "you must replace a system dedicated to maintaining a balance of power between two parties with one dedicated to empowering the voters of this state."
In November, Citizens Union Foundation will play host to a forum along with other civic organizations to consider ways to overhaul the election process in New York. As Ed Davis, an election law specialist with Common Cause has said, the election boards "won't be fixed just by money. The system itself has to be fixed."
To accomplish this, a statewide campaign must be waged to get reforms through a state legislature, whose members were, after all, elected through the very system that is so desperately in need of repair.
Puja Kumar is a former issues associate with Citizens Union Foundation who worked on voting reform.
###
See also: "Registering More Voters" by David R. Jones
Check out the Feature Archives!