You may not be able to visit this page because of:
an out-of-date bookmark/favourite
a search engine that has an out-of-date listing for this site
a mistyped address
you have no access to this page
The requested resource was not found.
An error has occurred while processing your request.
Please try one of the following pages:
If difficulties persist, please contact the System Administrator of this site and report the error below.
Leading Our Own Way
By Joan Minieri
16 September 02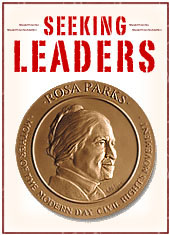 Over the last year, President George W. Bush's message to the nation has gone from soothing our fears with reassuring words -- do not worry, go shopping -- to offering the possibility of a war against Iraq. Through it all, I continue to make a point of telling my husband and daughter that I love them before I head down into the subway to go to work, and then contemplate what I would do if someone released a chemical agent in the subway car. In other words, I am still scared.

This kind of top-down, "tell 'em what they want to hear" leadership style, celebrated in America as beneficent, effective, and downright inspiring, is revealing itself to be limited at best, dangerous at most. If we believe we have the right to be truly safe here in New York City, we need to lead our own way.

Recently, I was in Tucson, Arizona, as one of about 30 national recipients of the Ford Foundation's "Leadership for a Changing World" program. We are not the kind of leaders you usually hear about. The New Yorkers in the group included Diane Reese, Tyletha Samuels and Gail Aska, three mothers who have left welfare and who, through the East Harlem-based Community Voices Heard, are leading the way to thousands of publicly created jobs for former welfare recipients. Also included were veteran organizer Wing Lam of Chinatown's Chinese Staff and Workers Association, which won $10 million in back pay and damages for garment and restaurant workers, and Margie McHugh of the New York Immigration Coalition, who works to improve education policy for the city's immigrant children. There were also former janitors from Los Angeles who led their co-workers to unionize for living wages. And a woman in Alaska's remote caribou country who is successfully fighting against oil exploration in the Arctic Wildlife Refuge.

New York City has leaders like these throughout our neighborhoods.

Through the group United Puerto Ricans of Sunset Park, young women are making their neighborhood a "sexual harassment-free zone," while youth leaders known as the Environmental Enforcers continue to reclaim their waterfront. In the South Bronx, parents from Mothers on the Move have been working to improve schools for the last 10 years.

Most community-based leaders begin simply because they believe they can live differently. They find they are not alone. They form or join small, often voluntary groups, then build their ranks. Most of their non-profit organizations make decisions collectively. They lead by passing the microphone, not hanging on to it.

Leaders in social change are often depicted as brilliant and charismatic, few and far between. While some of the community leaders I have known may benefit from moments of insight and clarity, they tend to be more seasoned than stunning.

Throughout our history, ordinary Americans have assumed leadership, come together and taken action when their rights were denied or threatened. When Rosa Parks refused to give up her bus seat for a white person in 1955, she was not just a tired seamstress inspired by Martin Luther King Jr. Parks was the secretary of her local NAACP chapter and had been politically educated at the Highlander Folk School. She and others made a strategic series of choices that led to the Montgomery Bus Boycott and ultimately, desegregation.

In spite of the current cultural perception that every generation since the civil rights movement has been politically self-interested to the point of political apathy, such leadership has survived and thrived. In 1982, an estimated one million people took to the streets of New York City to call for an end to the nuclear arms race. Since that time, we have seen locally based leaders, through mass organizing, achieve victories from funding for AIDS research to ending U.S. support for apartheid. These efforts were anchored by ordinary New Yorkers who became key leaders in national and international campaigns.

The president promises that Homeland Security Advisor Tom Ridge will protect us. But can we apply another kind of leadership to this critical moral and political moment? In our communities, fear for our safety is intertwined with everything from the detention of immigrants to a possible U.S. invasion of Iraq. Many New York City leaders and organizers grapple with these issues while continuing our daily struggles for concrete things like fair wages and better public schools.

I believe that our future lies first in our hopefulness. Can we be less afraid? Can New Yorkers, both experienced activists and those yet to find their voices, move beyond commemoration? Can we expand our local concerns and unite a vision with a strategy?

I know that leadership can arise from the simplest of places, in the bleakest of situations. My own moments of hope may yet take shape with those of others. That is really what I am vigilant for now.

Joan Minieri is a board member of Community Voices Heard and co-director of the New York City Organizing Support Center.

###

Check out the Feature Archives!



$app = JFactory::getApplication(); $menu = $app->getMenu(); $menu_items = $menu->getItems('menutype', 'mainmenu'); var_dump($menu_items); * */ ?>