You may not be able to visit this page because of:
an out-of-date bookmark/favourite
a search engine that has an out-of-date listing for this site
a mistyped address
you have no access to this page
The requested resource was not found.
An error has occurred while processing your request.
Please try one of the following pages:
If difficulties persist, please contact the System Administrator of this site and report the error below.
Helping Our Failing Schools
By Norm Fruchter
23 September 02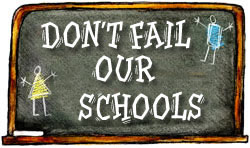 The same week that New York City schools opened this month, New York State dramatized the system's most critical challenge by identifying some 330 city schools with consistently poor performance. The newly streamlined and centralized city Department of Education must now transform teaching and learning in these schools. It must also rebuild the frayed links between the schools and their communities.
Almost a third of the system's schools, according to the state, perform so poorly that they are subject to severe penalties under the federal No Child Left Behind legislation. Achieving reforms needed to improve these schools is complex because of the school system's size and scale and the numerous layers of bureaucracy that separate the schools chancellor and those failing schools.
The education system's structure is not a military chain of command: children are not soldiers. Instruction must be differentiated to meet their varying needs and learning styles. Therefore, improvement strategies cannot simply be mandated or imposed. While the new structure makes top-down direction easier, it does not solve the basic problem of how to focus all parts of the system on improving teaching and learning, while striking a balance between meeting mandates and addressing the individual needs of schools and students. Most important, improving teaching and learning in failing schools requires addressing the limited instructional capacity in those schools and districts.
Previous administrations have not effectively addressed the problem of limited capacity. Instead, they imposed a planning model that required schools to analyze data and prepare a school improvement plan, outlining steps the school should take to improve learning. But most poorly performing schools (and their district administrators) do not have the capacity to plan their way out of failure nor the necessary core of experienced, knowledgeable and effective teachers.
The significant salary increases for the city's public school teachers, recently negotiated by Mayor Michael Bloomberg and the teachers union, may well end the chronic shortage of certified teachers and raise the quality of teaching staffs across the city. But pay increases will not correct the inequities in the distribution of teachers.
Research by the New York University Institute for Education and Social Policy , of which I am director, as well as other studies, demonstrate that experienced and knowledgeable teachers are not equitably distributed across the New York City school system. The most advantaged school districts attract the most experienced, qualified and highly paid teachers. The higher the percentage of poor students and students of color a district or school serves, the less experienced, qualified and well-paid its teachers. Thus, the schools that most need highly qualified teachers and stable teaching staffs have the least chance of getting them.
This inequity has come about through city and district hiring policies and the seniority and transfer provisions of the teachers union contract. The experience of other cities has shown that legislation or executive decree cannot correct it. Yet without some significant change in the distribution of teachers, it will be exceedingly difficult to transform the poor performance of almost a third of the city's schools.
The efforts of the chancellor's district, a virtual district of almost 50 of the city's failing schools, seem to demonstrate that school performance can gradually be improved through comprehensive interventions that provide additional time in school, a prescribed curriculum, extensive staff development and broad-scale teacher and leadership changes.
Another approach would focus on the inequitable patterns of teacher quality.
For example, the city could create an incentive program to provide significant salary increases to master teachers who agree to transfer to poorly performing schools and stay in them for at least five years. Implementing such a program in all the system's poorly performing schools could cost close to $100 million, almost as much as Chancellor Joel Klein has been forced to cut from this year's school budget. But for less than 1 percent of the school system's $12 billion budget, 330 failing schools could attract a core of experienced teachers who could stabilize and significantly improve the quality and capacity of their teaching staffs.
Strong community pressure, leverage and support are also needed to turn around failing schools. However, with the community schools boards set to be eliminated next year, it remains unclear how parents and other people will have a chance to express their concerns and play a role in education.
The 330 failing schools are in the city's poorest, most politically fragile and economically challenged neighborhoods. Decades of poor academic performance, and the resulting defensiveness of educators, have dissolved whatever connections might once have linked these neighborhoods to their schools. Many community school boards, driven by corruption, patronage and an inability to focus on improving school performance, further distanced communities from their schools.
These local boards have already been stripped of their essential powers and responsibilities and will probably soon cease to exist. Chancellor Klein's recent appointment of superintendents dramatizes the school boards' demise. Those appointments were in dispute until the U.S. Department of Justice's Civil Rights Division approved providing the chancellor with the sole power to appoint superintendents. By January, the mayor promises a legislative proposal that will consign school boards to oblivion and put an end to the city's 30-year experiment with decentralized school governance.
Given the record of many of these boards, most New Yorkers will not mourn their passing. But by virtue of the electoral process, community school boards did provide, however ineptly, a formal means of representing community interests and desires about public schooling.
Now that the boards are about to be abolished, how can we create the necessary connections and links between communities and their schools?
At the school level, parents' feedback, issues and interests can sometimes be mediated through the Parents Association, an imperfect, limited and quite compromised vehicle in many schools, but at least theoretically available in all. The School Leadership Teams mandated to make key instructional and budgetary decisions are also supposed to accommodate and encourage parent and teacher participation.
But it is not only parents who have critical stakes in improving the performance of neighborhood schools. The effectiveness or inadequacies of local schools directly affect the health, vitality, optimism and capacity of the entire neighborhood.
How can community-based organizations struggling to improve neighborhood housing voice concerns about the performance of their local schools? How can local merchants, businesses, civic groups, block associations and faith-based groups enter the debate about how well, or how poorly, neighborhood schools educate the community's youth?
There is a critical difference between governance and accountability. Most parents do not necessarily want to participate in running their children's school; instead, they want the school to be accountable to them for their children's achievement. Similarly, most community groups and institutions don't seek a role in school governance; instead, they want procedures through which they can raise issues about school performance, and they want the schools and the districts to respond.
Ideally, accountability in public education should not be an election but a dialogue that defines mutual and reciprocal obligations of schools, parents and the community. Schools should report regularly to parents about their children's learning and patterns of achievement, and parents should support the school's efforts through varieties of volunteerism.
This ideal exists all too rarely. Instead, many poorly performing schools, defensive about their failure, respond to parental demands for improvement and accountability with hostility and rigidity and hidden behind a barrier of professional isolation.
In the vacuum that will be created by the abolition of school boards, how can a failed governance system be transformed into an effective reciprocal accountability system that rebuilds the links among parents, communities and schools?
The state legislation that gave the mayor control of schools called for a task force to generate ideas about what forms of parent and community participation should replace the community school boards. Solving this question, by creating forms of accountability that involve all the schools' constituencies, is the Herculean challenge that confronts everyone who seeks a more effective education for all our children.
Norm Fruchter is director of New York University's Institute for Education and Social Policy.
###
See also: "Smaller Classes, Better Communication" by Leonie Haimson
Check out the Feature Archives!



$app = JFactory::getApplication(); $menu = $app->getMenu(); $menu_items = $menu->getItems('menutype', 'mainmenu'); var_dump($menu_items); * */ ?>