Creating Jobs, and Filling Them
By Bonnie Potter
7 October 02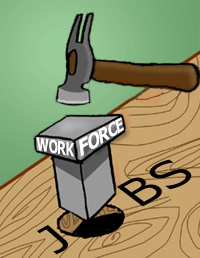 For most of the 1990s, New York City demanded that poor people get a job -- any job. Even during the economic boom, this policy neglected the needs of many businesses and low-income New Yorkers. But now, with increased unemployment, the city must go beyond simply filling jobs and adopt a series of policies to spur economic growth and train workers to meet the needs of growing industries.
The city's unemployment rate of 7.6 percent is a full percentage point higher than it was before the World Trade Center attacks. That rate triples and quadruples for people who are 16 to 24 years old, or who have criminal records, or who are mentally or physically disabled, or who can not speak fluent English -- in short, for those people most likely to be poor.
But make no mistake. Unemployment is not limited to the poor. Most New Yorkers have a relative, friend or acquaintance who is out of a job -- blue collar and white collar workers with academic credentials and long work histories and even individuals of substantial means, casualties of layoffs in the dot.com, banking and securities industries.
While New York's current unemployment is a result of a recession compounded by both the direct and indirect impacts of the World Trade Center disaster, a number of longer standing structural factors complicate the ability of the unemployed to enter, or re-enter, the labor force. Globalization has resulted in sending many lower skilled jobs to lower wage workers overseas. Initially, the garment industry was affected; now this trend extends to payroll and parking-ticket processing. The continual development of new technology means that many workers -- from information technology technicians to security guards and even burger flippers -- need greater skills to get new jobs and must then constantly improve those skills.
At the same time, many New Yorkers are less prepared than ever before for the jobs that do exist. Thirty percent of New York City high school students do not graduate, and even many who do lack basic job skills. Those seeking work also include many people who might once have been considered unemployable, but today, because of changes in the welfare law, need to find jobs. Tens of thousands of immigrants, many with only rudimentary knowledge of English, also are seeking work.
Because of the mismatch between workers and jobs, city residents filled only 17,000 of the 82,500 new jobs created in New York City in 2000, according to the Daily News.
While Seattle, Tucson, Austin and other cities sought to address such problems, New York largely neglected economic development and job training for a number of years. Former Mayor Rudolph Giuliani and his human resources administrator, Jason Turner, tended to view job training as "a means for poor New Yorkers to continue dependence and put off getting a job," David Fisher of the Center for an Urban Future wrote in Gotham Gazette earlier this year. While many people did find work during the boom, Fisher said, this approach "did nothing for the hundreds of city employers starving for skilled workers."
Now, of course, the economic boom has ended. The Bloomberg administration can stand by and wait for the "market" to end the lingering recession and address the effects of the World Trade Center attacks. But at a time when unemployed individuals can no longer count on federal welfare benefits, that would be unconscionable. At a time when even middle class workers and professionals are being laid off in large numbers, it would be politically unwise. And at a time when the city's economy is foundering, such inaction could encourage more firms to leave the city for the suburbs and beyond.
New York City needs a comprehensive economic development strategy to attract and keep jobs in the city and a workforce strategy to ensure that city workers can fill those jobs. The city has the tools, the resources and the funding to develop and implement these strategies. But too often the existing programs and services are underused and poorly coordinated.
For starters, the administration needs to place responsibility for overall policy affecting both economic and workforce development with one deputy mayor. Creation of such an office would centralize policy making in these two areas, recognizing that one cannot work without the other.
Many city agencies, including those responsible for education, economic planning, business services, social services and job training, play a role in training workers. The deputy mayor would coordinate the efforts of the various agencies and develop plans to make full use of some $300 million available annually for such programs. This includes money from the Temporary Assistance to Needy Families program, the Workforce Investment Act and other funds.
To keep jobs in New York, previous administrations did little more than give tax breaks and other subsidies to firms threatening to leave the city. Instead, the city should address the needs of emerging industries as is being done by many other cities and states around the country. Arizona, for example, created a coalition of business chief executives, economic development officials, university presidents and community leaders that identified the optics industry as a small but growing sector that could create higher paying jobs. As a result of a collaborative effort that developed a strategic plan to meet the specific needs of that industry, Tucson's "Optic Valley" revenues were about $750 million in 1999, and 54,000 jobs were created in an industry that pays workers an average of about $47,000 a year.
Perhaps most importantly, industries have to have good workers. Under the direction of the deputy mayor, the city should identify what types of workers companies need now and in the future. Then it must develop education, training and support services to help potential workers meet these needs, and create ways to ensure that employers and job seekers connect with one another.
To take a current example, millions of dollars will be pouring into the city for redevelopment of lower Manhattan. But the construction industry may not have enough skilled workers for the rebuilding effort. The new deputy mayor would assess the need for different kinds of workers and devise a plan to train job seekers to fill those positions.
Most employers expect workers to be high school graduates, have good reading, math and communication skills and "good" attitudes, and be able to work with others, get to work on time and dress appropriately. The school system has to ensure that students know how to meet these requirements.
New York City has an array of community colleges and job training and employment programs. Yet city rules and contracting procedures often frustrate the ability of these programs to provide high quality training. To remedy this, the city should streamline contracting procedures and help community colleges and job training programs be more responsive to what the labor market needs.
Lastly, the city has the resources to more effectively link the unemployed -- and underemployed -- to existing employment. Under the federally mandated Workforce Investment Act, funding exists for the creation of a "one stop" program, through which job seekers can get information about job openings, career guidance and education, and employers can find qualified workers.
While such reforms will not replace all the jobs lost due to the recession and the World Trade Center attacks, a coherent economic development policy could begin replacing at least some of those jobs. And an effective workforce development policy would ensure that, when those jobs become available, New Yorkers know about them and have the skills to fill them.
Bonnie Potter is executive director of the New York City Employment and Training Coalition, an association of community colleges, union-affiliated training programs and other groups involved in workforce development.
###
Check out the Feature Archives!