Hope And Fear For City Schools
By Jill Chaifetz
11 November 02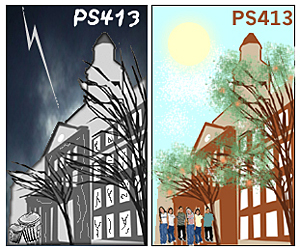 The new school year is well under way, and what a year it has been already. I feel torn wondering whether New York has truly embarked on a positive new chapter in its history of educating children, or if I am watching just another in a long succession of chancellors arrive full of plans that will never come to fruition. As executive director of Advocates for Children, an educational advocacy organization, I have seen three chancellors in the last four years. So, not surprisingly, I feel the tug of alternate realities. Here is the first:
The Bold New World of Education -- Going Where No Chancellor Has Gone Before: We have a new system of school governance that has firmly put the mayor in control of the school system. Mayor Michael Bloomberg has staked out education as one of the most important issues upon which he is to be judged. His new chancellor, Joel Klein, has at least the potential to create massive systemic change, since Klein is clearly the mayor's choice and has indicated that he wants change in the system to become reality. The new board of education, renamed the Panel on Educational Policy, is firmly under mayoral control and intended to be largely advisory. Having mayoral appointees account for a majority of the panel appears to have eliminated the political infighting and grandstanding of the past, though some parents wonder how their voices are going to be heard.
Toward this end, Chancellor Klein has announced his Children First initiative to create a blueprint for changing the system. He promises widespread involvement by parents and community-based organizations. This is sorely needed as the fate of the community school boards is still unclear. The new governance law does away with them as of next year, but no one has yet put forward a new way for parents and others to be involved in the education system.
Efforts by former Chancellor Harold Levy to reform high schools have resulted in the creation of three new specialized high schools for academically high-performing students. Several large and unsuccessful high schools in the Bronx have been broken into an amazing 10 new small high schools. The current chancellor has indicated he would like a few hundred more of these new schools.
Though not all small schools created in the last 10 years through the support of the Annenberg Foundation have been successful, the majority have. Small schools where students and teachers all know each other well provide more intimate learning communities. Fewer students drop out and more go on to college. A few hundred more successful schools would do wonders for curbing the dropout rate and increasing the number of students furthering their education.
An overhaul of curriculums from kindergarten through grade 12 is being discussed, as is the reorganization and revitalization of middle schools. Heady stuff.
Unfortunately I am abruptly halted from this positive line of thought as soon as I sit down at my desk and am assailed with the problems faced by parents in the other education world reality.
Same Old, Same Old World of Education: In the fall, parents' normally intense stress levels about their children's education reach new highs. Ibuprofen and Pepto Bismol have to be close at hand.
First we have parents whose children will enroll in kindergarten next year or whose children will move to middle or high school. How do they find out if their local or "zoned" school is a good school? How do they even determine where these schools are located?
New York City has some academic gems that are tops in the nation, but nearly a third of its schools are considered to be failing in at least one academic area. This is why it is essential for parents to research their local schools and know about their other options. (My organization has put together a web site to help parents navigate the system, for grades kindergarten though eight and high schools. It also provides information on individual schools.
If a parent is not satisfied with the zoned school, is there an alternative? At least theoretically, New York has the largest school choice program in the country. A child hypothetically can be enrolled at any school in his own school district; he can even be enrolled in another school district if given an inter-district transfer.
However, the chance to exercise this choice at least on the kindergarten through eighth grade level appears to have encountered new barriers this year. The federal No Child Left Behind Act, passed in January, was intended to provide greater student choice, particularly for students in failing schools (See related article). Students in many of the city's lowest performing schools are supposed to have the "option" to transfer to another school and the chance to get free outside tutoring.
It sounds great, but so far the measure is a chimera for those eligible, while providing an excuse to keep students who are not in failing schools from getting transfers. Parents whose children attend schools not designated as failing have contacted my organization saying they received letters from their districts telling them transfers would not be possible because the new law means that all available seats must go to students in failing schools.
That is a blow, but then surely some parents whose children are in failing schools have gotten into new schools as a result of the new law, right? Fat chance it seems, according to a September 6 expose in the New York Post. Most parents requesting such transfers run into a huge loophole: A school does not have to accept a transfer student if doing so would violate safety or health codes. So, if a good school is already at capacity -- as most are -- then they need not accept any transfers.
OK, I say to my staff, how about all that free tutoring offered through the same law? Again, that bold new world has disappeared onto another plane of existence. Parents whose kids are in low performing schools have until November 15 to access tutoring services, but the school system has not yet set up a coherent system to offer the extra help. There is a list of tutoring services available district by district. However, different districts approach the issue differently, and it is unclear if all the districts have even sent out letters to inform parents that this free service exists. And no one seems to know if there is enough money for the children eligible for the service to actually receive it.
In the meantime, some high school students are being told that, if they do not have their identification cards, they cannot come to school or can enter but must remain in a room without any instruction for the day. If they have lost their ID, they must pay for a new one, a blatant violation of state law that provides a free education. I read about this, and my hope for the bold new world dims.
But wait. The chancellor has been here barely two months. In this short time he has hired what looks like some very promising staff. They need to be given a chance to create the brave new world. In the meantime, I have my Maalox at the ready.
###
Check out the Feature Archives!