Seoul Searching
Seung Hye Suh
Nodutdol
18 November 02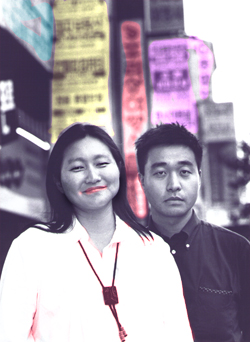 When I moved to New York City ten years ago, I loved finding the warmth and excitement of the Korean community. But I also saw racism and discrimination, anti-immigrant attitudes, economic exploitation, violence against women, a criminal justice and immigration detention system that seemed to target people of color and poor people, including Koreans. I wanted to be part of a struggle for social, political, and economic justice, both in my own community and beyond.
Nodutdol was officially launched in 1999 to address social justice concerns of the Korean community in New York City and to raise awareness about the struggle of the Korean people for self-determination. The name is a Korean word, with multiple meanings: stepping stone, home, opening, entryway, bridging, love and longing in separation, reunification.
Creating the organization was a long process. The more I got involved in this work, the more wonderful and amazing people I met, and the more I felt myself being transformed, getting closer one step at a time to the person I want to be. I had seen organizations in our community start and fold, and wanted to build something from the ground up that could be lasting and could make a difference in the long term.
Currently we are running three programs. The Community Education Program works with public school teachers, community members, and parents toward the creation of a community school around the theme of human rights and youth leadership. Our Korea Youth Action Program works with public school students aged 14 to 18 who are mostly recent immigrants interested in organizing and improving their schools and their city.
The Community Health Program combines education, organizing, advocacy, and services for Korean and other immigrants, particularly those who are uninsured or undocumented.
Our third program, the Korea Solidarity Program, seeks to bridge the gap between different groups within the Korean community and raise the general public's awareness on Korea issues. We do so by organizing film festivals of films from both North and South Korea, forums, and trips to Korea. Many Americans are not aware of what's going on in Korea, but what goes on in Asia affects all of us. There are 37,000 U.S. military personnel in Korea.
My work in Nodutdol has been hard, and though not every hour has been a piece of cake, I can say that some part of every day has been a joy. I am happy that through Nodutdol we can continue to make our city and our world a better place.
Next Article | Locked Up? Get Down!
###
Check out the Feature Archives!