The Union Square Award Winners
18 November 02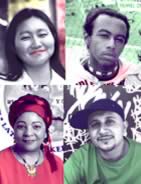 Monami Maulik, the founder of DRUM, was worried about her group's very survival. DRUM, which aids members of New York's South Asian community, was being run entirely by volunteers out of members' homes, public libraries, and office space borrowed from other organizations.
Then she received a phone call. DRUM had won a Union Square Award -- though the group had not applied for it. Like the MacArthur "Genius" Awards, the Union Square Awards come as a surprise. And along with the award comes an unrestricted grant of $50,000.
For groups like DRUM, a grant like this is like winning the lottery, without having bought a ticket. But Maulik was also happy to receive much needed moral support. Many of DRUM's members are undocumented workers, vocal about sensitive subjects, said Maulik, and "the award really provided us with support - an alliance outside of our community."
The money helped too. DRUM, one of 20 winners last year, used their grant to open an office and start paying a small staff. It also allowed them to respond immediately to the new issues that South Asian New Yorkers were dealing with after September 11th.
"After September, we had to change what we were doing day to day to respond to the needs of the community," Maulik said. "Sometimes when your funding is really tied to specific programming you can't do that - you can't be flexible and be more responsive. The Union Square Awards are really unique that way."
Now celebrating its fifth anniversary, the Union Square Awards, administered by the Fund For the City of New York, each year seek out small non-profit groups with little funding.
On Friday, November 22, this year's awards will be presented to 44 people from 20 organizations in a private celebration at St. John the Divine. The winners will include groups that focus on five major fields of interest:
1. HIV/AIDS. For example, one of this year's winners is The New York City AIDS Housing Network, based in Brooklyn, which is run by homeless and formerly homeless people living with HIV/AIDS who advocate for better housing.
2. Hunger and homelessness. El Centro de Hospitalidad, on Staten Island, provides emergency interventions for people in need of food or housing, along with educational workshops and training and community building workshops.
3. Conflict resolution. The Afghan Communicator from a small office in Queens publishes a primarily English language magazine that provides reliable information about Afghanistan and Afghans, and also serves to build unity in New York's Afghan community
4. Family and youth development. The Birthfathers' Support Network in the Bronx assists fathers with family reunification, and helps fathers to continue to be positive partners in the raising of their children.
5. Economic self-sufficiency. Sustainable South Bronx works to address issues of environmental justice.
But the Union Square Awards are flexible enough to select groups that do not fit neatly into these five fields. The Skyscraper Safety Project consists of family members of the victims of the September 11th attacks seeking to ensure that the city building codes ensure quality, safety and security. (For a full list of this year's winners, click to the end of this article.) The awards ceremony is a chance, says Union Square Awards director Iris Morales, to publicly thank those who "don't generally get on stage and get recognized for their work."
Four recipients of this year's Union Square Awards write about themselves, their organizations, and their cause.
A FIERCE Fight Against Gay Harassment.
By Gabriel Martinez
of FIERCE
Trabajando Para Trabajores
By Monica Santana
of the Latino Workers' Center
Seoul Searching
By Seung Hye Suh
of Nodutdol
Locked Up? Get Down!
By Vee Bravo
of Hip Hop Cell Block
List Of 2002 Union Square Award Winners
###
Check out the Feature Archives!