What Happened To My Middle School?
by Jonathan Mandell
25 November 02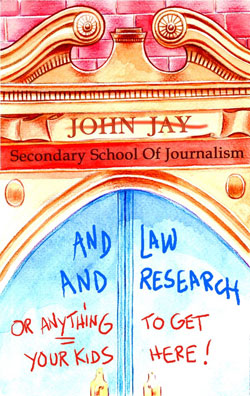 When I came up with the idea for a middle school focused on journalism -- the first such middle school in the nation -- I got the same strange reaction again and again.
"Are you going to stay involved?" asked Ida Montera, the principal of P.S.124, one of the elementary schools that would feed into my middle school. "The school needs your enthusiasm."
Parents of fifth graders in Park Slope, Sunset Park and Carroll Gardens said the same thing, as did the officials of school district 15: Will I stay involved? The school needed my enthusiasm.
Why WOULDN'T I stay involved, I replied. And why does it need my enthusiasm, I thought. Who am I? What it needs is a good principal, committed teachers, a rigorous program.
Five years later, the school still exists -- or so I had been told. The Secondary School of Journalism is one of three middle schools, soon to be high schools as well, that have taken up residence in the building that once housed John Jay High School in Park Slope.
But I have not been involved for years. In that time, the school has taken a bizarre journey that may or may not say something about the school system in general; it is hard to imagine -- or difficult to accept -- that its fate is typical.
New Schools Chancellor Joel Klein has taken up one of the mantras of educators in the city -- that regular New Yorkers, business people and professionals, must become involved in the public schools of the city if these schools are to succeed.
To which I can only reply: I tried.
A Dinner And A Dream
In 1995, I was a reporter for New York Newsday, writing an article about two cops whose child was going to P.S. 41 in Greenwich Village. I attended that elementary school, so it was something of a thrill to go back and interview the principal, though it was of course no longer the same person.
The new principal, Frank DeStefano, and I became good enough friends so that, some two years later, when he was appointed superintendent of school district 15 in Brooklyn, I called to congratulate him. He invited me to dine with him and a colleague of his a few weeks later.
At dinner, he talked about his new job. His major task, he told me, was to create new middle schools in order to keep the students in the district from going to more attractive middle schools in school district 2, his old district.
Each of the new schools, he explained, would focus around a specific theme. I did not understand this, so he explained: One would be for the performing arts, another would be for science and mathematics, another would be an "inclusion school" where "special ed" kids mixed with the non-disabled. A fourth school would be for foreign languages. There had to be a dozen middle schools in all, he said; he was looking for some more themes.
"Why not a school for journalism?" I blurted out. I don't recall his reacting. He and his friend, an assistant principal, started talking about something else.
While they were talking, I started thinking that what I had suggested so spontaneously was not such a bad idea. The skills the best journalists master are the same that you need to be a good student: the ability to learn quickly, research efficiently, write clearly, and to be engaged in your community and aware of what is happening in the world. One of the best things about journalism, I thought, is that it is about every subject on earth; anything you are interested in, you can write about. So why couldn't educators use journalism to motivate kids not yet interested in school?
A kid who has memorized 100 rap songs, say, but does not do his homework does not have a problem learning; the problem is getting him motivated to learn academic subjects. What if teachers asked that adolescent to transcribe those rap songs, to provide a glossary of rap terms, to interview a rap singer, to write his opinion about the controversy over rap lyrics? What if he were to meet a professional music critic, and, under that critic's supervision, research, report and write an article that would then be published or broadcast.
Journalism could even help students understand how valid and valuable the cultures and experiences of their classmates are. Indeed, a student who had gotten little joy or encouragement from school previously because of poor academic performance, might suddenly find herself sought after by her fellow journalism students, precisely because her experiences were worth re-telling.
I interrupted their conversation. "Hear me out," I said, and I made a pitch, the way I would pitch an editor. The ideas tumbled out of me, rooted in my experiences as a reporter, as a teacher of journalism to graduate students, and as someone who had himself first become inspired to be a writer back in (what was then called) junior high school.
I even came up with a name for the new middle school. It should be named, I said, after Manuel de Dios Unanue, the Spanish-language journalist who had been killed five years earlier on the order of the Colombia drug cartel for his investigations into the drug trade in Queens. He died in the line of duty, in pursuit of the truth.
By the end of the evening, Frank seemed convinced. He said he would write the proposal the next day and submit it to the school board the following Wednesday.
"You could be the co-director," he said.
I was shocked. "I don't know anything about education."
"You don't have to," he said. "That's the director's job."
Next Page: "Birth Of A School"
###
Check out the Feature Archives!