PRIVATE SCHOOLS
By Teresa Kennedy
9 December 02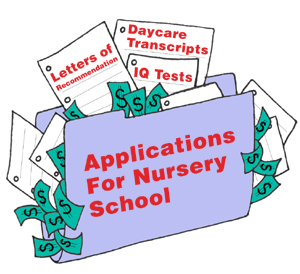 The reports that financial analyst Jack Grubman engineered a $1 million contribution to the 92nd Street Y to help his twins gain admission to the Y's exclusive nursery school amazed people not familiar with New York's daunting competition for admissions to private schools. Such huge donations are hardly routine, even though most schools would probably welcome them. But some parents do go to great lengths to get their students admitted to private schools. And, once their child is admitted, they pay tens of thousands of dollars in tuition.
The competition for admission can be intense, and certainly some status-conscious parents cherish exclusivity for its own sake. But simple demographics account for much of the competition, as residents of the Upper East Side and Upper West Side scramble for the limited amount of space in good schools close to home. Many parents see private schools as the only option in a city with a troubled public school system.
But these parents are not the only ones looking to private schools. Some educators, and politicians, believe private organizations and businesses hold the key to improving public education. One scenario envisions giving parents vouchers that they could use to help pay tuition at the public, private or religious school of their choice. Another, adopted most notably in Philadelphia, has the city school system hiring private companies in the hopes that they can rescue failing public schools. While parents blocked that idea in New York City, there are "charter schools" here that are privately operated but publicly funded.
Proponents say private schools, freed from bureaucracy, can function more effectively than public schools. And they argue that competition can shake up public schools and spur them to do better. Opponents counter that such efforts will strip public schools of desperately needed money and support and that private enterprises will be less accountable to the public. Further, they argue, there is little evidence that private schools really work better.
WHAT ARE PRIVATE SCHOOLS?
No state or city agency regulates private schools, so it is difficult to know exactly how many of them there are. A Chamber of Commerce report from the late 1990s said there are 500 private schools in the city. The report apparently does not include religious schools, which would at least double the total. The Archdiocese of New York, which encompasses the Bronx, Staten Island and some northern suburbs as well as Manhattan, runs 293 schools for about 111,500 students, while the Archdiocese of Brooklyn operates 176 schools for about 70,000 Brooklyn and Queens youngsters. There are perhaps 200 Jewish schools in the five boroughs and 14 Muslim ones, as well as an array of schools run by various Protestant denominations.
But the schools that most people associate with the term "New York City private school" are the 80 schools that belong to the New York State Association of Independent Schools. These schools generally charge high tuition and can be very selective. Some have a religious affiliation but still classify themselves as private rather than as parochial schools or yeshivas.
In 2001-02, about 2,250 children sought admission to private kindergartens in New York City, with families applying to an average of eight to 12 schools, according to Smart City Kids, a private company that helps families with school admissions. A recent article by Michael Powell in the Washington Post noted that there are, on average, at least 15 applicants for each available slot in New York City's elite private nursery schools. Grace Church reportedly had 180 applicants for 12 kindergarten spaces. As the Grubman case shows, parents are willing to go all out to improve those odds.
"Helping out with school applications greases the wheels of business and philanthropy in New York," wrote Stephanie Strom in the New York Times. Tuition at exclusive private schools in Manhattan ranges from $15,000 per school year at the pre-kindergarten level to $25,000 or higher in upper grades, exclusive of books, admissions and activity fees. Other charges can ratchet up those prices by an additional $20,000 or more. Scholarships and financial aid are available and ease the burden for up to 40 percent of students in private school.
THE PROGRAM
Is it worth it? Most people would say it depends upon the school. Some favor a progressive curriculum, strong academics, arts programs and opportunities for sports and extra-curricular programs. The policies, philosophies and the quality of education at independent schools vary greatly. They tend to promise academic excellence, small class size, individualized attention and cultural diversity. But actual practice can sometimes veer far from that initial promise. For example, the high tuition tends to limit the diversity of the student population, and efforts to recruit more women and minorities as teachers and administrators have met with little success.
There are exceptions, however. The much-sought-after Brownstone School on the Upper West Side offers tuition on a sliding scale and a commitment to diversity that is reflected both in its staff and in the student population.
Academically, it can be difficult to compare an independent school with its public or parochial counterparts, simply because the independents are not accountable to anyone else. Schools are certified or re-certified once every 10 years by the New York State Association of Independent Schools. The association is not a state agency, but an independent non-profit organization, as is the Educational Records Bureau, which handles admissions testing for independent schools.
When U.S. News and World Report recently attempted to rank private schools throughout the country in terms of academic excellence, the state independent schools association urged its members not to participate. "To produce such a survey of private schools, as U.S. News and World Report proposes, requires our cooperation," the association said in a statement. "Without consistent responses to the same questions from every school, no credible report can go forward."
When the state withdrew its variance exempting private high school students from having to take state Regents' exams, private schools went to court but failed to overturn the ruling. Currently, New York requires Regents testing in 28 private high schools in the city, with plans to phase in testing elsewhere. Reports of how scores compare with public schools are not yet available.
A private voucher program designed to help children of low income families attend private schools does provide some basis for comparisons of public and private schools. (New York State does not have a publicly funded voucher program.) According to a study by Harvard University and Mathematica Policy Research at Princeton, parents of students who transferred from public to private schools cite safety, improved academic performance and school uniforms among their reasons for preferring private school.
However, the study found that overall there were no significant differences in standardized test scores between New York public and private school students. But it found a significant increase in reading and math scores for African American students who attended private schools for the full three years considered in the report. This would suggest that private school can be of genuine benefit to some students. The voucher program had no impact, however, on the test scores of Latino students.
The test scores may underestimate the effectiveness of private schools, since public schools are more likely to "teach to the test" than private schools. On the other hand, skeptics maintain, private schools benefit from being able to first select students and then kick out problem youngsters. And they note that parents who put their child in private school, whether through a voucher program or by paying the high tuition, may put more emphasis on education than some public school parents do.
STAFF AND ADMINISTRATION
One advantage private schools clearly offer is smaller classes. And the overall size of the school tends to be smaller too, a trait that city schools Chancellor Joel Klein hopes to replicate as he begins breaking large, failing high schools into smaller schools.
Yet teacher salaries at private schools average $33,000 to $38,000, below the $41,000 to $52,000 a year for parochial school teachers and the $49,000 to $57,000 paid to the average New York City public school teacher. The relatively low pay tends to result in the hiring of younger, less experienced teachers and a high faculty turnover.
So far, the worsening economy does not appear to have had much effect on private schools in New York. Smart City Kids says applications to high priced nursery schools, for example, rose between 2000-01 and 2001-02. But some fear escalating costs and the tighter economy could put more pressure on private school families to donate money and help with fundraising. Family income and social standing could become even more important in admissions policies. "The better private schools will compete for the philanthropic families," notes Catherine Hausman, author of The Manhattan Family Guide to Private Schools.
And some of these parents wield a lot of power. Most private schools are run by a head working in conjunction with a Board of Trustees, made up largely of parents. Those parents play a major role in school policy, sometimes to the ire of the school administration and other parents. Some, said James H. Carney, who conducts searches for people to head private schools, do not separate "institutional and personal needs" and use their seats on the board as "pulpits to get attention for their child." In one Manhattan private school, reports teacher Cheryl Nelson, nine out of 12 trustee families had children with significant learning issues. This characteristic of the trustees tended to result in coursework, new programs and grading policy being geared toward children with problems such as those experienced by their own youngsters.
While some of the hot competition for private schools is undeniably a search for status, others argue private schools really help children. Many children thrive in the private school environment, and parents extol the sense of community, safety and continuity such schools provide -- especially in these uncertain times.
###
Check out the Feature Archives!