You may not be able to visit this page because of:
an out-of-date bookmark/favourite
a search engine that has an out-of-date listing for this site
a mistyped address
you have no access to this page
The requested resource was not found.
An error has occurred while processing your request.
Please try one of the following pages:
If difficulties persist, please contact the System Administrator of this site and report the error below.
Which Side Are You On?
---
1. The Union Makes Us Strong?
By Bob Fitch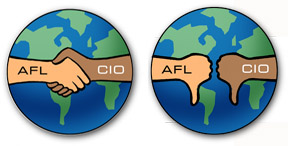 Over much of the past two decades, Labor Day editorials focused narrowly on labor pains: the dull ache of declining members, disappearing unions, fewer organizing victories. For conservatives, labor pains were birth pangs; the unavoidable agonies of a new emerging era of enterprise. For liberals, who blamed the membership downturn on Reagan's 1981 firing of the Air Traffic Controllers, the anguish of decline meant the largest, richest organization in America explicitly committed to working families' interests -- the 13 million member AFL-CIO -- was in terminal crisis.
Ever since September 1995, though, when John Sweeney took over as AFL-CIO's president, the vogue abruptly changed. It's smart now to celebrate a new birth of spirit in the world's oldest labor federation. Officials point to rising numbers. In 1998, membership grew about 100,000. In 1999, over 250,000 members were added. This hasn't happened in decades, officials say.
Actually it has. In 1993 and 1994, just before Lane Kirkland was overthrown, membership grew by about the same amount, and this was during much harder economic times. In 1994, Kirkland's last year, there were 16.7 million members. Today there are 16.4 million. The percentage of the labor force that is unionized has fallen from 15.5 percent to 13.9 percent. And if we just look at the private sector, we're talking single digits.
No matter. Just as thongs have replaced ordinary underclothes, without transforming any of the wearers' basic anatomy, so bright colored optimism has replaced darkest gloom without any underlying change in the way most AFL-CIO unions are structured.
The numbers game is a distraction. The core of organized labor's problem isn't lack of members. It's a failure by the leaders to honestly and forcefully represent the members they still have. Polling data over the last two decades shows that while members overwhelmingly approve of unions in principle, they tend to feel officialdom ignores their grievances; shoves political preferences down their throats; and uses union office for self-enrichment. The Gallup Organization consistently ranks "union official" among America's least trusted occupations, above only used car and insurance salesman
WEAKNESS IN NEW YORK
The New York labor movement, by far the largest, richest and most influential in America, shows how little such numbers mean when it comes to defending the members' interests. Gotham has produced three of the last four AFL-CIO presidents. After Hawaii, we have the highest percent of union members in the country, 25 percent, which is nearly double the national average. A quarter billion dollars - contributed not only through members' dues but also by the New York City government - is given each year to the leadership of District Council 37 of the American Federation of State, County and Municipal Employees. DC 37, which is made up of 56 separate local unions in New York, is the largest union of municipal employees in America. The Union of Needle Industrial and Textile Employees (UNITE), headquartered here, is America's wealthiest union in assets per member. The city's construction unions hold billions in pension assets.
Yet, except for rare instances when the membership gets out of hand -- like the tumultuous June 1998 take over of midtown by 40,000 construction workers, or the similar tie-up just weeks before by nonunion cabbies -- the clear impression projected by the New York City labor movement is weakness. In their strike against Verizon, the workers in New York settled first and then took down their picket lines, leaving their fellow Communication Workers of America members in other parts of the country to work out their own settlement. The strike at Domino Sugar in Brooklyn involving nearly 600 International Longshoreman's Association members has gone on quietly for fourteen months. Workers are appealing for food. There hasn't been a public sector strike in two decades. The city has lower manufacturing wages than Alabama. Increasingly, piecework and cash payments are replacing union contracts on construction sites around the city.
What else besides weakness explains why some two dozen of DC 37's 56 union presidents falsified the vote tallies of their members in order to hand a victory over to one of the most anti-labor Republican mayors in the city's history, ratifying in 1996 the contract Mayor Giuliani wanted, which included two years of no raises. The honest minority of union presidents who protested the fraud were shouted down at meetings or subjected to physical intimidation.
What else besides weakness explains why only six of 600 New York locals backed the pro-labor Democratic candidate in the 1997 Mayoral election?
A bipolar disorder? That was the plea of Local 372 President Charlie Hughes after being indicted for stealing $2 million. Hughes, who had appeared in Mayor Giuliani's campaign commercials, embezzled $375,000 by charging to his union credit card purchases made at Manhattan stores like Victoria's Secret. But it was DC 37's top leadership that more plausibly fit the bipolar syndrome. When Hughes -- who was already being paid $250,000 a year -- asked for a one-time $1 million payment for "overtime", they simply wrote him a check.
"THEY SAY GIVEBACK, WE SAY KICKBACK"
The easy hand-over to Hughes of a million bucks is really a product of a powerfully corrupt system of union governance. Had they known about it or been given a chance, would Hughes' members -- school lunch room attendants who average $12,000 a year -- voted to grant Hughes the cash? None of the top officials who participated in the decision -- including former Treasurer Bob Meyers, who pled guilty this year to embezzlement himself -- were elected by the members themselves. They were either appointed by the Executive Board, or selected by a Delegate Assembly.
Not that there weren't lots of local elections in D.C. 37. It's just that they were mostly rigged. Courtroom testimony revealed that union presidents routinely paid to have the ballots altered, at the rate of a dollar a vote. And serious opponents were frightened off. So leaders were free to steal with impunity. Mob associate Frank Morelli, former president of D.C. 37, threatened prospective opponents with death if they ran against him. (He himself was physically beaten in his office, and died shortly afterward). New York Assistant Distrct Attorney Jane Tully charged in July's ballot fraud trial that vote rigging and stealing from the membership had predominated for thirty years. After the DA's revelations of the many scandals by the leadership, one dissident member commented that DC 37's unofficial slogan was "They say giveback, we say kickback"
PINS AND NEEDLES, BRIBES AND SHAKEDOWNS
UNITE, the city's largest manufacturing union illustrates similar themes of weakness, corruption and the leaders' lack of accountability. None of UNITE's top officials are elected by the members either. Over the years, UNITE, has presided over the greatest collapse of labor standards in American history. In union shops in Chinatown and the Garment Center, twelve hour days, seven day weeks, at subminimum wages are common. Department of Labor reports in 1997 and 1999, demonstrate that unionized New York garment factories are actually more likely to be sweatshops than non-union LA or San Francisco. In non-union San Francisco nearly 100% of the shops comply with the Fair Standards Labor Act. In New York, it's about a third.
Far from being a product of the recent wave of immigration or globalization, the rise of Gotham's union sweatshops goes back to the late 1950's. It was then that turncoat crime family member and garment factory owner Joe Valachi explained to the Senate's McClellan Committee how he fixed all his union problems by contacting Luchese mobster Johnny Dio.(Dio who was charged with throwing acid in the eyes of labor reporter Victor Reisel, had been hired by president David Dubinsky as an "organizer.")
The steady series of stings, raids, and convictions since Johnny Dio days show that little has changed In 1994, all the officials and most of the staff of the cutters union -- seventeen in all -- were convicted of taking bribes from bosses to ignore the contract. In 1997, .the Department of Labor's Office of Labor Racketeering charged the union was running a "labor peace" racket in tandem with the Luchese and Gambino crime families. Last year, a new generation of Luchese family members pled guilty to garment center shakedowns involving " garment center unions."
It's old news, of course, that the city's construction unions are captive labor organizations which have yet to be liberated from a half century's control by the five New York City crime families But as the pace of trials and indictments continues, what's clear is the widespread misperception of how the city's most respected unions are run.
The leaders of UNITE and DC 37 say things that liberals like to hear; they fund progressive causes. But as organizations, they're not run a lot differently from the Painters or the Longshoremen. Praising the 125,000 member DC 37 for the vigor and pluralism of its organizational life, the eminent sociologist Seymour Martin Lipset invoked Alexis de Tocqueville. DC 37 he said, was not just a model of union democracy but a standard of democracy for the entire country. Actually, he might have been more accurate to invoke Mario Puzo.
What's wrong with corrupt labor organizations isn't going to be changed by "or ganizing" more members. Far more important is to make sure workers don't relinquish their civil rights when they join trade unions. Organizations like the Association for Union Democracy advance the principles and practices of democratic trade unionism. Here in New York, for a start, as a prerequisite for the unions collecting the automatic dues check off, the city could require that the unions run elections on the principle of "one person, one vote"
Bob Fitch, author of The Assassination of New York, about the politics of real estate development, is working on a book about unions.
---
2. The Odds Are Worse, But The Struggle Continues
by Ed Ott
In 1970, as a very young organizer working in a large New York City hospital, I could tell a worker that the government would protect them; they had a right to organize into a union. Today, a union organizer cannot say that to a worker and maintain any credibility. The workers who seek union representation do so with the complete knowledge that their jobs are at risk. That is a real fact of life in a workplace in the year 2000. Any discussion of the state of organizing in New York (or the rest of the country) begins and ends with the lack of rights of working people.
New York is still recognized as a union town, more than any other major city. In recent years, the efforts of local unions to organize new members has improved, and some significant victories have been won. The Laborers Union has organized 90 percent of the asbestos removal industry, the Machinists have organized significant numbers of the Limousine drivers under very hostile conditions. Recently, the United Auto Workers won an election at New York University to represent 1,200 teaching assistants. These efforts are in addition to ongoing attempts by Hotel and Restaurant workers, Retail and Wholesale workers, Carpenters and Painters to continue their efforts to bring union benefits to new workers.
But the organizing of working people in New York is not what it could be. In the retail industry alone, there are almost 500,000 unorganized workers in the city. Many of them can be counted among the working poor, and could benefit from union representation. The unions in the retail industry are training organizers and developing campaigns to give these workers a voice on their jobs.
Outside observers of the labor movement have pointed to many reasons why unions are not organizing more people. Recent difficulties played out in the press certainly make organizing difficult. But the point they miss most is the overwhelming disadvantage that unions have in their attempt to communicate with working people. The laws that are supposed to protect the right to organize are inadequate to the task. And we have seen how managements use their considerable resources to hire sophisticated law firms to beat back union organizing efforts. The intimidation and intense pressure put on union activists has put fear into the workplace that is not easy to overcome. The AFL-CIO campaign, "A Voice @ Work" is designed to make the public aware of the need for new legislation that will give meaning to the right to organize.
There is nothing unique about the difficulties workers face in New York. What is clear is that in spite of a stacked deck, some workers still fight to attain the rights and benefits of unionization.
Ed Ott is an official with the New York City Central Labor Council
###
Check out the Commentary Archives!


$app = JFactory::getApplication(); $menu = $app->getMenu(); $menu_items = $menu->getItems('menutype', 'mainmenu'); var_dump($menu_items); * */ ?>