CyberPolitics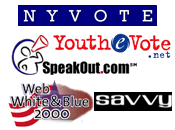 Before the Internet was known primarily as a place to go shopping, it was populated by activists who saw it as a tool for political engagement. Indeed, two public interest lawyers were actually kicked out of virtual space for advertising their professional services and thus offending the spirit of cyberspace. This, obviously, was a long time ago.
But something is happening this election year that is not a return to the old days, but an update of them. The Web has become a place for politics, this time electoral politics This is happening both nationally and locally. Besides the sites we already list on our Voter's Topic Page, one local web site will launch a live chat this week about the Senate campaign; there are two local web sites permanently devoted to New York candidates, to New York issues, and to New York voters trying to find out where New York candidates stand on New York issues.
FIRST, THE NATIONAL SCENE
The Web has been used to promote voting and inform the electorate all over the country. Each politician now must have his own web site, of course. But in a sign of growing recognition and respect, the White House recently invited members of the working press from 13 Web publications for a debriefing. Such meetings are standard for the print press; this was a first for the Web.
But in one way, the Internet already is way ahead of older media: People have actually voted online. The first binding online election -- the Democratic Presidential Primary in Arizona -- happened this past March as a result of the work of the company Election.com. (The 40,000 Arizona Democrats who voted represented a six-fold increase in voter participation.) The company also has a site that comes in four different languages and sponsors Youth-E-Vote.net, which encourages people under thirty to vote by hosting an online mock election a week before election day. However, the site looks as if it is designed for teenyboppers and discusses issues in a way that would make any 20 year-old feel patronized.
Speakout.com also tries to engage voters with its interactive website, although to participate in most of the forums, questionnaires and polls you have to register, for free, as a member. The site also provides current Associated Press stories about national politics, though some of the links don't work.
A site of particular interest for those following the presidential race is Web, White and Blue. The site lets seven presidential candidates, including Al Gore, George Bush and Pat Buchanan (Ralph Nader chose not to participate) post a "Message of the Day" up on the web, and respond to a daily "Question of the Day" posed by online viewers. After the candidates respond to the question, they are allowed to give a rebuttal to each other's answers. The site began operating earlier this month, and will continue until the election.
SAVVYVOTER.ORG
A non-profit, non-partisan site, savvyvoter.org is as much for New York candidates as for New York voters.
"Campaign ads are extremely expensive," explains Joshua Schaff, project director of Savvyvoter.org. "The Internet, especially our site, is free. Every candidate is given a password to put stuff in, and take stuff out whenever they want to. You have a place where voters can get information and where candidates, no matter how much their funding, can get their message across."
During the 1998 elections, when the site began, 80 percent of the candidates for state-wide races used it to post their messages. "We hope to have very high numbers for the city elections in 2001 too," Schaff says. "It's a good tool for local politics."
Candidates are asked to provide comments on 16 issues that Savvyvoter.org recommends, or they can create new ones. A candidate for state assembly on Staten Island said he had a position on spraying, so a new issue was created. When that happens, there is a built-in incentive to get all the candidates to give their view on the subject: whenever a candidate puts something new up on the site, all his opponents are automatically informed by e-mail, and thus encouraged to reply.
A drawback to the site at the moment is that some of the more prominent candidates this year have not provided much information. But Savvyvoter.org is still worth a visit. Well-organized and easy to explore, it gives a history of New York City government and politicians, provides a comprehensive list of links to New York publications and politically-oriented sites, offers succinct overviews of the issues, plays host to weekly message boards in alliance with the radio station WNYC; there is a new topic each week. Best of all, if you type in your (full, nine-digit) zip code, you're presented with the particular ballot that you will see on Election Day.
NYVOTE.COM
Up for more than a year, NYVote.com is the inspiration (and money drain) of lawyer Brad Siciliano and Christina Daigneault, a second-year student a Brooklyn Law School. Already the subject of articles in both New York Law Journal and Time Out New York, they seem, well, savvy about the need to get attention for their site.
Besides offering a chance for elected officials to offer their press releases directly to the public, without being rewritten by reporters, the site also links to current Associated Press articles on politics. Its current feature is "51 districts in 51 Weeks," which provides information on the many candidates who are planning to run for the many open city council seats in the 2001 election, one city council district per week. The site also contains a section with articles written about New York politicians and candidates on a variety of issues.
CHATTING ONLINE WITH THE SENATE CANDIDATES, SORT OF
This coming Thursday, October 12th, if all goes well, voters will finally be able to get answers from Hillary Clinton and Rick Lazio on the kind of issues that just don't seem to get much airplay. "Questions about public transit, welfare reform, noise and dirt in urban communities," says Andrew White. "You can't get the candidates in a room to talk about these things, so this is as close to a room as you can get."
White is the Director of the Kaplan Center for New York City Affairs. The center, along with the United Neighborhood Houses, the association of all settlement houses in New York City, is sponsoring a chat room this Thursday, from 11 a.m. to 12:30 p.m., which will be moderated by Dave Evans, political reporter for ABC-TV. The chat room becomes a bulletin board .that will remain available until Election Day.
What does this have to do with Clinton and Lazio? They were given a list of questions. The candidates' answers will be posted at the New School Online University website, which is where the chat will take place as well.
"The mainstream media is not paying attention to the issues we're posing to the candidates," says White. be available
That's the strength of the Web.
"The Internet has changed politics because the TV commercial is no longer the only outlet," says Christina Daigneault. "Voters can go to candidates' websites and find out where they really stand on issues after they've been attacked."
"I don't think the Internet is going to 'save' politics," says Joshua Schaff. But it will make a difference. "The challenge is to make sure that it won't change into television, that it will remain an interactive medium, instead of a push medium, where politicians are pushed on you."
###
Check out the Commentary Archives!