Yes
By Gene Russianoff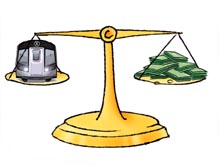 Here's a 60-second political commercial I wish I had the money to run right now:
On the screen: A shot of a graffiti-covered train, over the caption "1980." Cut to a subway station filling up with smoke from a track fire, then a commuter rail car overflowing with standees, then riders sweltering on a bus without air conditioning.
"For years, city and state leaders did not invest in our subways, buses and commuter rail lines," an announcer says. "The result was near collapse. Ridership plummeted and many businesses left town.
" By 1980, New Yorkers had enough. They demanded and won massive improvements. Since then, $30 billion has been invested to fix the system. New trains, buses, rail cars and stations all have meant a more reliable, safer ride and new fare discounts.
"But there's still a long, long way to go. We need better service and new lines. You can send a message on Election Day. Vote Yes on Question One, the Transportation Bond. It would mean nearly $2 billion to continue to improve transit. Vote "Yes" on One for better subways and buses. Vote "Yes" to move ahead."
You won't be seeing my commercial. You won't see much regular coverage in the newspapers or on television either. Only people savvy enough to know about Mobilizing the Region, a publication of the Tri-State Transportation Campaign will be to read much about the bond act. This is among the reasons why, if history is a guide, almost two-thirds of the voters on Election Day will pull the lever for the candidates of their choice, and then leave without voting one way or another on the Transportation Infrastructure Bond Act of 2000. New York has a high drop-off rate on ballot proposals like this one, in part because ballot proposals are uncommon here and in part because they are often physically hard to find on the ballot.
All this is too bad because, as that imaginary commercial makes clear, the future of our transit system is at stake on November 7th. A "yes" vote will mean some $1.6 billion toward the Metropolitan Transportation Authority's five-year, $17.1 billion rebuilding program. That program calls for a total of nearly 3,000 new subway cars, buses and commuter rail cars for the Long Island Rail Road and MetroNorth; a start on a Second Avenue subway; and a link between the Long Island Rail Road and Grand Central Terminal. It will also mean major upgrades to 64 subway stations and rehabilitation of important commuter facilities like Jamaica Center, Atlantic Avenue and Grand Central Terminal. For daily riders, the results will be very direct and very practical: They will improve reliability, allow for more service and give riders clear and immediate information on delays
The bond act alone would provide $3.8 billion for transportation improvements, and is a key piece of funding for the five-year $34.2 billion program of investments in the state's transportation infrastructure
If adopted, besides the $1.6 billion used to improve subways, buses and commuter rail lines in the metropolitan area, another $271 million would be raised to help improve transit systems from Buffalo to Suffolk County. The bond act would also provide $1.9 billion for state highways and bridges and $400 million for other projects, ranging from airport improvements to upgrading rail service and to the Erie Canal.
Transit is worth the investment of the State of New York:
Transit is the engine for our the state's economy. New York's subways, buses and commuter lines move more than 7 million people every workday, getting workers, tourists, senior citizens and students where they need to go. Transit projects--like assembling subway cars and building buses--will create thousands of good manufacturing jobs all across the state, from Hormel to Plattsburgh to Westchester.
Transit is key for the environment. Every commuter who switches from driving alone to riding mass transit saves 200 gallons of gasoline per year and keeps 62.5 pounds of carbon monoxide out of the atmosphere. The fuel efficiency of a fully occupied rail car is 15 times greater than that of the average single-occupant automobile.
For these reasons, there is a strong bi-partisan support for the transportation bond. Supporters include Governor George Pataki, Mayor Rudolph Giuliani, State Comptroller Carl McCall, State Assembly Speaker Sheldon Silver, Public Advocate Mark Green[See "The Subways and the Series"], State Senate Majority Leader Joseph Bruno, and Manhattan and Brooklyn Borough Presidents C. Virginia Fields and Howard Golden.
These officials are joined by leading civic, business and labor groups including the Business Council of the State of New York, the Regional Plan Association, Citizens Union, and the NYPIRG Straphangers Campaign.
Opponents include Change-New York; the New York State Conservative Party; the Citizens Budget Commission [See article by Diane Fortuna] and the New York State of League of Women Voters. Their concerns range from opposition to new state borrowing to a desire for more information on how the money would be spent. (See New York Post editorial.)
These concerns are legitimate. But they don't support a "no" vote. They don't support a return to an era of starving the transit system for desperately needed capital funds.
For example, the Citizens Budget Commission says New York already has too much debt. But they admit that New York's transportation infrastructure needs to be upgraded. And they acknowledge that "general obligation debt" -- bonds approved by voters and backed by the State of New York -- is preferable to 'back door borrowing.'" That's the practice of having public authorities issue debt without voter approval.
Passage of the bond act would, in fact, reduce a billion dollars of planned "back door borrowing" by the Metropolitan Transportation Authority. That's critical to reducing pressures to raise fares and cut service.
The rest of the MTA's plan to finance its current five-year, $17.1 billion calls for issuing $6.3 billion in new bonds and refinancing $14 billion in existing debt, without identifying ways of repaying the borrowing.
By 2010, interest payments on this mountain of debt will eat up a quarter of all MTA revenues; more than 1.6 billion dollars a year will have to be found just to pay back the bonds. That's up from $692 million annually in 1998. And that's without considering how to finance its next five-year capital program starting in 2005.
The Citizens Budget Commission hopes its opposition will result in getting state officials to re-think their overall financing practices. That's a laudable aim. But gambling that the governor and legislative leaders would devise a better plan is as risky as placing your faith in a subway announcement that "there is a train right behind this one."
Other critics charge that the bond lacks detail. They want a "memorandum of understanding" (bureaucratically called a MOU) between the Governor and legislative leaders listing the exact projects that would be funded. But there is, in fact, a lot of detail here. The MTA has adopted a very specific set of projects in its 2000-2004 capital program, which was approved by a four-member review board comprised of representatives of the Governor, Mayor and legislative leaders.
Any significant changes in the plan will require the approval of the review board. That's much more protection than past bond memoranda of understanding, which are agreements, not laws. Indeed, Mayor Giuliani has complained about New York City not receiving its fair share of the proceeds of the 1996 environmental bond despite its detailed memorandum of understanding
Would New York City get its fair share of the bond funds? The answer is yes. The independent and non-partisan New York City Independent Budget Office recently calculated that: "If the Bond Act is approved, residents of New York City would benefit financially. IBO estimates that 44 percent of the Act's proceeds would be used for projects directly benefiting city residents --particularly subway and bus riders--while city residents would bear about 40 percent of the debt service costs. In contrast, if the MTA and New York State Department of Transportation were forced to replace the Bond Act funds in their capital plans with debt backed by their own revenue sources, city residents' share of the debt service would reach 48 percent."
Will New York's transit move ahead? Or will we be stuck on the tracks? That's in the hands of the voters on Election Day -- those who notice the ballot proposition, and pull a lever.
Gene Russianoff is the staff attorney for the New York Public Interest Research Group and its Straphanger's Campaign
###
Check out the Commentary Archives!