NY's Concerns Can Be of National Concern Once Again
By Ester R. Fuchs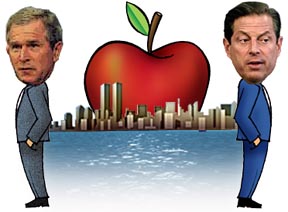 New York City no longer has the clout that we once had, even as a city within our own state congressional delegation, let alone as a state within the broader national arena. At the same time, the whole argument that New York is different from the rest of the country has, in many ways, played poorly in Washington and in national politics.
Given that, and given that city issues (or any issues) were largely ignored during this year's senatorial and presidential campaigns, what can we and what should we now as New Yorkers fairly expect from our federal government? We're all very modern, and we know that we cannot expect handouts from the federal government, that we're in partnership. As a city, we are in partnership with our state government and our national government, just as in New York, private citizens are in partnership with the public sector and the not-for-profit sector and the business sector.
But there is a real role for the federal government to play. New York needs to have an articulated national goal.
That goal can be informed by looking at the city of New York right now. Our median income is $43,380. We have a nine percent unemployment rate. That's about 314,500 adults. We have 38 percent of our population not in the labor force; that is more than 2,267,000 people still dependent upon city services for everything from transportation to education for their kids, from sanitation to police protection.
Seventy-six percent of students in our school system are eligible for free lunch, which means they are very close to the poverty line. Fifty-two percent of our students read at or below the national average, and 50 percent are at or below the national average in math. There are still about a half a million people in this city who are receiving Temporary Assistance to Needy Families (TANF)under the current welfare system. That's about 8 percent of the population. Another 110,000 people are getting safety net payments. About a half a million people -- 465,000 -- receive Supplemental Security Income. A million and a half folks in the city are Medicaid eligible.
Between 1992 and 1996, we've had over a half million new immigrants come to New York. Even if they are middle class, many of them don't speak English and need to retool.
We certainly do not get our fair share of matching funds from the federal government when it comes to Medicaid, when it comes to assistance for needy families, when it comes to social welfare. So, the following federal agenda should be our focus:
Social Security because we've got a big senior population.
Medicaid and health care.
Reforming welfare in a way that helps us deal with our poverty population.
A cost of living adjustment for most programs that have funding formulas, to reflect the high cost of living in New York City.
Regional cooperation for mass transit, tax policy, economic growth and infrastructure support, as well as for policies designed to encourage smart growth, discourage suburban sprawl and protect the environment.
I don't believe the federal government is a charity provider. The federal government is a partner with the states and local governments in the provision of services and in the national defense. There is a role for the federal government in remedying social welfare policies that create inequity across state lines because of the concentration of poverty populations in certain geographic jurisdictions. That concentration should not be the burden of the taxpayers who happen to live in those jurisdictions.
Much of the political discourse has exacerbated problems of federalism instead of trying to overcome them. What we have in New York City as a result of the federal system is a kind of dysfunctional economic development policy. Every time New Jersey tries to raid corporate headquarters or jobs in New York City, any mayor has to snap back because he'll look incompetent if he loses headquarters to New Jersey and he'll jeopardize his own re-election.
You cannot expect mayors to have a regional view when their tax base is being raided and jobs are being taken away. Who is not going to have the regional view? The more expansive view has to come from broader jurisdictions like the national government.
The way to restructure the debate is to look at how the city's issues are reflective of what the nation needs. As soon as crime became not just a central city problem but a problem in the suburbs, there was a basis for talking about crime policy in national politics.
There's pollution and gridlock in many suburban bedroom communities. Everybody is concerned about jobs. Everybody is concerned about congestion and reducing pollution.
We need to bring New York into a majority coalition, in which compromises can be worked out. Everybody does not get everything they want, and we will have to work with groups that we haven't worked with before.
This is a pragmatic approach to bringing New York City's concerns back to the national agenda. After all, American politics is all about coalition building.
Ester R. Fuchs is a professor at Barnard College and director of the Center for Urban Research and Policy at the School of International and Public Affairs at Columbia University. These remarks are adapted from a talk she gave at a Baruch College forum shortly before Election Day.
###
Check out the Commentary Archives!