A History of Waste
By Benjamin Miller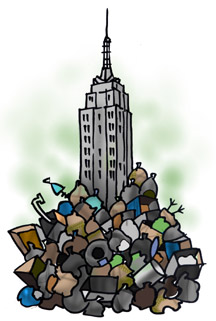 If all goes according to schedule, the New York City Council will vote this week on what the city administration persists in referring to as its "Solid Waste Management Plan," although the document does not say where the city's waste will actually be disposed of, or how. Indeed, it does not even address half the waste generated in the city, that produced by businesses. What the "plan" represents is an attempt to implement the 1996 agreement among three Republicans, Mayor Giuliani, Governor Pataki, and Staten Island Borough President Guy Molinari, through which the Fresh Kills landfill on Staten Island will be closed on the last day of the mayor's last term of office.
Thus will end the landfill that, in its own way, has made history. ("End," though, may be the wrong word to apply to a pile of garbage that will take a fair slice of geological time to return to its elemental state). New Yorkers with a passing knowledge of their garbage may have heard that Fresh Kills began in 1948, when Robert Moses started dumping garbage there in order to build the expressway that was the first step in his secret strategy to build the Verrazano-Narrows Bridge. There may be those who still remember that in 1938, Moses asked the Sanitation Department to dump garbage there instead of on Rikers Island. (That island's smoking heaps loomed over Corona Meadows, where he was then busily trying to build a World's Fair. Corona Meadows had itself been a landfill of garbage, but an old one that no longer smelled). But Fresh Kills' relationship with garbage actually began in 1914.
By 1991, it had surpassed the Great Wall of China to become the largest object on the planet made by humans. It is now 2,800 acres and 120 feet at its highest point. And there is room for much more garbage. In fact, with a remaining capacity of about 100 million cubic yards, there is as much room left at Fresh Kills as there is in any but a handful of other landfills in the country, enough that it could have lasted perhaps another 50 years as the repository of the city's garbage.
If it is politics, rather than planning, that is shutting down Fresh Kills, this is not the first time that political considerations have impelled the city to close its only garbage disposal facility before it has figured out another way to manage its waste.
ORIGINS OF A WASTELAND
For 65 years, starting in the middle of the nineteenth century, the waste from Manhattan, the Bronx, and Brooklyn was transported to an outcrop in the mouth of Jamaica Bay that Native Americans had called Equindito ("Broken Lands"). After decades of hard use, it had become known as Barren Island. There, hundreds of men, women, and children picked through millions of tons of garbage and offal to claim any bits of metal, glass, buttons, or cloth that might have value. What remained was processed into millions of dollars worth of fertilizer, grease, and nitroglycerine.
Another by-product of this world-class accumulation of offscourings, however, was an intense, caramel-like odor that carried for miles across the shores of Jamaica Bay, cutting through hamlets dotted with summer resorts and year-round bungalows. For decades the neighbors had organized themselves into associations and committees to write petitions and resolutions that succeeded merely in giving vent to their rage. A notably more effective course was that taken by a group of investors known as the Realty Associates, whose principals, including former State Senator William H. Reynolds (who was a close friend of Mayor John Purroy Mitchel) had just bought up hundreds of acres of shorefront.
GREASE
In 1914, this band of politically connected real-estate speculators succeeded in having the Board of Estimate (the city's governing body until 1989) forbid the disposal of refuse anywhere "within the confines of Jamaica Bay."
"There is no veiled reason for giving up the Barren Island plant," an Associate gleefully explained to reporters who sought to trace the pulling of the proverbial strings behind the Board of Estimate's action. "We own great properties in the Jamaica Bay section." But not content to profit from just one opportunity when this solution simultaneously offered a new one to milk, the Associates, with their customary brio, took matters one step further. The mayor's friends succeeded in obtaining the Board of Estimate's blessing for a monopoly contract to build the next garbage-"reducing" plant on the salt-marsh meadows of Staten Island's west shore. Hundreds of Staten Islanders marched in formation into the hearing room at City Hall to plead that their fair borough not be turned into the dumping ground for the entire city. But they lost. And the Realty Associates constructed the pale-brick buildings that to this day serve as headquarters for running the vast Fresh Kills landfill sprawled around them.
The name Reynolds gave the city's new garbage manufactory revealed a master showman's sense of style. With alluring euphemism, he called his firm "Metropolitan By-Products." But for all the success the partners had in fulfilling their promises that it would not be a nuisance to its neighbors, they might as well have named the plant (as Reynolds had christened his Coney Island amusement park) "Dreamland."
In their eagerness to cut corners, the partners built the "reduction" facility too small. And so, instead of processing the garbage, as promised, soon after the scows bearing it arrived, it was left to simmer for months in the sun. When the half-baked waste was finally taken inside to be boiled in naphtha, the odors it produced felled golfers on Todt Hill, four miles downwind, relieved ferry commuters of their breakfasts, and cost villagers for miles around their sleep. The Metropolitan By-Products plant (according to Edwin Markham, then the most famous poet in America) transformed "a corner of Arcady" "into the Valley of Gehenna."
NEW JERSEY GOES TO COURT
Despite Food Commissioner Herbert Hoover's pleading with the municipal authorities that they keep the plant open (the grease and nitroglycerine it produced were critical to the European allies' war effort), Mayor John Hylan (Mitchel's successor) fulfilled his campaign promise to deal with the By- Products gang "with an iron hand" and closed the plant down, making its end as abrupt as Barren Island's before it had been. With no other recourse (though it violated federal law), New York's officials simply dumped their garbage into the sea. Some of it stayed there. But enough washed up onto New Jersey shores to impel that state to bring suit. Sixteen years later, in 1934, the United States Supreme Court finally answered New Jersey's pleas to stop the ocean-dumping of New York's waste.
A NEW DUMP DAWNS
And so began the modern era of New York City landfilling, which, pursuant to a state law pushed by the current municipal administration's political allies, will end on December 31st, 2001. But while the Board of Estimate provisions that brought Barren Island to an end merely forbade the disposal of refuse anywhere "within the confines of Jamaica Bay," this new law effectively precludes the disposal of waste anywhere "within the confines of" New York City. So once again (if the administration's plans come to pass), New York's waste will make its way onto the shores of New Jersey, where it will be transferred from barges to trains and hauled to other landfills in places far away.
To accomplish this, Allied/Browning-Ferris Industries, the multinational waste-disposal behemoth the city has selected to relieve it of a lion's share of its waste (and purse), hopes to build on a twenty-five-acre plot of land in the blue-collar city of Linden what may be the largest waste-transfer facility in the world. The land, a mere infield fly ball away from Fresh Kills, happens to be owned by the son-in-law of Linden Mayor John Gregorio. "This is going to put us in the butter tub," Gregorio is said to have said.
Angry New Jerseyites were among those who marched among the moon-suited protesters into City Hall last Monday, much as their Staten Island predecessors had done two generations before. The hearing to which they had come was a continuation of one held the week before, when the City Council kicked off what it expects will be the final round of deliberations before this week's showdown vote on the Sanitation Department's current proposal. In the marbled rotunda outside the hearing room, I was introduced to a Browning-Ferris official as the author of a new book subtitled "Garbage in New York, the Last Two Hundred Years.
"Let's hope that's what we're making right now," the BFI rep replied, "-the history of the next two hundred years."
Let's hope not.
Online Resources
The Sanitation Department's plan and Environmental Impact Statement can be found on its Web site.
Also available:
Benjamin Miller is the former director of policy planning for the NYC Department of Sanitation. Fat of the Land: Garbage in New York, the Last Two Hundred Years has just been published by Four Walls Eight Windows.
###
Check out the Feature Archives!