Up Against the Machine: Lessons from a First-Time Candidate
by Liz Krueger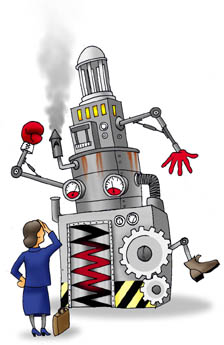 When I set out to run for the New York State Senate from the East Side of Manhattan in the spring of 2000, it was the first time I had run for anything. When the race was finally over six weeks after Election Day, I had learned a couple of important lessons. If you are running against an incumbent in New York, find yourself a good election lawyer, and prepare to be shocked by your legal bills. Mine totaled nearly $75,000.
Thanks to New York State 's arcane and complex election laws, my opponent was able to take me to court to try to throw me off the ballot twice before the election and then three more times after the election. The only thing unusual about this experience is that we had become something of a sidebar to history, since the counting of the paper ballots in our neck-to-neck local NY race paralleled the country's experience waiting for the counts from Florida to decide the presidential election. Indeed, our count took longer!
When all was said and counted, I lost by only 200 votes, out of 127,000 cast. That is a margin of .001 percent. Was I disappointed? Yes. Was it worth it? Yes, if for no other reasons than for the education in politics that I could have learned in no other way.
ELECTION LAW IN THE LAND OF INCUMBENTS
I made the conscious choice to run against a 32-year incumbent from the majority Republican party - a man with $1.8 million in his campaign war chest before I ever announced my candidacy, in a state that almost guarantees that incumbents win their re-election campaigns every two years
My first experience with our flawed election law came in July, when my opponent, Roy Goodman, filed a lawsuit challenging my right to be a candidate on the Democratic, Working Families, and Green Party lines because of "technical errors." Goodman filed a suit claiming that the Working Families and Green Party did not follow the correct procedures in nominating me, and then further claimed that because I should have known of these alleged technical errors, I had committed fraud and should be disqualified on the Democratic line as well.
To my great relief, I won the case, but Goodman then appealed, and we had to go back to Court to have the win upheld. I still do not understand what the alleged technical errors were or how I could have been involved in some form of election fraud. In addition to the worry and legal expense, it seemed ludicrous that I had to "defend" my right to be a third party candidate, since Goodman had actively sought the Working Families line for himself. Then -- after they chose me -- he took me to court for having accepting their nomination. All this just a few months after the Republican party had been severely taken to task over using the same tactics trying to throw John McCain off the ballot in New York.
The multiple post-election legal fights were even more esoteric, most being related to the fact that there were over 16,000 paper ballots to be counted (emergency, affidavit and absentee) in this race. I have read the court papers, spoken to election attorneys and attended court hearings, but as far as I can tell, the primary purpose of these challenges was to delay the process of counting the paper ballots and drive up my legal fees. None of these challenges appeared legally substantive, nor did they result in a change in the final vote tally. When I would ask for clarification of the arguments, I was assured that I was not supposed to understand; after all, "this was election law."
SNAFUS AT THE BOARD OF ELECTIONS
I have learned of a prayer uttered by some at the Board of Elections "Please God, let them all be landslides." Having experienced a photo-finish race, I know why. After election day is when the real chaos began. Just finding and sorting all the paper ballots by category type and Election District was a monumental task that took days. Discovering additional ballots which were somehow put in the wrong boxes throughout the Boards offices was a regular occurrence over several weeks. Then the ballot envelopes had to be cross-checked against voter files and for validity before they could be opened and counted.
Had the Board of Elections been more prepared for Election Day, there would have been dramatically fewer paper ballots and post-election problems to resolve. Some people were sent the wrong absentee ballots (and while some received a corrected second version, many did not). A much bigger problem was the huge volume of registered voters who went to the polls only to be told they were not in the voter books, and had to be given affidavit ballots. Poll workers were unprepared to deal with the volume in my district, made worse by the fact that over 160 voting machines intended for Manhattan were not delivered. Others broke down. All of this resulted in long and chaotic waits in many locations. There is no way to know how many voters gave up without exercising their right to vote. In theory, everyone wants to see greater voter turnout each election day. In practice, New York City's Board of Election is ill equipped to handle the current volume. My experience is a bad harbinger of the potential for worse problems in the more complex 2001 city elections.
THE NEED FOR CAMPAIGN FINANCE REFORM
My other shock as a first time candidate was the experience of fundraising. Before I ran for office, I was already a supporter of Campaign Finance Reform for all the "good government" reasons: to even the playing field, decrease the power of special interests, require accountability of our elected officials, etc. I quickly added two other reasons to my list:
1) To ensure that elected officials actually have time to do their jobs! Fundraising can easily take up 50 percent of a candidates time, and since you have to run for State Senate and Assembly every two years, the cycle for fundraising is never really over. Before I ran for office, while working full time, I typically found time to read four daily newspapers, plus several weeklies, plus multiple public policy journals. Once on the campaign trail, I was lucky to sneak in skimming pages A1, B1 and the Editorial page of the NY Times. Even then, I was stealing time from my fundraising obligations. Dont we want an educated legislature where priority is placed on meeting with constituents on issues?

2) Its painful to have to ask people for money for yourself and I personally hated this part of the experience. You go into public service hoping to contribute to your community and you immediately find yourself with your hand out. Even if you are 100 percent confident of your honesty and ability to make decisions in office based on the merits of the issues, being dependent on having to raise large sums of money from a sub-universe of supporters changes the dynamic.
DEALING WITH THE VOTERS
I enjoyed the public debates with voters who strongly opposed some of my positions. But, in learning how to campaign on the streets, I concluded there was no easy way to handle someone screaming "baby killer" or "homo-lover" at me at the top of their lungs because. Upon my third run-in with a specific gentleman who believed that a woman running for elected office was an "abomination against God," (screamed multiple times to convince me), I decided even my civility had its limits and screamed back: "Fine, I'm an abomination. But I am working this corner today, so move on!" To my amazement, he did.
I was also constantly surprised by how little even sane and sophisticated New Yorkers knew about the role of our State capital and legislature. Most did not know that Albany is where the action is, when it comes to a long list of big picture policy issues: taxation, how we run and pay for our schools, housing policy and rent regulation, environmental regulation and utility supply, public transportation, health care and social welfare policy, criminal justice and drug policy. Many people were not even aware that New York has a State Senate. For six months, including on Election Day, people would ask me why I was running for the same seat as Hillary Clinton.
Happily, these experiences were the exception. Most people who were willing to engage in discussion seemed open to learning about the role of Albany and my positions on specific issues.
It is easy to be cynical about the political process and politicians. Having overcome my own in deciding to run, I was still surprised by the combination of lack of knowledge and lack of interest in politics that I was exposed to in my extremely well educated district. Many people on the streets proudly told me they did not vote and that it did not matter who was in elected office. Others were frustrated and angry at politicians and felt free to voice their negativity toward any and all candidates. Given my own doubts about how our government runs, I was comfortable confronting these issues, but I was truly surprised by the number of people who told me that I "must be a crook", since I was running for elected office. When I could engage these people it was clear that they did care about what happened in our State and City and in their neighborhood; they just did not believe that politicians could play a constructive role in addressing their concerns.
WHY ALBANY IS WORTH IT
The news so far in Albany this year is not good. It is primarily about efforts to punish my Democratic colleagues for daring to seriously challenge the status quo of the Senate. The latest action came just a few weeks ago, when Senate Republicans passed new rules, which placed tougher restrictions on the Democrats' ability to debate legislation or force a floor vote on a bill. Most disturbing, instead of Senators having their votes recorded, the new rules allow for a "canvass of agreement." Not requiring a roll call vote is an inventive way for Senators to avoid any voting records. During my campaign, I had made a significant issue of my opponent's history of voting against motions to discharge his own sponsored bills. Ironically, my opponent chose not to vote one way or the other on these disturbing rule changes.
These changes are not just a simple wrist-slap to Democratic Senators. They are a serious affront to democracy
Of course, readers of Gotham Gazette already know that Albany is run by three men - the Governor, Assembly Speaker, and Senate Majority Leader in one of the least participatory models of government found anywhere in our country. Public hearings and open floor debates on critical issues are rare, and TV cameras are still not allowed on the floor of the Senate. Most key legislative decisions, including the budget, are negotiated in secret, and passed with few legislators having more than a few hours to review what they are being asked to vote for.
On issue after issue, Albany legislators agree to split the difference with little debate, and allow little opportunity for upstate and downstate to build consensus. And both New York City and New York State are the poorer for it.
This is why I ran, and why I am not sorry I did.
Yes, I lost, but I believe that Democratic candidates throughout the State who took a serious shot at beating incumbents helped to shift the Republican legislative agenda in Albany. Why did the Republican Senate finally allow passage of the Democratically driven Gun Control, Hate Crimes, and Clinic Access bills last spring (bills that had been delayed as long as 11 years)? Because people like me were perceived as threats to incumbents back at home. I hope we can move them further.
THE POLITICAL BUG
As I became a regular sight on the streets of my district, I developed new friendships and could feel support growing for my candidacy. I was also sincerely shocked and honored by the willingness of hundreds of people to volunteer their time and talents to help my campaign throughout these months. People I knew and many I had never met were opening their homes to me, sitting at phone banks each night and showing up before dawn to help serve coffee at subway stops.
At 11:00 p.m. the night before the election, I stood near the 86th Street subway stop trying to reach a last few voters. This was my staff's idea; I was desperately begging her to let me get some sleep. That is when a gentleman bounded up the stairs, saw me and said "Liz, we all know you, go home already!" I used his statement as proof to my staff person that it was really OK to stop. In hindsight, I needed to meet and convince another 201 people.
Liz Krueger, a recent candidate for New York State Senate, is a public policy analyst with two decades of experience directing non-profit organizations, including 15 years with the Community Food Resource Center.
###
Check out the Feature Archives!