Money is Not the Key to Student Performance, as New York Can Learn From Long Island
by Seth Forman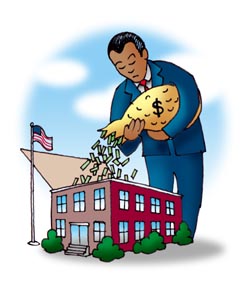 By court order, New York State has six months left to revamp its school aid formula to channel more funds to the New York City public school system. In a case brought against the state six years ago by the Campaign for Fiscal Equity, State Supreme Court Justice Leland DeGrasse of Manhattan ruled in January that Albany has for years neglected its constitutional obligation to ensure "the availability of a sound basic education to all children of the State," and that "the state school-funding system has an adverse and disparate impact on minority public-school children." New York City Schools Chancellor Harold Levy, among others, hailed the decision as "a defining moment . . . an opportunity to make fundamental change and close the gap between rich and poor."
But city officials would do well to heed the experience of Long Island, and a report prepared last year by the Long Island Regional Planning Board (LIRPB). We examined the school aid distribution for the city's neighboring suburban school districts on Long Island. The report was prepared in response to several pending lawsuits charging Long Island municipalities with property tax discrimination. For years critics have charged that Long Island property tax assessment systems are inequitable, benefit the rich, and hurt low-income homeowners. While the report found that the assessment systems of Nassau and Suffolk counties were indeed flawed, it also found that the state aid system goes a long way toward closing the spending gap between poor school districts and their better off counterparts.
The problem, according to the report, was that these large infusions of state aid have resulted in precious few educational benefits.
CLOSING THE GAP?
The average difference in state aid between rich and poor districts in Nassau County of around $1,300 per pupil is only slightly less than the $1,500 to $2,000 in additional state aid New York City officials hope to get if and when Judge DeGrasse's decision is implemented. But Chancellor Levy's belief that the court-ordered windfall of state aid money will "close the gap between the rich and the poor" seems too optimistic.
In 1997, state aid helped poor school districts in Nassau County push their per-pupil spending to an average of $12,279, a level slightly higher than the $12,225 per pupil spent in middle-income districts. And while the wealthiest school districts in Nassau did spend more on average - $14,695 per pupil - than either poor or middle-income districts, it was almost impossible to relate per pupil spending to educational outcomes.
In terms of the percentage of students graduating with a regents diploma, for example, Hempstead school district, Nassau's poorest in terms of median household income, spent $12,279 per pupil but saw only eight percent of its class graduate with a regents diploma. By contrast, Seaford, a middle-income district, spent $11,408 per pupil but had a regents graduation rate of 72 percent.
Roslyn school district, one of Nassau's wealthiest, which spent $4,600 more per pupil than Seaford, had roughly the same percentage of regents graduates, 73 percent.
In Suffolk county, Wyandanch school district, Long Island's poorest in terms of median income, with 87.8 percent of students on free or reduced lunch programs, spent $12,474 per pupil in 1997. Half Hollow Hills school district, Suffolk's wealthiest, spent only $214 more per pupil than Wyandanch. Yet only seven percent of Wyandanch's seniors graduated with a regents diploma, while 71 percent of Half Hollow Hills seniors graduated with one.
WEAK LINK BETWEEN SPENDING AND ACHIEVEMENT
These findings are consistent with most of the best available evidence, which shows a very weak relationship between education spending and academic achievement. In the 1966 study Equality in Educational Opportunity, the comprehensive survey mandated by the 1964 Civil Rights Act, Harvard sociologist James S. Coleman found that "differences in school facilities and curriculum . . . are so little related to achievement levels of students that, with few exceptions, their effect fails to appear even in a survey of this magnitude." In 1992, Daniel Patrick Moynihan published an article showing that per pupil expenditures accounted for only about 20 percent of the variation in eighth-grade math scores. This number was so unimpressive that Moynihan purposely included one spurious variable in the study - the location of a state's capital in relation to the Canadian border - and found it to be an even larger factor in math scores than per pupil spending.
City officials have every right to welcome the infusion of more state money for its schools, should it ever come to pass. Money can certainly help pay for better and safer buildings, computers, newer books and, if accompanied by the proper incentives, more motivated teachers.
But in their exhortations about what this money will accomplish, city officials seem woefully unaware of the growing consensus that disadvantages that originate in the home life of a child are almost impossible for schools to overcome.
WHAT DOES MAKE A DIFFERENCE
Coleman and his associates established over thirty years ago that the family background of students play the strongest role in student achievement, and numerous studies since that time have backed Coleman's findings. A 1992 study entitled America's Smallest School: The Family, for example, found that the percentage of eighth graders living in two-parent families statewide accounted for approximately 74 percent of the variation in mathematics proficiency between states. In short, children living in homes with two parents, regardless of income and race, do better than children living in homes with only one parent.
If it is true, as the studies suggest, that the existence of two parents in a household is the largest single factor in educational achievement, the most pertinent fact about New York City schools appears to be that roughly 40 percent of students come from single-parent households. All of which makes Judge DeGrasse's finding that "life experiences . . . can be overcome by public schools with sufficient resources well-deployed," more than a little troubling. For as long as divergent educational outcomes attributable to family life are seen as resulting from insufficient resources, there can never be "sufficient resources well-deployed." While there is little school officials can do to increase the number of intact families, they could acknowledge the limited ability of any public school system, no matter how well-funded, to compensate children for the social disadvantages they bring to school. But this would dampen public enthusiasm for increased school spending and, as Senator Moynihan once aptly put it, "there is good money to be made out of bad schools."
Seth Forman is the deputy director of the Center for Regional Policy Studies of the Long Island Regional Planning Board
###
Read a letter to the editor about this story.
Check out the Feature Archives!