"City in Transition: NYC Issues 2001" is a series of seminars developed by the New York University Center for Excellence in New York City Governance, Coro Eastern Center and Citizens Union Foundation (publisher of Gotham Gazette). Starting this week, they are being offered for free to candidates and their staff. For the seminars, experts, mostly academics from New York University, have been asked to explain the key issues facing New York City, and the options available to these candidates to solve the problems. We will post these "options papers" on our site as they become available. In addition, the contributors of Gotham Gazette will offer our own overviews of the issues, geared more to the public.
More And More Affordable: The Housing Industry and Housing Advocates Suddenly Speak the Same Language
by Rebecca Webber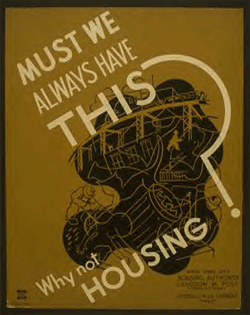 Affordable housing. Advocates demand it for the homeless and the poor. Tenants insist upon it. Landlords and developers want to provide it. Since all agree that it is sorely lacking, candidates for New York City's 2001 election will have to deal with it.
Affordable housing is the catchphrase for the 2001 elections.
That is because there is so little of it. As the economy boomed over the past ten years, rents rose relentlessly. Demand was high and vacancies low. At the same time, government at all levels reduced the funds and programs earmarked for housing. Now, more than 500,000 households pay more than half of their income in rent, according to the 2000 New York City Housing and Vacancy Survey.
TENANTS WHO CAN'T AFFORD TRUMP
The more than 2 million New Yorkers who write a rent check each month are concerned about keeping that payment affordable and maintaining strong tenants' rights.
"We're looking for a new mayor who is going to be a leader on housing issues and tenants rights. Someone who will visibly advocate," said Michael McKee, associate director of New York State Tenants & Neighbors. "Generally speaking, this is an issue that candidates don't like talking about. We are hoping to inject tenant rights issues and affordable housing into the campaign."
Other tenants' organizations are taking a similarly forceful stance. The Association for Neighborhood & Housing Development, Inc., in conjunction with other like-minded organizations, has developed a housing platform that all candidates for elected office will be called upon to endorse. It includes provisions for a 10 billion-dollar capital investment over ten years to create 100,000 units of affordable housing. Half of the money would be used to develop new housing, the other half to preserve and improve the existing housing stock.
Advocates also hope that housing code enforcement will be a priority for the newly elected. "There are three million violations on the books - ranging from falling ceilings, to rats, to lack of heat," said Kenny Shaeffer, vice chair for the Metropolitan Council on Housing. "That's like three million crimes that aren't being prosecuted." A bigger budget for more inspectors and tenant lawyers could begin to address the problems.
RENT REGULATED TENANTS
For those tenants in rent-controlled or rent-stabilized abodes, the new mayor and city council could directly affect their future leases. The new mayor will appoint members to the Rent Guidelines Board which determines the yearly increases in regulated rents. Rent regulation advocates hope that the new mayor's choices for public members will represent the diversity of the city and that they will, as Schaeffer puts it, "believe in the law they are enforcing."
The new mayor and city council members could urge the state legislature to reconsider the Urstadt Law, which has deprived the city of home rule over rent increases since 1971. They could also champion campaign finance laws. Campaign contributions have allowed the real estate industry to dominate Albany, said Schaeffer, and Albany has been weakening rent regulation laws.
"The mayor and city council need to advocate for their constituents to make sure state and federal governments are doing their part to ensure affordable housing," said Schaeffer.
LANDLORDS
The real estate industry - which includes builders, property owners, brokers, managers, architects and attorneys - also hopes that local officials can convince state and federal legislators to support affordable housing through tax incentives and targeted programs.
"We used to have ambitious federal housing programs which were well-funded until the 1980s, when they were severely curtailed or eliminated." said Warren Wechsler, senior vice president of the Real Estate Board of New York, the industry's trade association. "The burden has fallen to a large extent on localities that are not so awash in money."
Like everyone else, the Real Estate Board's priority is to see more affordable housing constructed in the city. It sees a need for re-zoning to create more development potential throughout the city. Much of the city is zoned for manufacturing, an industry that long ago departed for foreign shores, and these sites seem ripe for residential and retail development.
"If it were possible to build more housing," said Wechsler, "the market would see to it that housing prices were more moderate because consumers would have more to choose from."
THE HOMELESS
The lack of affordable housing has been the primary cause of the city's burgeoning homeless population, said Patrick Markee, senior policy analyst for the New York City Coalition for the Homeless. This year, the number of homeless in the city's shelter system topped 25,000, a level not seen since the 1980s.
While working on solutions for long-term affordable housing, the mayor and city council could choose to offer homeless families immediate relief through rent subsidy programs which cost less than shelters. They could create a supportive housing program for people with mental illness, AIDS, and other disabilities, similar to one that once created 5000 units of such housing and directly reduced the shelter population. They could also institute reforms to the shelter system to make it easier for people to get off the streets and into shelters, said Markee.
WHERE TO BUILD
In spite of the consensus that New York City needs more affordable housing, arguments still break out about where it should be built. Development plans invariably encounter community resistance and widespread concerns about gentrification.
"We are seeing a ripple effect of people who are priced out of Manhattan moving into Queens and Brooklyn," said McKee of New York State Tenants & Neighbors, "People look for something they can afford over the river. If you look at the pattern over the last few years, the upward pressure on rents increases one subway stop at a time."
New arrivals can alter the demographic landscape of the neighborhood, drive up rents, and cause gentrification -- the displacement of long-term, lower-income residents. Tenant advocates believe government commitment to the maintenance of low-income housing and anti-displacement can counter this effect.
Others see a different solution.
"Residential communities would just as soon lift the drawbridge. They don't want their schools bursting at the seams, they don't want their subway lines crowded," said Wechsler. "Lots of communities would rather not see their populations go up."
Newly elected officials should exhibit the political will to encourage housing development despite this reluctance, he said.
So the constituents are diverse and their housing problems many. But candidates for the 2001 election can't go wrong if they approach these issues with two words in mind: Affordable housing.
Go To Option Paper for Housing
###
Check out the Feature Archives!