Employ Students As Poll Workers On Election Day
by Puja Kumar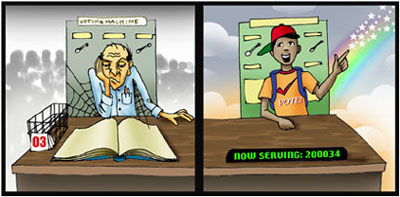 It took me a while to decide to vote, which I did for the first time five months ago. Like many of my friends in college, I did not want to vote for candidates for obscure offices like civil court judge or state senator whom I did not know anything about. And I was too busy studying for midterms or just hanging out with my friends to bother to find out.
But then I graduated, and when I went to renew my driver's license, the clerk at the Department of Motor Vehicles asked me whether I would like to register for vote, and I thought: "why not?"
Having made the commitment, I decided to learn more about it. I was surprised to discover that that was not so easy. The Board of Elections Web site, for example, had very little information; it wasn't even clear what the mechanics of voting would involve.
When I entered the poll site on election day, and saw the people standing in long lines that snaked around the room, I wasn't sure where to go or what to do, and I didn't know who to talk to. Nobody appeared to be in charge. There was a crowd waiting to speak to one woman, but she just kept shaking her head saying she could not deal with everyone's problems at the same time.
When I finally got on the right line, the inspector could not find my name in the book; I had to find it myself. And when I entered the booth itself, the ballot was overwhelming and confusing.
Later, I realized that I had been lucky. I only spent an hour at my poll site, and my name and signature at least had made a successful bureaucratic journey from the Department of Motor Vehicles to the Board of Elections and then into the registration book at my polling booth. Many New Yorkers faced broken machines, their names missing on the registration lists, and poll sites running out of paper ballots. But even I experienced the one problem that everybody mentions above all - that there were not enough election inspectors, and the few who were around were neither well-trained nor well-informed. The result was confusion and chaos.
Now, I work for Citizens Union, the good-government group that has railed against these exact same problems, believe it or not, since 1908: "The low grade of election officers in a very large proportion of districts aggravates the lack of confidence in the returns as a just record of the popular will," it said in volume one, number one of The Citizens Union newspaper, published that year.
I realize that, oddly enough, it is exactly people like me - new voters, young people - who can finally help solve this problem. We need to recruit more students to work as election inspectors.
A SHORTAGE OF POLL INSPECTORS
The New York City Board of Elections is responsible for the recruitment and training of Election Day officials, its own civilian national guard, usually numbering 26,000. The problem is, it is supposed to have 30,000 inspectors. The Board routinely falls short by about 4,000 people. "New York City as well as several other cities are facing a shortage of poll inspectors. Recruitment is a real problem everywhere," says Danny Defrancesco, the Board's Executive Director.
Few incentives exist to become a poll worker in New York City: Our inspectors work the longest hours in the country, up to 17 hours for the day, with few breaks, and are paid just $130 for the day.
Since there are not enough inspectors available on election day, the board is forced to take anyone who is willing to work, because it needs the manpower. The smaller the pool of inspectors to choose from, the less selective the board can be.
Traditionally, the Democratic and Republican Party leaders provided most of the poll workers. But today, because fewer people are active in party politics, roughly only 45 percent of the poll inspectors come from the two parties."The parties are providing fewer and fewer names every year," says Neil Rosenstein from the New York Public Interest Research Group. The remainder must come from the Board of Elections' recruitment drives: When I filled out the voter registration form, for example, I remember noticing something on the form about signing up to be a poll inspector -- and I am far from the only to have ignored it. This is not the way it has to be.
MORE STUDENTS AT THE POLLS
"The younger generation would be the ideal candidate to work as poll inspectors because they are enthusiastic, dedicated, and most importantly intelligent" says Richard Friedrichs, interim director of Youth Vote 2000, an organization that encourages people age 18 to 34 to become voters.
Of course, individual college students have already been working as inspectors, in New York City and around the country. However, we need to initiate a campaign that directly involves the many colleges, universities, law schools and even high schools in New York in the recruitment effort every year, perhaps even having them make it part of the curriculum. This would, after all, be a benefit to everybody. The students' one-day commitment could ignite some lasting political interest and civic engagement.
City Councilman Gifford Miller has proposed that working the polls be part of government or political science courses. He also suggests that it be a requirement to graduate.
This has been done successfully in other states with high school students in Kansas and California. Kansas has a partnership with several high schools to allow students in good academic standing to leave school for the day to work at the polls. California also has instituted a comprehensive program of recruiting high school students. Students take a class on civics and democracy and one of the requirements for the class is that students work as poll inspectors
Currently, New York does not allow 16-17 year olds to work as election day officials. This is why there is a push to convince the New York State Legislature to pass a law allowing high school students to work at the polls. "There's no reason New York City shouldn't experiment with other creative recruitment methods, like qualifying high school students to work at the polls," says Dave Palmer.
Engaging high school students is important because many young first-time voters are unsure of the mechanics of voting and are intimidated by the entire process. A survey conducted by the National Association of Secretaries of State on youth attitudes found that 55 percent of students believe that their school does not do an adequate job of providing information on the voting process. "I know if I walked into an election booth, I wouldn't know what to do. If I had known what's on the other side of the curtain in the booth, Id have felt more comfortable," said one respondent from the survey. The benefit of working at the polls is that it would increase students' understanding of the rules and procedures and may even make them more likely to vote in the future.
One obstacle to recruiting college students is that school is in session on election day. Academic pressures in college are greater than in high school. "It is sometimes easier to work with high school students because they can be more flexible" finds Kay Albowitz from the National Association of the Secretaries of State. Thus, even those college students who do sign up to work as poll inspectors often do not show up. "I think only about 20 percent of the students we sign up to work as inspectors actually work on election day," says Board of Elections Commissioner Douglas Kellner. We need to work around this high attrition rate by urging administrators and faculty to release students from their academic obligations on election day.
TAP INTO NEW YORK CITY'S WORKFORCE TOO
In addition to recruiting students, we need to reach out to New York City corporations and non profit agencies to encourage loaning their employees for a day to serve as election inspectors.
Kansas does this now, too, with their Making Votes Popular program. Two ways Kansas has recruited inspectors is by giving businesses publicity in exchange for the donation of workers on election day, and allowing civic groups to "adopt" a poll site and staff it all day.
Using such creative solutions will ease the shortage of election day officials, and could give at least some people the kind of insight and lift that I got when I served -- also for the first time -- on jury duty.
###
Check out the Feature Archives!