Guide to NYC Guides
by Christiane Bird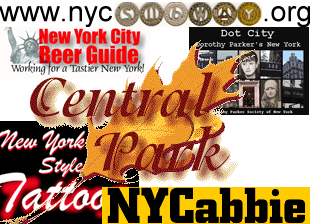 What was Dorothy Parker's favorite brothel? When did organized fire fighting begin in New York City? How did New York rank compared to the other states in human lives lost during the Revolutionary War? Who once tattooed his wife and then claimed she had been kidnapped by savages, who had been the ones to inflict the intricate designs?
The answers to all these questions can be found on the Internet (and also at the bottom of this guide to the guides*). The Web has become a vast repository of guides to New York City, filled with information both commonplace and arcane -- what New Yorkers ate a century ago and where you can eat Friday night. Some of these sites are serious, some are irreverent, some are supported by big bucks, and some are floating out these in cyberspace with only a sole creator to their names. Some sites are obvious places to look, run by well-known institutions such as the New York Public Library or the New York Convention and Visitors Bureau. But there is a site for nearly every quirky passion, be it New York City radio, the subway system, medieval gargoyles in New York, graffiti, the city's taxi cabs, the city's trees, New York City breweries.
GUIDES FOR NATIVES
One of the quirkiest and most entertaining of NYC Internet-based guides can be found at New York City Reference. Part traditional guide, part eccentric ramblings, this is the place to go for unusual listings on a wide variety of topics, including advertising, apparel, art, body modification, bookstores, drink, employment agencies, food, health, real estate, utilities, videos, and waste management. To learn about cooking and wine classes in the Big Apple, visit New York's Cooking. To find out about great eclectic and ethnic places to eat, as reported by one who knows, visit Chowhound.com. To find a restaurant by name, cuisine, or neighborhood, click on Zagat.com which includes about 20,000 NYC restaurants, cafes, and bistros.
New York Arts Online provides extensive listings and links to dozens of cultural institutions, including museums, universities, arts organizations, and libraries. A guide and calendar highlight weekly happenings, and you can search for events by name and location.
Radio fans interested in finding a complete guide to local radio stations, daily programming, formats, radio-related CDs and books will want to check out New York Radio Guide.
Among the most comprehensive general guides to the Big Apple, listing thousands of events and attractions, are New York Today run by the New York Times, and NewYork.CitySearch.com run by MicroSoft. For a guide to the hippest of happenings, check out Papermag run by Paper magazine.
GUIDES TO CITY HISTORY
The "Official New York City Web Site," posting the mayor's speeches and press releases, information on city agencies and news, also has some first-rate features on NYC history. Go to NYC Link and then click 'City Life,' followed by 'Old New York' to learn about Central Park in 1863, Ellis Island, Jacob Riis, the histories of the police and fire departments, Potters Field, and antique postcards.
To go further back, visit Medieval New York an unusual site connected with Fordham University. The result of a class project undertaken in 1996-1998, the site explores "how deeply and in how many different ways, the European Middle Ages permeate New York life." Information on architecture, gargoyles, manuscripts, and museum collections is included.
For the history of the Revolutionary War in New York City, visit New York Freedom Trail. The site includes historical essays, a calendar of Revolution War activities, and a "Freedom Trail" map pinpointing such important war sites as Fort Washington, Harlem Heights, City Hall Park, and Federal Hall.
The New York Times Web site celebrates 100 years of New York City history with essays by well-known writers and photos from the Times archives. Visit New York Today.
A synopsis of the notorious slum once north of Chinatown, can be found at The Five Points Site. The site also posts photos of artifacts discovered in the old neighborhood and general information about urban archeology.
ONE MILLION STORIES
Who knows the million stories of the naked city better than that most quintessential of New York characters, the taxi driver? Clever Da Silva, author of New York City from a Cab Driver's View, cashes in on his 17 years behind the wheel at NY-Taxi.com. Here, you can check into a "live cam and chat" room, search Clever's archives of videotaped interviews with passengers, take an interactive tour, and visit the author's favorite restaurants and tourist attractions. For a more low-key approach to the cabbie's world, visit NYCabbie where over 70 photos by taxi driver MLK are on view (and for sale). MLK also offers a "Dear Cabbie" advice column and is in the process of compiling "taxi stories" from around the world.
The literate Mr. Beller's Neighborhood collects written stories from us all -- living and dead, famous and obscure -- and keys them onto a map of Manhattan. Call up the map, click on a red dot, and read a personal essay, piece of reportage, or fictional story relating to the Big Apple. Mr. Beller is a "citizen, a figment of your imagination," and contains elements of Mr. Rogers, Mr. Bill, Mr. Shawn, and Mistah Kurtz, the site's creators proclaim.
The Algonquin Round Table lives on at Dot City where you can visit the author's favorite NYC haunts and hangouts, listen to her raspy bon mots in audio archives, or purchase Parker books and tee shirts. Among the stops on the site's tour are Dot's grade school on the Upper West Side, the "World War Two Woe Hotel," where she had a few too many, and the Plaza, "where she was taken to be fired from Vanity Fair."
For a look at subway graffiti from the 1970s and 1980s, visit New York City KoldKrush or New York City Cyber Bench @ 149th St. The first is a somewhat mysterious site, filled with archived pages by such writer-painters as Dice, Sphere, Vain, Dream Rip, and Sneek. The second is more traditionally informative; come here, to "the last existing writers' bench during the New York City subway aerosol art movement" to find out what that movement was all about. To "bench," by the way, means to sit and watch art on passing trains.
For a broader view of the transit system, visit New York City Subway Resources which bills itself as the "unofficial site" of the New York City subway, though there is nothing haphazard about it. It covers everything from the history of the IRT, BMT and IND lines, to subway maps and technical facts. Info on subway museums, rail Web sites, and transit systems around the world is also on site. Meanwhile, to catch a glimpse of the dark and mysterious underground, check out New York City Underground.
CURIOUSER AND CURIOUSER
To learn more about beer in New York, past and present, visit New York City Beer Guide. The site includes info on NYC breweries, microbreweries, stores, beer tastings, beer clubs, beer books, home brewing, pubs, taverns, and bars. "Bureau chiefs" report in from the boroughs and a "homebrew editor" keeps an eye out for exotic recipes.
The New York Food Museum has no permanent home, but it does have a permanent Web site at NY Food Museum where a long article discusses "How New York Ate 100 Years Ago." Included is information on 19th-century pushcarts, farms, fishing operations, and chewing gum. The museum also sponsors occasional exhibits around town; details are on site.
For a short history of NYC tattoos, check out New York City Style Tattoos. Lest you think that a tattoo is a tattoo is a tattoo, let us be the first to inform you that the modern mechanical tattoo was invented in New York in the late 19th century by modifying "Edison's Electric Engraving Pen." The site includes short profiles of historic NYC tattoo personalities and a directory of tattoo services.
"A cultural icon of the online community," proclaims The New York Times; "The crankiest group in cyberspace," says one of the founders. Either way, Echo NYC is the place to go to chat with fellow intellectual and pseudo-intellectual New Yorkers about everything from art and books to comics and death.
FRESH AIR NEW YORK
All right, so maybe there is not too much of that here. Still, you can help to improve the air quality in New York by planting or taking good care of a tree. To find out about tree plantings, events, outings, education, the Asian Longhaired Beetle problem, or the Citizen Pruner Tree Care Courses, visit Trees New York Online.
Get away from the congestion of Midtown by venturing out to the Gateway National Recreation Area in Brooklyn, Queens, and Staten Island, New York, or in Monmouth County, New Jersey. A travel guide complete with directions, a map, camping and wildlife information can be downloaded from the National Park Service's Gateway National Recreation Area page.
Take a virtual tour of Central Park, complete with 50 stops and photos, by visiting Welcome to Central Park. Also on the site are a history of the park and a calendar of events.
Christiane Bird is the author of The New York State Handbook and The New York City Handbook. Her latest book is Neither East Nor West
###
Check out the Feature Archives!