Smoking In NYC
By Jamie Jones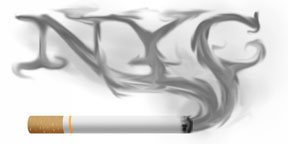 For 25 years, in the exact same spot in Times Square, a famous sign for Camel cigarettes blew giant smoke rings across Broadway. In June, instead of smoke rings, a quick question began flashing across a giant television screen: "Quit Yet?"
To people opposed to smoking, the new sign in Times Square, part of the latest public campaign urging New Yorkers to stop smoking, is something of a coup -- reclaiming space long known for its cigarette ads, until such advertisements were banned in 1998.
The "Quit Yet?" campaign, responsible for the thousands of lime-green posters on billboards, subway cars, taxi tops, buses and bus shelters from Soho to the Upper West Side, is the most visible evidence of the enduring debate over smoking in public. The debate has heated up in the past six months. In New York at least, it is clear which side is winning. What is not clear is if victory will make the difference where it counts - in lives saved.
NO SMOKING -- MAYBE EVERYWHERE
New York has always taken pride in its diversity, in its ability to absorb the whims and wishes of millions, no matter how quirky or self-destructive their behavior. But a new uniformity of opinion appears to be emerging against one vice, smoking in public.
In June, the Assembly in Albany voted to toughen the state's smoking laws. The Indoor Clean Air Act would have banned smoking in all restaurants, though still allowed it in bars.
But the proposal was stalled in the Senate after opposition from restaurant owners, tobacco lobbyists and Governor George Pataki. Lawmakers are not certain what will come of the proposal.
New York City also is contemplating stricter laws. The city currently allows smoking in bars and restaurants that have separate ventilated rooms. Those restaurants with fewer than a total of 36 seats are exempt from any smoking restrictions.
Though the city's laws are more rigid than the state's, several city council members believe the current laws, passed in 1995, are not strict enough. Council Speaker and mayoral candidate Peter Vallone introduced a bill in January that would ban cigarettes from all city restaurants, no matter what the size. It too is stalled at the moment, having attracted opposition from restaurateurs, smokers-rights groups and Mayor Rudolph Giuliani, who called it "overly intrusive."
The Suffolk County legislature is considering whether to ban smoking within 50 feet of government and hospital entrances.
But if all these are proposals yet to pass, they show which way the smoke is blowing. The Assembly bill was introduced by a Republican legislator, a first.
"The gestalt has changed," Russell Sciandra, director of the Center for a Tobacco-Free New York, has said. "These guys are beginning to realize it's what their constituents want. This is like a soccer mom's kind of issue."
And also last month, managers of the New York City-owned Bryant Park banned smoking on an eighth of an acre in the park off 42nd Street after residents demanded a smoke-free spot during busy lunch hours.
New York City health officials predict that smoking will soon be banned from the most public of places, whether outdoor restaurants and cafes, or beaches and bars.
"The writing is on the wall for tobacco use in public," said Susan Wilt, whose job at the city health department is assistant commissioner for chronic disease prevention. "It is only a matter of time."
NO, I HAVEN'T QUIT!
For Audrey Silk, a New York City police officer who smoked her first cigarette when she was 16 years old, the new tilt against smoking is harassment, and it is too much to bear. She got angry in December of 1999, when New York lawmakers raised taxes on cigarettes. "I went berserk," said Silk, 37.
She started writing letters to state lawmakers and city council members, and formed an organization called C.L.A.S.H., Citizens Lobbying Against Smoker Harassment. With about 25 members, the group has a website that contains legislative updates on smoking policies, "A Brief History Of The War On Smokers," and a quote from Benjamin Franklin - "They that give up essential liberty to obtain a little temporary safety deserve neither liberty nor safety." Her organization and other smokers rights groups protest anti-smoking policies and campaign against lawmakers who propose tougher laws.
Silk is against banning smoking in restaurants ("It should be the owner's choice,") believes scientific studies on second hand smoke are bogus ("They've not proven to cause harm,") and is against banning cigarettes in almost any location ("It screams of discrimination.")
"First we were kicked outdoors," she says. "Next they'll have you standing in the middle of traffic and still claim the smoke bothers them while yelling across two lanes of vehicle exhaust laden traffic."
In the past 18 months, she has spent about $1,500 on advertisements to protest the city's anti-smoking council members. She ran an ad in the Amsterdam News against Councilmember Stanley Michels, who co-sponsored Vallone's bill, telling his constituents in harlem that he planned to "disenfranchise about 30 percent of his constituents" by enacting harsher smoking laws.
She also had hundreds of matchbooks printed that say, "Peter Vallone for Mayor," and cross out the slogan with a big red X. The matchbook says, "We Smoke, We Vote," and urges smokers to call Vallone and tell him that "you don't approve of his plan to ban smoking everywhere in New York City."
"I carry them with me everywhere," Silk said. "I've gone to the Village and passed them out to restaurant owners. They're happy to have them. One guy offered me a free drink."
Silk finds the "Quit Yet?" campaign offensive. "I called them up and asked why they're not putting up "Quit Cookies Yet?" or "Quit Soda?" posters," Silk said. She believes smokers are completely knowledgeable about the risks.
"These health officials think they have to keep telling us because we don't know," Silk said. " I'm insulted. Everything in life is a risk. We weigh the benefits and risks, and we make decisions. We enjoy cigarettes. I don't think they realize that we enjoy them."
Silk said she is spending her own money and gets no funding from tobacco companies. To accept their money, she said, would damage her credibility.
"I don't even have written or oral correspondence with the tobacco industry," Silk said. "That would be suicide. The anti-smokers would point their lying crooked finger at me and claim that I am nothing but a "front" for big tobacco."
But tobacco companies often support the efforts of citizens like Silk, brazenly or silently. R.J. Reynolds Tobacco Company, for example, praises citizens who fight for the right to smoke. On its website, the company urges viewers to report smoking bans and contact lawmakers who push tough smoking laws.
"It's up to you to do your part to protect your rights as an adult smoker," the site says.
Few smokers are as strident as Silk or the tobacco lobby, but some do seem to view anti-smoking campaigns, and greater smoking restrictions, as out of place in New York.
On a recent afternoon, Daniel Bernheim, a doctoral candidate in communications at Columbia University, was sitting at the bar of a restaurant on the Upper West Side, smoking an Exporta cigarette. "The city is so filled with pollution," said Bernheim, a smoker for 30 years. "The idea that the smoke emanating in a restaurant is harmful to your health is a bit far fetched. We don't live in a particularly healthy environment."
But even smokers are not all of one voice. According to a Gallup poll conducted in November, about 25 percent of smokers themselves believe cigarettes should be completely banned from restaurants.
Indeed, though one in four Americans smoke, few apparently completely enjoy the habit. That same Gallup poll found that four in five smokers would like to give up smoking.
ARE PEOPLE QUITTING?
What does the tobacco industry say about anti-smoking campaigns like "Quit Yet?" It may not like them, but the industry is responsible for them, albeit not intentionally.
Tobacco companies are paying states up to $246 billion under the attorney generals master tobacco settlement, which was reached in 1998 after states sued tobacco companies for making their residents sick.
Many states are using their cut of the funds for anti-tobacco ads and anti-smoking campaigns. Yet the aggressiveness of the campaigns varies from state to state.
A recent study conducted by the Campaign For Tobacco-Free Kids and the American Cancer Society said most states are not spending enough on anti-smoking campaigns. Only six states, the study said, are spending the recommended amount, 20 to 25 percent, on smoking programs.
The study ranked New York 28th of 46 states for money spent to discourage smoking. New York plans to spend $30 million annually, under a third of what the Centers For Disease Control And Prevention recommended.
"We're not spending enough," said Wilt of the city health department. Lawmakers, however, believed the settlement money was needed for Medicaid and reducing the state's debt.
New York City receives about $13 million a year for its anti-smoking campaign, part of a tobacco control program it began about 18 months ago.
Since February, the health department has plastered thousands of posters across the city -- on a telephone booth at 104th Street and Broadway, atop a yellow taxi cab driving through the East Village, on a Number Seven train traveling through Queens.
Similar advertisements, in English and Spanish, are featured on the radio and television, and one shows a sultry, sexy woman singing, "You Made Me Love You," crooning with disgust about cigarettes.
"It's very, very New York," said Wilt. "We're saying New York is terrific without cigarettes, and you don't need them to be glamorous."
The city's advertisements direct smokers to the state's Quitline, which provides information about quitting. Calls to the toll-free line have increased five-fold since the advertisements appeared, from about 2,000 a month to 9,000 in March.
Health officials say a recent survey of 1,000 callers to the Quitline showed that 12 percent had given up their cigarettes (or at least said they had) within three to six months of dialing 1-888-609-6292.
But, despite all the efforts to restrict smoking, and the newly visible anti-smoking ad campaign, smoking rates remain high in New York, which brings into question how effective these anti-smoking measures are. And there is some sign that smoking rates are actually going to get higher, thanks to immigration. Among the largest group to immigrate are from Korea, where, according to the World Health Organization, about 68 percent of men smoke. That is why the "Quit Yet?" signs will soon be seen in Korean -- and Polish and Russian.
Related articles:
###
Check out the Feature Archives!