Why We're Taking the MTA to Court
By Bertha Lewis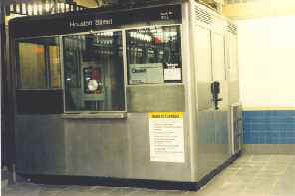 Last week, a coalition of dozens of organizations filed a lawsuit against the Metropolitan Transportation Authority for its proposal to reduce service to, or completely close, 53 token booths in the New York City subway system on August 26, replacing them with MetroCard machines. Arthur Schwartz and Senator Eric Schneiderman (D-Manhattan/Bronx) have agreed to represent this coalition. [Schneiderman's affidavit] Many of the affected booths are in lower-income neighborhoods where people have no alternatives to public transportation.
What is worse, the MTA plans to do the same thing to another 69 booths over the next several months. And these 122 booths put together are just a small glimpse into the massive service cuts the MTA has planned for New York City subways.
By replacing token booths and clerks with vending machines and turnstiles, the MTA is endangering subway riders' safety as well as greatly limiting access to the stations:
Unstaffed entrances will be far more dangerous. An official human presence deters criminal activity and makes riders feel safer. Furthermore, riders know where to go to seek help if they are in danger. A turnstile will never be able to call 911.
Disabled riders, riders pushing strollers, and those using crutches or carrying large packages will often not fit into a High-Entry/Exit Turnstile.
Riders who need directions or who are having problems with the MetroCards will have no one to assist them.
At a time when subway ridership is at a 30-year high, and revenues from ridership continue to increase, this reduction in service is unacceptable.
However, it is typical of Albany's constant discrimination against New York City. New York's subways and buses carry 91 percent of the riders in the MTA system, yet they have traditionally received only 77 percent of the MTA's funds for capital projects.
Six years ago Senator Schneiderman was lead counsel in another suit against the MTA. On behalf of the New York Urban League and the Straphangers' Campaign, he challenged Governor George Pataki's discrimination against New York City's transit system in favor of suburban transit systems. That suit paved the way for current fare discounts on MetroCards.
In the last seven years, Governor Pataki has systematically defunded the nation's greatest mass transit system, replacing state and city funding with mountains of debt that will ensure cutbacks in service and fare hikes in the next few years.
This money the Governor has taken from mass transit has been diverted to finance his large multi-year tax cut promises. By starving the transit system and forcing it to rely on long-term debt, the Governor has been able to maintain the illusion that he can cut taxes without cutting service.
But as the debt accumulates each year, more and more of subway riders' token fares must go toward paying off principle and interest rather than toward maintaining and upgrading service.
FUNDING OF MTA CAPITAL PROGRAMS, 1982-86 to 2000-04 (Courtesy of Fiscal Policy Institute)
1982-86
1987-91
1992-96
1995-99
2000-2004

Funding Source

$ (in millions)

% total budget

$ (in millions)

% total budget

$ (in millions)

% total budget

$ (in millions)

% total budget

$ (in millions)

% total budget

Federal

2,012

26%

3,117

38%

3,673

40%

3,770

30%

4,984

32%

State

1,509

20%

879

11%

-

0%

104

1%

-

0%

NYC

688

9%

1,236

15%

1,226

14%

1,286

10%

530

3%

Debt

2,615

34%

2,032

25%

3,080

34%

5,245

42%

9,273

60%

Other

859

11%

880

11%

1093

12%

2,148

17%

675

4%

Total

7,683

100%

8,114

100%

9,072

100%

12,553

100%

15,462

100%
The numbers tell a depressing story. State funding for the MTA has declined to zero as debt has increased at a dizzying rate over the last several years. From 1982 to 1986, the state provided 20 percent of the MTA's capital budget and debt was 34 percent. From 1995 to 1999, the state provided one percent of the capital budget, and debt was 42 percent. In the current capital budget (2000 to 2004) the state is providing zero funding, and debt has risen to 60 percent of the capital budget.
The debt issued by the MTA comes in the form of "fare-backed" bonds -- bonds that are backed by the system's revenues from fares or by all of the system's general revenues.
According to a recent New York City Independent Budget Office report, the MTA's latest multi-year financial plan indicates that the percentage of the operating budget used to pay off debt--the debt service burden--will virtually double over the next three years, from an estimated $320.8 million or 8.4 percent in 2001 to a projected $610.8 million or 15 percent in 2004.
Over the course of this three year period, while debt service is projected to increase by 90 percent, total operating revenues are projected to increase by only 7 percent, from over $3.8 billion to slightly less than $4.1 billion. This means that in 2004, the amount of revenue available for all purposes other than debt service will be $3.474 billion, or $21.6 million less than the amount available this year. Given the steady increase in ridership, and the costs of operating the system, this will inevitably lead to fare increases and service cuts.
The MTA's debt is coming due. Unless the state changes course and the governor puts MTA funds back into the budget, it is the riders who will pay the price.
Bertha Lewis is the director of New York ACORN. You can get involved with the Coalition by calling the Transport Workers Union, 212-873-6000 ex. 346.
###
Check out the Feature Archives!