You may not be able to visit this page because of:
an out-of-date bookmark/favourite
a search engine that has an out-of-date listing for this site
a mistyped address
you have no access to this page
The requested resource was not found.
An error has occurred while processing your request.
Please try one of the following pages:
If difficulties persist, please contact the System Administrator of this site and report the error below.

THE RACE FOR GRACIE MANSION
by Philip Lentz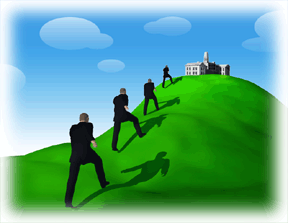 (24 Jan '00) The next mayoral race may be two years away, but there has been a major reversal of fortune for the leading contenders over the last 12 months - and that could have major repercussions when the 2001 campaign finally arrives.
In short, 1999 was a very good year for Public Advocate Mark Green but a year to forget for City Comptroller Alan Hevesi.
Coming out of the 1998 mid-term elections, New York City's citywide elected Democrats - both of who won easily re-election the year before - were seen as co-frontrunners for mayor in 2001. Green was the darling of the left while Hevesi was viewed as the outerborough moderate, "Giuliani lite" to some. A Green-Hevesi showdown was much anticipated. The contest would pit Manhattan versus Queens, the reformer versus the clubhouse, unbridled ambition versus cautious leadership.
Then Daniel Patrick Moynihan decided to retire.
Suddenly, everything changed. With Mayor Giuliani eyeing the Senate seat, Mark Green had a real chance to become acting mayor for the last year of the mayor's term, giving him a huge advantage in the 2001 election.
Things were beginning to tilt Green's way.
Then Green's enemies - most notably Rudy Giuliani and Hevesi's chief political strategist, Hank Morris - decided separately, and for very different reasons, that the only way to stop a Green mayoralty would be to amend the City Charter. Mark Green couldn't have written a better script himself.
The campaign to change the Charter not only fell flat - disparaged by other politicians, editorial writers and good government groups as unfair and self-serving - it also turned Mark Green in something of a political martyr. Facing no public support, the Mayor eventually abandoned a Charter amendment to block Green, but the resulting Charter change referendum drove the Public Advocate into the arms of the powerful municipal labor unions. The result: Green won himself with allies he didn't have before, reams of positive publicity and - when the Charter change was trounced at the polls - a major victory over his nemesis, the mayor. Nice trifecta.
While Green's fortunes were rising, Hevesi's were plummeting. The defining moment for New York City body politic last year was the police shooting of Amadou Diallo. The event put the mayor on the defensive while virtually every Democrat rallied to protest police brutality. Every Democrat, that is, except Alan Hevesi.
While Giuliani's Democratic critics were busy holding press conferences and getting arrested in carefully staged protests at police headquarters, Hevesi, a virulent critic of the Rev. Al Sharpton, was nowhere to be seen. In fact, when asked, he quietly praised the mayor's handling of the Diallo shooting.
Whatever the merits of Hevesi's position, his absence from the Diallo protests carried huge political risks. Yes, it might play well with more moderate voters, those whom elected mayor Giuliani twice. But the next mayor will likely be determined in the 2001 Democratic primary, not the general election. And nearly half of the Democratic primary voters will be black and Hispanic. As a result, Hevesi's disappearing act during the Diallo uproar left him alienated from major segments of his party's political base.
The Charter campaign further eroded Hevesi's standing. He endorsed Hank MorrisČ position on changing the rules on mayoral succession, an idea that, like his Diallo position, put him closer to a Republican mayor than the Democratic mainstream. And during the fall Charter campaign, he was again invisible. When asked, he said he opposed the amendment. But it was Mark Green who led the charge against the Charter change and Mark Green who got the credit, and the publicity, when the amendment was defeated.
On the two major political controversies of 1999 - Diallo and Charter revision - Hevesi was AWOL. One politician joked privately that the Comptroller had joined the federal witness protection program.
There was still more bad political news for Hevesi last year. Council Speaker Peter Vallone, who like Hevesi is a political moderate from Queens, emerged as a legitimate candidate for mayor. Vallone was trounced in his 1998 run for governor, but did well in the city (winning 65% of the vote), gaining invaluable name recognition. With Vallone judged a serious candidate for mayor, Hevesi can no longer take Queens, his political base, for granted.
So by year's end, what had looked like a two-man contest had instead become a four-man race (the fourth candidate, Bronx Borough President Fernando Ferrer, also helped his political stature last year by his very visible role in the Diallo protests). And, worse for Hevesi, Mark Green had emerged as the clear frontrunner because of the possibility that he could be running next year as the incumbent.
Of course, the next mayoral election is still a long way off and, as any political pro will tell you, a year is a lifetime in politics. Much of the political maneuverings over the last year will be long forgotten by the time people actually go to the polls in the fall of 2001. A candidate who is down today could easily be up tomorrow. Who knows? Rudy Giuliani could lose the Senate election to Hillary Rodham Clinton. A Mayor Green could mishandle his first crisis as acting mayor. And Peter Vallone could decide he's had enough of politics and decide to retire instead.
Two years out, all these scenarios - and many others - are equally valid. Still, if you were planning to run for mayor in 2001, right now, you'd rather be in Mark Green's shoes than those of Alan Hevesi.
###
Philip Lentz is the political reporter for Crain's New York Business.
Also by Phillip Lentz:
Gotham Gazette Commentary: Hillary's Dilemma
Gotham Gazette Commentary: Political Fatigue
Check out the Feature Archives!



$app = JFactory::getApplication(); $menu = $app->getMenu(); $menu_items = $menu->getItems('menutype', 'mainmenu'); var_dump($menu_items); * */ ?>