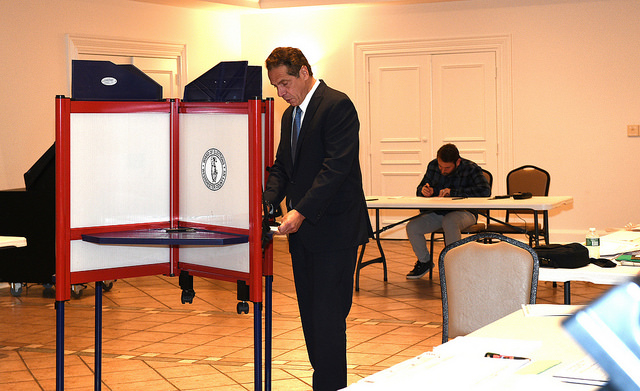 Gov. Cuomo votes (photo via The Governor's Office)
---
In 2018, New York will be home to elections for statewide seats including Governor, Lieutenant Governor, Attorney General, and Comptroller, as well as one of its two United States Senate seats. In all five positions, incumbent Democrats are seeking reelection.
New York is also home to elections for all of its 27 seats in The House of Representatives -- races that will help determine which political party controls the chamber -- and in the state Legislature, with its 63 state Senate seats and 150 Assembly seats. The state Senate races will determine which party controls the chamber, which Republicans currently lead by a slight margin due to the defection of rogue Democrats. The Assembly is certain to remain solidly in Democratic hands.
Congressional primaries will occur June 26; while primaries for the state-level elections will occur in September (likely Thursday the 13th, but lawmakers are currently finalizing the move from Tuesday, September 11, due to Rosh Hashanah). Election Day -- with the general election for all 2018 races -- will occur November 6.
First, though, there are 11 special elections happening April 24 to fill 11 vacancies in the state Legislature, two in the Senate and nine in the Assembly.
It will be a busy, contentious election year in New York, with many races to keep tabs on, and outcomes that have major impact on the city, the state, and the nation.
Our ongoing coverage of the 2018 elections in New York, and some of the coverage from our media partners:
I'm with Cynthia Because She Stands for Schools, Not Jails by Antonio Reynoso (July 2018)
New York Democrats' Season of Choosing by Samar Khurshid (July 2018)
Max & Murphy Podcast: Attorney General Candidate Zephyr Teachout by Ben Max (July 2018)
EMILY's List Backs Hochul for Reelection as Lieutenant Governor by Ben Max (July 2018)
Running for State Senate, Julia Salazar Attempts Progressive Primary Upset by Daniel Yadin (July 2018)
Democratic Candidates for Attorney General Plant Campaign Flags by Ben Brachfeld & Ben Max (June 2018)
A Closer Look at Voter Turnout in 2018 New York Congressional Primaries by Ben Brachfeld (June 2018)
New York General Election Congressional Matchups to Watch by Samar Khurshid & Daniel Yadin (June 2018)
Molinaro Starts Campaign on Attack, Policy Plans to Come by Shant Shahrigian (June 2018)
Ocasio-Cortez Upsets Crowley, Donovan Defeats Grimm & Other 2018 New York Congressional Primary Results by Ben Max & Ben Brachfeld (June 2018)
Hochul: Divided Democratic Party Only Benefits Republicans by Caitlin Bishop (June 2018)
Donovan, Grimm in Final Days of Contentious Congressional Primary by Jordan Kimmel & Chelsey Sanchez (June 2018)
Democratic Campaign Chief: Even a 'Blue Trickle' Will Flip State Senate by Shant Shahrigian (June 2018)
Andrea Stewart-Cousins on Democratic Unity and the 'Value' of Primaries by Chelsey Sanchez (June 2018)
Citing Broken Cuomo Promises, Nixon Unveils Campaign Finance Reform Plan by Samar Khurshid (June 2018)
Max & Murphy Podcast: Lieutenant Governor Kathy Hochul by Ben Max (June 2018)
On Taxes, the MTA and More, Molinaro Discusses Developing Campaign Platform by Shant Shahrigian (June 2018)
New York Congressional Primaries to Watch Ahead of June 26 Vote by Jordan Kimmel & Daniel Yadin (June 2018)
Teachout Launches Attorney General Campaign with Focus on Trump by Ben Brachfeld (June 2018)
Max & Murphy Podcast: Senate Democratic Leader Andrea Stewart-Cousins by Ben Max (June 2018)
Inside Cynthia Nixon's Developing Campaign Infrastructure by Caitlin Bishop (May 2018)
Stephanie Miner Diagnoses What's Wrong with New York Politics by Caitlin Bishop (May 2018)
Max & Murphy Podcast: State Party Conventions & Nominations by Ben Max (May 2018)
Rallying Volunteers, Nixon Responds to Democratic Convention Result by Caitlin Bishop (May 2018)
Max & Murphy Podcast: State Party Conventions & Nominations by Ben Max (May 2018)
Three Themes to Watch at State Democratic Convention by Samar Khurshid (May 2018)
Cuomo-Launched Women's Equality Party Will Soon Make Statewide Nominations by Ben Max (May 2018)
Party Nominations for Statewide Elections Come Into Focus by Ben Max (May 2018)
James Victory in Attorney General Race Would Trigger Citywide Special Election by Samar Khurshid (May 2018)
Letitia James Launches Campaign for Attorney General by Samar Khurshid (May 2018)
Exploring Attorney General Run, Zephyr Teachout Pursues Working Families Nomination, Democratic Ballot Line by Ben Max (May 2018)
The Contradictions of Cross-Endorsements in the Governor's Race by Howie Hawks (May 2018)
Marc Molinaro and The Trump Question by Ben Max (May 2018)
Defining 'Real Democrat,' Cynthia Nixon Offers Early Policy Platform by Ben Max & Matthew Sweeney (May 2018)
Max & Murphy Podcast: Political Purity Tests in New York by Ben Max (April 2018)
As Cuomo Chooses Democratic Unity, Party Activist Base Chooses Nixon by David Colon (April 2018)
Special Election Results for 11 State Legislative Seats by Ben Max (April 2018)
Progressives Draft Convention Resolution to Allow Unaffiliated Voters in Democratic Primary by Samar Khurshid (April 2018)
Progressives Draft Convention Resolution to Allow Unaffiliated Voters in Democratic Primary by Ashley Hupfl (April 2018)
Major Cuomo Supporters Don't Want a Democratic State Senate by Ben Brachfeld (April 2018)
Republican Governors Association 'Keeping Close Eye' on New York by Samar Khurshid (April 2018)
Cuomo's Progressive Promises, Reminiscent of Four Years Ago, Received Differently by Sam Raskin (April 2018)
Molinaro Outlines Initial Ethics and Campaign Finance Reform Agenda by Ben Max (April 2018)
Nixon Candidacy Spotlights Education Advocacy Group by Samar Khurshid (April 2018)
After Government Investment, Cuomo Taps Brewing Industry for Campaign Contributions by Shant Shahrigian (April 2018)
Cuomo, State Democrats Issue Misleading Pleas About Flipping Senate by Samar Khurshid (April 2018)
Nixon-Cuomo Primary Spotlights Role of State Democratic Party by Samar Khurshid (April 2018)
In Run for Governor, Marc Molinaro Will Make a Character Argument by Ben Max (March 2018)
Cynthia Nixon Recently Re-registered to Vote in Manhattan by Ben Max (March 2018)
'Sex and the City' Likely to Stay on Air Through Nixon-Cuomo Primary by Ben Brachfeld (March 2018)
Cuomo Campaign Removes Misleading Boast of Old Endorsements by Samar Khurshid (March 2018)
Cynthia Nixon Announces Democratic Primary Challenge to Governor Cuomo by Samar Khurshid (March 2018)
Molinaro Emerges on Top After Manhattan GOP Gubernatorial Candidate Forum by Samar Khurshid (March 2018)
Progressive Groups Endorse Democrat in Key Westchester Senate Race by Samar Khurshid (March 2018)
Molinaro Emerges on Top After Manhattan GOP Gubernatorial Candidate Forum by Samar Khurshid (March 2018)
Max & Murphy Podcast: A Journalist Runs for State Senate A Journalist Runs for State Senate by Ben Max & Jarrett Murphy (March 2018)
Poll Targeting Brooklyn District Gauges Anti-IDC Sentiment by Rachel Silberstein (March 2018)
Fierce Cuomo Critics, De Blasio-Allied Advisors Have Been 'Ready for Cynthia' by Samar Khurshid (March 2018)
Senate Candidates Outline Primary Campaigns Against 'Trump Democrats by Matthew Sweeney & Ben Max (March 2018)
Max & Murphy Podcast: IDC Challengers Robert Jackson & Jessica Ramos by Ben Max & Jarrett Murphy (February 2018)
As Hochul Pushes Cuomo Agenda, Williams Takes on Both in Primary Challenge by Rachel Silberstein (February 2018)
Max & Murphy Podcast: Lieutenant Governor Candidate Jumaane Williams by Ben Max & Jarrett Murphy (February 2018)
11 Special Elections Set for April 24 by Rachel Silberstein (February 2018)
Staten Island Activist Eyes Primary Challenge to IDC Senator Savino by Rachel Silberstein (February 2018)
Running Without Establishment Support, IDC Challengers Show Initial Fundraising Strides by Rachel Silberstein (January 2018)
2018 Will Be a Busy, Contentious Election Year in New York by Matthew Sweeney (January 2018)
City Council Member Jumaane Williams to Explore Run for Lieutenant Governor by Ben Max (January 2018)
Possible GOP Gubernatorial Candidates Weigh Chances to Unseat Cuomo by Rachel Silberstein (November 2017)