In a world where it seems as if popularity has become the one true measure of significance, it's hard to remember how crucial it once was to have enemies. Irving Howe, the eminent literary critic and longtime socialist, who died in 1993 at 72, accumulated quite a few. It was not that Howe was friendless -- far from it. A true intellectual hero of the left, he had legions of friends and followers. It was simply that Howe knew the importance of a good brawl.
He was bred in the rough and tumble radical circles of Depression-era New York, and cut his intellectual teeth among the writer-critics of Partisan Review, the group that he would later name the 'New York intellectuals.' In these worlds taking a stand was everything, and silence a far greater sin than overzealousness. Howe was a ferocious and agile warrior for what he believed in, a man with a talent for the political gibe who never hesitated to attack when he felt the occasion -- and the target -- demanded it. Indeed, even at those times when allies counseled caution, Howe found it hard to restrain himself; he saw each battle for ideas as a battle that had to be won.
In 'Irving Howe: A Life of Passionate Dissent,' Gerald Sorin, a professor of history at the State University of New York, New Paltz, portrays Howe the tough political fighter alongside the brilliant writer and generous friend. An empathetic biographer, Sorin sets out to understand Howe rather than to judge him.
Excerpted from New York Times Book Review by Joseph Dorman, March 2, 2003.
First chapter of "Irving Howe."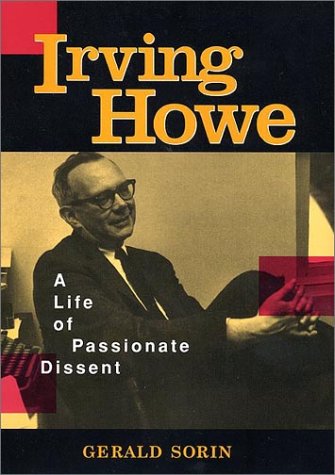 RECENTLY RELEASED
• THE GOOD LIFE by Jay McInerney

• FIVE FAMILIES: THE RISE, DECLINE, AND RESURGENCE OF THE OF AMERICA'S MOST POWERFUL MAFIA EMPIRES by Selwyn Raab

• THE SKY'S THE LIMIT by Steven Gaines

• THE DAME FOR HIRE by Sandra Scoppettone

• HOUR OF THE CAT by Peter Quinn


LIBRARY PICK
Classics, favorites, and old stand-bys
• MOTHERLESS BROOKLYN by Jonathan Lethem

• COLOSSUS OF NEW YORK: A CITY IN 13 PARTS by Colson Whitehead

• GRAND CENTRAL WINTER by Lee Stringer

• INTUITIONIST by Colson Whitehead

• CELLULOID SKYLINE: NEW YORK AND THE MOVIES by James Sanders


BOOKSHELF
Articles About Books That Share A Genre Or Topic
• FIVE CHILDREN'S CLASSICS

• NEW YORK CITY'S BLACK HISTORY

• BEST NONFICTION BOOKS OF 2003 FROM THE NEW YORK TIMES BOOK REVIEW

• BEST FICTION BOOKS OF 2003 FROM THE NEW YORK TIMES BOOK REVIEW

• BOOKS ABOUT NEW YORK NIGHTLIFE


BEST NYC BOOKS BY TOPIC
Selected by our topic contributors
Albany, Arts, campaigns, Children, Civil Rights, comm, Community Development, Crime and Safety, Demographics, Economy, Education, Environment, fea, games, Governing, Health, Housing, Immigrants, iotw, Land Use, Law, Measuring Up, Parks, Public Finance, Searchlight, Social Services, Tech, Transportation, Waterfront, Work and Labor