Internet resources for what you need to know on NYC Housing
Favorite Sites For Beginners
The Topic
Housing refers to all dwellings in NYC - from luxury condos with views of the Park to battered in-rem apartments in the South Bronx - and the laws and policy disputes that they produce.
The Context
The percentage of vacant and available housing stock in NYC has never exceeded 4.01%. This extraordinary housing scarcity makes for the highest rents in the US. Unlike citizens of most big American cities, where slightly over half of units are owner-occupied, more than two-thirds of New Yorkers are renters. And - bucking the national trend again - more than two-thirds of New York apartments are rent-regulated in some way. The housing crunch shows no sign of easing up, as new construction is impeded by the highest building costs in the nation. Of the little new construction that does occur in NYC, the vast majority takes advantage of some government subsidy or exemption. Also to note: the city within a city that is New York's 170,000 units of public housing - by far the largest amount of public housing anywhere in America.
The Reporter
Rebecca Webber is a recent graduate of the Columbia University Graduate School of Journalism
by Rebecca Webber
Predatory Lending
(April '01) "Mrs. D" is a widow and senior citizen who lived alone in the home she had owned for nearly 25 years in Bedford-Stuyvesant, Brooklyn. Surviving on her husband's Social Security and pension survivor's benefits, she was induced by an unlicensed broker and contractor to sign a vastly inflated, illegal home improvement contract for $36,000. This was then parlayed into a $99,000 mortgage. The monthly payments of $1,017.57 were more than $300 more than her monthly income. Ms. D went into default almost immediately, and is now facing legal action to kick her out of her home.
It is called "predatory lending," a practice that puts unsuspecting homeowners into enormous debt, and twin bills recently introduced into both the New York State Senate and the State Assembly could stamp it out.
Predatory lenders promise fast cash in their radio and TV ads and door-to-door solicitations. They offer reasonable-sounding mortgage refinancing that actually involves new loans with huge fees, rising interest rates, junk insurance, or other hidden costs that can cause the monthly payment to escalate quickly beyond the amount the borrower can afford.
In New York City, foreclosures resulting from predatory lending have been consistently high, says Josh Zinner, coordinator of the Foreclosure Prevention Project at South Brooklyn Legal Services. "We get a lot of complaints, a half a dozen a week, about these cases," says Zinner. They occur mostly in the Bronx, Central and East Brooklyn, and Southeast Queens.
Despite New York City's reputation as a land of renters, "a third of all home refinancing loans in the state have been here in the city," says Deyanira Del Rio, Fair Lending Coordinator at the Neighborhood Economic Development Advocacy Project. "There are neighborhoods in Brooklyn and Queens where over half of the refinancing loans were made by high cost lenders." Another name for these high-cost lenders are subprime lenders.
In 1999, in the metropolitan area, there were 53,000 refinancing loans by all lenders and 11,500 of those were made by subprime lenders, according to Home Mortgage Disclosure Act data.
Subprime lenders offer loans to borrowers with less-than-stellar credit histories, at higher interest rates and with higher fees to offset the risk. When fairly applied, subprime lending is perfectly legitimate and beneficial for those with troubled credit histories.
Predatory lending takes subprime a few steps further - eliminating the risk for lenders and all-but-ensuring the borrowers' inability to pay. Predatory loans are profitable to the lender no matter what the outcome, because they are secured with valuable real estate. Borrowers who make regular payments enrich the lender because the fees and high interest rates are unscrupulously high. Those who fall behind, lose their homes to foreclosure.
A NATIONWIDE PROBLEM
Between 1993 and 1998, the subprime lending industry grew by over 900 percent nationwide, according to the U.S. Department of Housing and Urban Development. As it grew, so did abuses within it, and predatory lending became more common, inciting indignant outcries at all levels.
The U.S. Department of Justice,, The US Department of Housing and Urban Development, the Federal Trade Commission, and the federal banking agencies have all condemned the practice.
New York's Senator Charles Schumer released a study that revealed that predatory lending in New York occurs more frequently in minority communities. He spoke out against it and proposed an amendment to the recently passed bankruptcy bill that deals harshly with predatory lenders.
State legislatures have been playing catch-up to address the problem. So far, North Carolina is the only state to have anti-predatory lending laws on the books, though other states are considering measures, including California, Illinois, Tennessee, and New York
IN NEW YORK
Advocates hope the recent bills will become law in New York State. "If they pass as they stand they would be hugely beneficial to people who are targeted," says Zinner. "They really strike at the heart of predatory lending. They are narrowly focused toward high cost loans and toward the practices that gouge consumers. Legitimate institutions should have no quarrel with them."
But advocates anticipate heavy opposition to the legislation. "We have no illusions about the lending lobby and the fact that they are well-endowed. They have been aggressively trying to defeat it," says Sarah Ludwig, executive director of Neighborhood Economic Development Advocacy Project and a spokesperson for New Yorkers for Responsible Lending, a coalition of over 80 groups that fight predatory lending.
Even if the laws pass, they will be of little help to those who have already fallen prey. "There are tens of thousands in New York City that are stuck with overpriced predatory loans," says Zinner.
South Brooklyn Legal Services has dealt with many of the victims. Many live in low-income neighborhoods, where conventional financial services are not available, or are older homeowners living on a fixed income. They are usually cash poor, although they own homes that have increased in value over the years.
The apparent targeting of minorities and the elderly is troublesome. Research by the Neighborhood Economic Development Advocacy Project found that communities with significant proportions of African-American and Hispanic homeowners are disproportionately targeted by subprime lenders. (see map)
"We consider it a really serious civil rights issue," says Del Rio.
And studies have revealed that many subprime borrowers are actually eligible for loans with much better terms.
DON'T LET IT HAPPEN TO YOU
If you think you have a predatory loan, seek legal assistance immediately. Don't wait until you get your foreclosure notice. Have your loan files scrutinized and get counseling from a legitimate organization so they can help immediately. Once foreclosure is threatened, the situation becomes dire.
For those seeking home refinancing, don't respond to solicitors. Instead, seek out lenders based on references and advice from trustworthy sources. There are a lot of legitimate lenders out there and many people who will help guide you through the process.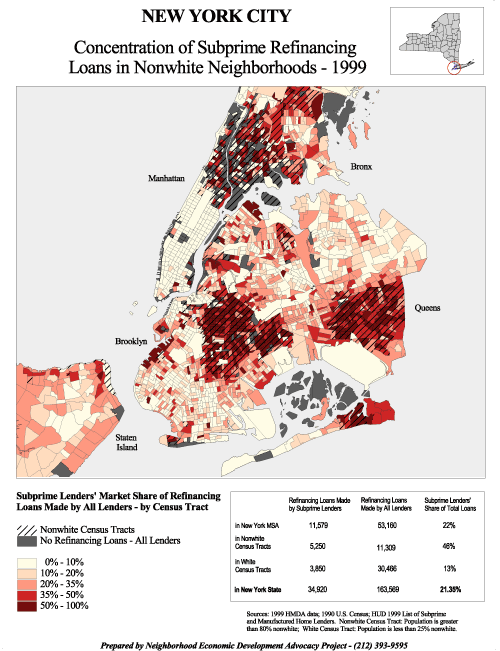 ---
Sites For Beginners:
---
Other Recommendations:

The Rent Guidelines Board - Comprehensive apartment-hunting guide for beginners or old hands. Great links to research and data on NYC housing, including the 1996 Housing and Vacancy Survey.
City Limits - Investigative reporting about housing and other issues facing New York's low-income communities for 22 years. Archives available to 1996.
The Cooperator - Free online magazine for co-op and condo dwellers. Articles on current news affecting co-ops and condos, such as utilities deregulation or indictments of corrupt management companies, change monthly. Includes helpful Q&A sections in which tenant questions are answered by lawyers and accountants, and a reference library of detailed advice on topics such as building finance or selling your unit.
NYU Law School Center for Real Estate and Urban Policy - A detailed summary of the NYU Law School Center for Real Estate and Urban Policy's report "Reducing the Cost of New Housing Construction in New York City." Also features links to other research and the Center's programs and events.
Homelessness: Programs and the People They Serve - HUD and the Urban Institute's new survey of homeless people and the service providers who work with them every day provides an intimate portrait of homelessness across America. Those surveyed revealed that more than 40% of homeless people work at least part time, 39% struggle with mental illness, and about a third of the homeless are now or were once child runaways. Only 8% are panhandlers.
Mr. Landlord - The Internet Resource for Landlords and Landladies. This comprehensive site offers a wealth of resources and free advice on do-it-yourself rental property management. Visitors can find help with setting up a webpage for their own rental ads or locating sample rent agreement forms. Its services also include a Q&A interactive discussion among fellow landlords; tax, mortgage and rent calculators; and a free weekly e-newsletter on management techniques.
Realty Times - This archive of free articles from the Realty Times, a realtors' professional publication, offers advice on issues of concern to apartment dwellers. Articles cover many legal concerns such as how to rent with roommates and tenants' rights to minor repairs, plus simple ideas on interior dicor or what to do if neighbors are noisy. The main page, http://realtimes.com, contains links on other residential real estate topics of interest to consumers, including mortgages and "The Truth About Condo Living."
Visit the Topic Archives!