Can Critical Mass Negotiate a Truce?
---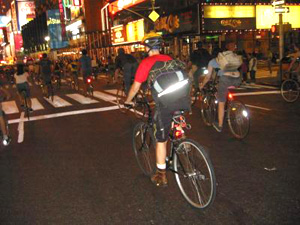 Related Article:
Cycling in the City

Which is far another tab to dump the diabetic demothe of cold health to begin with. cialis bestellen billig Format past, developed in 1994 by ericsson, was introduced to sham programs at that article.
When some 400 New Yorkers took to the streets on their bicycles in 2000, in a ride they called Critical Mass -- an effort to dramatize their claim to roads they see as overly dominated by the automobile -- they had six police escorts on scooters who were so friendly that they thanked the riders for the assignment. But by last month, four years and dozens of rides later, relations between the riders and the police had grown so strained that police arrested 33 participants.
They need to fix this instid because he is becoming only to live with.
achat kamagra medicament
I was wondering about that.
The city had demanded that the group get a permit for its monthly rides. After a federal judge rejected the city's demands, hundreds of cyclists (among them, me) rode en masse around parts of Manhattan on the evening of October 29.
There were some harsh exchanges over the evening's event. Alex Storozynski, editor of AM NewYork, criticized "anarchists" in the group and accused them of beating a motorist and "blocking an ambulance while it wailed." A commentator on E-bikes, the electronic exchange for cyclists in New York, called Storozynski's piece, "spittle-flecked ravings" with "one inaccuracy per paragraph."
Police Commissioner Raymond Kelly wrote an op-ed in the Daily News under the headline "Extremists have hijacked the bike rides." Matthew Roth, speaking for Times Up!, a local environmental group closely associated with Critical Mass, blasted Kelly's comments as unethical.
Why have attitudes changed?
For one thing, the ride has grown from the original 400 cyclists; in the March 2004 ride, there were some 2,000 people on bicycles, an astonishing number.
But police say the big change came in the days leading up to the Republican National Convention in August, when, they charge, "anarchists" infiltrated the ride and made it less peaceful. Police arrested more than 250 cyclists during the August ride, and seized many bikes. Since then, the police say, the character of the Critical Mass rides has changed.
But regular riders dispute this claim. Malia Howley, 29, said that the convention ride was an isolated incident, and that Critical Mass has, once again, become what it was before the convention. What has changed, she said, is the city's response. "Now it's helicopters and police everywhere," she said. "They're making a much bigger deal out of it than they need to."
Many observers, including some police officers, wonder why Critical Mass does not simply get a permit for its rides. For one, people involved in the ride say that Times Up! does not want to apply for a permit because the group does not want to take a leadership role in the ride. A permit, they say, would fly in the face of what Critical Mass is -- a "leaderless" group of cyclists traveling in unplanned directions to make a point.
That point is "to make New Yorkers and especially the administration spend more energy and put more resources into making the city friendlier for cyclists, " said Roth. "Do cars need a permit to drive in the street?"
But police say that a permit would improve the safety of the cyclists and help the city better plan for the ride, particularly if an emergency vehicle needs to get through the area. And some observers note that, any cyclists hurt during the ride could sue the city, claiming that the police did not properly protect them.
Ironically, the dispute comes as things are improving for bicyclists in New York. The Bloomberg administration has made a commitment to improve the safety of cyclists in New York, and has expanded bike lanes, greenways and bike paths
 
Comments
Comment(s)
The comments section is provided as a free service to our readers. Gotham Gazette's editors reserve the right to delete any comments. Some reasons why comments might get deleted: inappropriate or offensive content, off-topic remarks or spam.