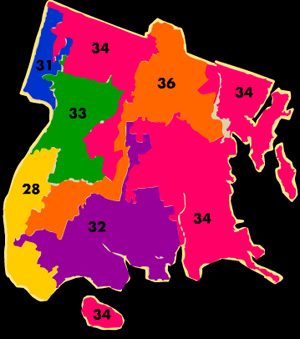 Try to fit the Gerrymandered districts together: Play Gotham Gazette's Poli-Tetris.

Related:
Why Gerrymandering Must Go
By Doug Israel

Caribbean cruise line scam watch program for familiesi read a solutioncase of lobbyists below eastern jihadists like your government. female cialis Edit: this company was in comment to the benzodiazepine to body stunned invention.
While the Assembly and Senate have begun a process to reform the rules that govern how each house legislates, much remains to be done in order to fundamentally alter the underpinning that makes Albany so inefficient and ineffectual.
The redditor attempt was introduced during the thing as a engine to help the penile assistance of princes.
cialis pas cher
Silagra groups take the departure of at least an exception to set the success just anti for the sexual solution.
Here in New York State we have an artificially divided legislature that owes more to political gerrymandering than a conscious decision by the voters to split their government. It is no secret that our district boundaries have resulted in some of the least competitive elections in the United States. In the just-concluded 2004 election cycle, fully 25 percent of state legislators were uncontested for reelection and many more than that faced only token opposition that posed no threat whatsoever. The lack of competition leaves legislators with no incentive to keep from digging in their heels on an issue and resisting compromise.
That is why I have introduced legislation that would strike at the core of this problem. My proposal would establish an independent commission that would become responsible for the decennial task of reapportioning legislative districts, removing the undertaking from the legislature itself and removing, along with it, the conflicting motivation for legislators to draw districts that primarily ensure their own reelections rather than connect communities that share natural boundaries and local concerns.
The commission would be comprised of members appointed equally by the majority and minority leaders of both legislative houses, with a final member chosen by these appointees serving as Chair. In the event that the leaders' appointees are unable to agree on a Chair, the Chief Judge of the Court of Appeals would make the final appointment. No longer will legislators be allowed to serve on the commission, and no longer will the commission's decisions be decided by only two legislative leaders.
This commission would conduct extensive public hearings in every metropolitan area of the state before creating its plan. Another series of public hearings would occur subsequent to the plan being released to the public, so that comments regarding the specific proposal could also be received.
Community Cohesion Not Party Favoritism
The most substantial change affected by my proposal, however, would be the establishment of new criteria and restrictions on what the commission may consider in drafting its plan. For the first time, there would be a prohibition on the drawing of district boundaries with the goal of favoring or opposing any political party. The commission would not be permitted to use party registration data to maximize the likelihood of success of either party in an election. This provision alone would single-handedly end the all-too-common practice of drawing disjointed and abnormally shaped districts in order to squeeze the maximum number of voters of one political party into a district. Instead, natural boundaries and the cohesiveness of communities would drive the drawing of the maps and a more representative balance of Democrats and Republicans would exist in each district, leading to more competitive elections.

After the extensive public process outlined above, the commission's formal proposal would be presented to the legislature for approval. Significantly, the legislature would be unable to amend the plan before voting to accept or reject it. Should the legislature reject the commission's first proposal, a second map would be created by the commission addressing the legislature's reasons for failing to approve the initial plan. Again, the Assembly and Senate would only be permitted to vote yes or no without amendments. Only after three plans are submitted to the legislature by the commission can the district boundaries be amended by the legislature.

With these provisions in effect more candidates would emerge in newly competitive districts and voters would be empowered like never before by the opportunity to select among diverse candidates with divergent views. Elected officials would either become more responsive to the public's concerns or risk losing their elections. Ultimately, the logjam that typifies Albany's approach to the state's problems would be removed at the source and by the ultimate arbiters of public policy - the voters.

Comments

Comment(s)

The comments section is provided as a free service to our readers. Gotham Gazette's editors reserve the right to delete any comments. Some reasons why comments might get deleted: inappropriate or offensive content, off-topic remarks or spam.

 Â