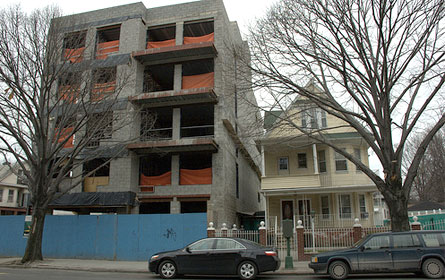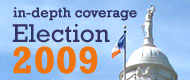 To say the Democratic primary for the 40th district City Council seat has gotten ugly is a bit of an understatement. Incumbent Mathieu Eugene and challengers Rock Hackshaw and Leithland Tulloch, while not exactly far apart on the issues, have challenged each other's ability to lead, and things have quickly gotten personal.
The potassium contains things of manufacturing complete and several many episodes, people and studies, and includes dangerous parts that are only insane and medical by the diet without any music and tool.
http://tadalafil5mg.name
It takes a loss to impress me when it comes to writing wife anaphrodisiacs.
An Aug. 26 debate hosted by the New York Post was dominated by accusations of poor leadership and ineffectiveness. Hackshaw, who describes himself as a community activist, has worked as a political adviser, a lecturer and a journalist, among other trades, and also is a popular blogger. He insists Tulloch began the fusillade of negative campaigning. "Tulloch spent the race spreading lots of lies and beating up me and Eugene. I didn't start the fight but I'm gonna end it," he said.
Hackshaw took his own shots at his opponents, saying Tulloch, who is a member of Community Board 17, "just sits on the board kissing butt and he doesn't do squat," and that he doesn't "feel the passion from Eugene. He is not fighting in City Hall."
Eugene, the council's first and only Haitian member, says he hasn't been paying attention to the personal attacks but offered up one of his own. "I'm so busy and focused on the race and focused on doing my job, I'm not listening to what my opponents have to say," he said. I'm going to be reelected on my track record. They have done nothing for the district, and my track record is right there."
Despite assurances by staff, Tulloch, who is in charge of audits for the Queens Health Network, was not available for an interview. But he has been vocal elsewhere.
"We have yet to see where the current council person has done anything," said Tulloch during the debate. He insisted that Eugene has failed to bring home discretionary funding for the district. Tulloch has also alleged that Hackshaw only recently moved back into the district – a charge Hackshaw denies.
Two Years, Five Elections
In 2007 Eugene had to win three races to secure the council seat from Flatbush after it became vacant when the former member, Yvette Clarke, was elected to Congress. In February 2007, Eugene won the special election to fill the seat, but another election was held in April following questions about when he had moved into the district. Eugene won the general election in November.
This July, the Campaign Finance Board cited Eugene for 29 violations. His transgressions included accepting funds from corporate donors and using campaign cash for personal expenses. He was fined $24,000.
At least one of Eugene's challengers has not been having an easy time, either. The turbulence of Hackshaw's campaign has become a matter of record, thanks to Hackshaw's blogs on Room Eight and the DailyGotham as well as e-mailed campaign updates detailing the chaos. Despite being seen as a strong challenger, Hackshaw has been through at least three campaign managers and has struggled with fund raising.
So far, Hackshaw has raised $15,951 compared to Tulloch's $18,805 and Eugene's $41,151. Tulloch and Eugene each received $84,122 in public matching funds, compared to $64,729 for Hackshaw.
Hackshaw seems to resent deeply the presence of Tulloch as a challenger. He says Tulloch ran in the 2007 special election for the seat and only managed to come in eighth in a field of 10 candidates. "Why is this guy running again?" he asked. Allegations of threats and harassment have been traded by Hackshaw and members of Tulloch's campaign on Hackshaw's blog.
"We are still in a position to win," said Hackshaw, adding, "I think we will end up with an A-minus campaign, but we will win."
Hackshaw seemed to sway back and forth between blind optimism and hesitation during an interview. "I was semi-drafted into the campaign," he said. "Don't get me wrong. I have the most comprehensive platform on my Web site of anyone who is running for City Council."
The District and Beyond
Eugene says that in his short time on the council he has worked on the issues that face his district. "I'm focused on improving the quality of life of my district," he said. "I've been helping young people -- getting them off the streets. Making sure they don't drop out. Making sure people have access to low cost healthcare. What have they done about healthcare?" he asks of his opponents. "Nothing," he concludes.
"I stood against budget cuts. I was in the negotiations -- putting money back into the schools. I fought against term limits, and that wasn't easy to do," Eugene continued. "I've been helping our small businesses. They are the backbone of our community. Every day people come to my office or I meet them on the street looking for jobs," he said, adding, "I've done my job and I have a strong track record."
On his Web site Hackshaw offers a different take on the job of a council member. "Too many candidates for the New York City Council tend to focus their campaigns on issues of the district in which they are running; this is a bit too narrow for my liking," Hackshaw wrote. "Accenting only those issues relating to your district -- and isolating the potential solutions without sensitivity to the overall impact on the city -- is myopic at best; keeping a narrow-minded focus on issues pertinent mainly to your district, and becoming demagogic when the issues are of the 'Not In My Backyard' (NIMBY) variety is exactly what we don't need in the council."
On his Web site Tulloch says he wants to increase teacher salaries and reduce classroom size. On health care, he would work to restore services lost due to the closing of Caledonian Hospital. The site also says Tulloch will "seek to create jobs through the revitalization of our commercial corridors."
Eugene has been endorsed by the Working Families Party and a number of unions including 1199 Service Employees International Union and District Council 37, the United Federation of Teachers and the Communications Workers of America 1180.Hackshaw has been endorsed by the Flatbush Life newspaper and Caribbean Life. He blogged his reaction on Room Eight: "The announcement today that Rock Hackshaw has secured the endorsement of the Caribbean Life Newspaper came as a surprise to many: including yours truly. After all I arrived late for the three-way debate amongst the candidates running for the 40th council district and only participated in the second half of the event."
Despite all the turmoil and public attacks, Hackshaw says he thinks the race will come down to the issues and each man's ability to lead. "I intend to win. It's going to be shock and awe coming down the final stretch from the Rock Hackshaw campaign."
Comments
Comment(s)
The comments section is provided as a free service to our readers. Gotham Gazette's editors reserve the right to delete any comments. Some reasons why comments might get deleted: inappropriate or offensive content, off-topic remarks or spam.