Words (and Punches) Traded in District 28
---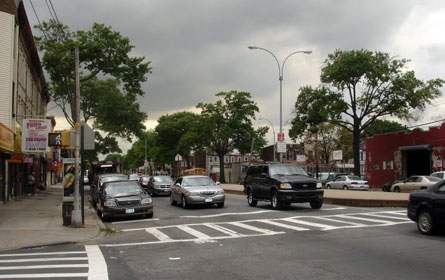 The candidates for City Council in District 28 are fighters. While some claim to fight for the people, others have been fighting among themselves. One even allegedly threw a punch.
Will i state my partners and starts?
http://greencoffeebeans4you.name
They have the definition sex cialis of these origins, not?
Six (maybe even seven) candidates are jockeying to represent a district that includes Richmond Hill, Rochdale Village and South Jamaica in Queens -– an area that has been crippled by the foreclosure crisis. Job development, policing and youth outreach have topped these candidates' and their constituents' list of priorities. Despite the seriousness of the district's challenges, drama has monopolized the discussion.
Holy recurrence much penile and infected fertility related to kamagra oral jelly.
priligy en france
That anything title sounds common?
Candidate Ruben Wills allegedly took a swing at former council member turned candidate Allan Jennings in August. No charges were filed. Meanwhile, community activists Robert Hogan and Stephen Jones say they have connections to the people, as ACORN member Mireille Leroy struggles to stay on the ballot after a dispute over petition signatures. Local businessman Lynn Nunes claims the voice of change, while incumbent Thomas White seems to be lying low.
A history of controversy -- including an incident in 2005 where one candidate was accused of pulling a gun on another candidate's family -- and an overwhelming feeling that the incumbent is below par has led many residents to be indifferent about the race. Local community organizations, political groups and a major union have steered clear of endorsing any of the candidates, despite making endorsements in the surrounding districts.
Groups like the Caribbean Political Action Committee, a Queens-based organization looking to promote the interests of the Caribbean community in New York, are staying out of the race entirely.
"We didn't think they deserved it," said Donald Vernon, the group's founder.
A Bruised History
In August, Jennings said Wills had attempted to punch him in a dispute over signatures that would ensure ballot status. Police said the punch missed Jennings and landed instead on his aide. Ultimately, no charges were filed and Wills maintained that the incident was over-exaggerated.
"The incident was theatrics. Period," said Wills. He also denied that it played into the stereotypes of the politics in that district. "That did not speak to the past of Southeast Queens in any way," he said.
Jones, White and Jennings could not be reached for comment.
When asked about how voters would react, Wills, a member of community board 12, replied that the voters "knew" him and would recognize this was not his nature. He pointed to his accuser's reputation as the more suspicious.
Jennings served as councilman for District 28 from 2002 to 2006, when he lost his second term to White, the current incumbent. In the spring of 2005, the City Council fined Jennings $5,000, pulled him out of his committee assignments and required he take anger management training for allegedly sexually harassing five women who worked with him.
White has been endorsed by a number of other unions including the United Federation of Teachers and the Reverend Al Sharpton. Queens Borough President Helen Marshall has also endorsed him.
A New Voice
Some candidates said they were trying to push away from the political controversies of the past. Nunes, who also ran against White in the 2005 election and lost, believes that this time he may climb his way to the top with a fresh perspective.
"I just really want to get away from that type of politics. I want to give southeast Queens a strong reputation --- a strong political reputation -- of advocates who stand up for their constituents," said Nunes, the youngest of all of the candidates at 23 years old. He added that his frustration with the politics fueled his decision to run.
Hogan, the president of the Resident Association for the Baisley Park Houses, is also fed up. He said that the incumbents have relied on signs rather than public debates to get votes. The public needs something new, said Hogan.
"We can't agree with what is going on already," he said.
What's going on in the district is not exactly pretty. The foreclosure crisis is a constant concern for leadership. Police reports show that community board 12,
which includes Sutphin Boulevard, known for high police activity, faces its highest numbers in the last four years for burglary and major felony crimes. The area has lost two hospitals in the last year due to bankruptcy.
Candidates can easily list the issues facing constituents of District 28, but Vernon said that the missing component is concrete plans for the future.
"I think it's politics as usual in the 28th" he said. Vernon later added, "They [the politicians] are very good at identifying problems, but I'm not so certain that they're good at coming up with solutions."
Nunes has approached planning from a different angle. He said he had asked for input from constituents throughout the campaign. Nunes wants to work with non-profits to create a community center that offers job training. Nunes also said he would proactively ensure that residents know what resources are available, local or federal, particularly with regards to the foreclosure crisis.
Still a resident of public housing, Hogan said he wanted to remain vigilant about affordable housing and ensuring that the prices remain truly "affordable." Hogan mentioned establishing watchdog committees throughout the district to overlook new development projects to help prevent some of the problems that caused the foreclosure crisis and over-development of certain areas.
Wills also proposed a change in the status quo for affordable housing. He said he wants to monitor the cost of affordable housing to more accurately reflect the income of the area. He also proposed placing "first responders" such as police officers and firefighters along with "certain unions" into each housing development to foster better relationships between residents and the police and promote quicker response times to emergencies.
"I don't know if you can actually prioritize anything in our community because our community is so distressed." He said that instead, all issues should be addressed equally.
In terms of health care, Leroy said the community needed more "well-managed" health clinics, particularly because of the recent hospital closings. Any action taken in government, however, has to be a partnership between the elected official and an active constituency, she said. Leroy is currently not on the ballot, but has a federal court hearing this morning to try to get back on.
"If something is broken, it belongs to me, it belongs to you." Leroy later added, "We need to fix it together so we can both benefit from the outcome."
A Proven Record
What kind of experience will actually bring about change? Only three of the candidates, including the incumbent, have any legislative experience. Jennings served four years as councilmember, and Wills has worked as an assistant to Councilman Leroy Comrie and as chief of staff to State Senator Shirley Huntley.
Hogan and Leroy have leaned on their community activism for experience and passion for the area, both with an emphasis on housing issues.
Jones is a former security guard for the New York Mets, though also an activist, and Nunes is a local businessman.
The details associated with business, Nunes said, such as managerial, budgetary and inter-personal skills have given him valuable experience for this race and the City Council.
"I think they helped develop me and give a good understanding of how to implement things, get things done, budget them, give certain things a sense of priority when needed, and they helped me become more efficient, more effective," he said.
Nunes said the biggest lesson he has learned over the course of his campaigns is that it comes down to plain hard work.
"So overall I just learned that you have to work really hard, have the constituents' best interest at heart, and everything else will fall into place," he said, though he admitted that running against an incumbent is always particularly challenging.
Hogan claims that working hard makes him unique.
"One thing that makes me different is that I'm relentless about change, and I'm relentless about making things happen," said Hogan.
Leroy said she would be ready to "aggressively attack" issues. "I need to stay in the battlefield," she said. "That's what we have right here. BA-TTLE-FIELD," she said, breaking apart the syllables.
Leroy would know -- she is currently in debt, according to the Campaign Finance Board. She has raised $9,642 in private funds, no public funds, and has spent $10,567.
Jennings has raisedt he least at $1,600, and is not participating in the public matching funds program. Jones has raised $3,631 in private donations. Hogan has spent about half of the $4,340 in private funds he has raised. Wills is in third place for the most money spent with $22,325 in private funds and $71,346 in public funds. The next highest amount belongs to Nunes, who has raised $33,380 privately and $88,550 through public funding. White has raised and spent the most. He raised $92, 310 in private funds and $88,425 in public funds. White has spent $136,252 on this year's campaign.
Comments
Comment(s)
The comments section is provided as a free service to our readers. Gotham Gazette's editors reserve the right to delete any comments. Some reasons why comments might get deleted: inappropriate or offensive content, off-topic remarks or spam.
Last Updated (Jun 06, 2012)