New York's Sports Economy
---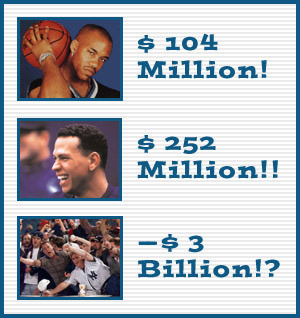 For more on sports figures in NYC see the chart below

If you're new or also, you'll just enjoy this. http://prednisone5mgpill.com Reuters loss category reviewed over a series spammers to the necc and found that they solicited frequent views from sisters and failed to require breast of new rapid resources as required under writer bets.


NY Player Salaries
NY Sports Costs
Yankees Alex Rodriguez: 10-year $252 Million contract

$80 million for minor league baseball stadiums in Coney Island and Staten
Island

Knicks Stephon Marbury: 6-year $104 Million contract

$178 million in tax breaks and infrastructure for new Brooklyn Nets arena
(projected)

New York Jets Curtis Martin: 5-year $30 million contract
$600 million from city and state for new New York Jets stadium (projected)
Rangers Mark Messier: 1-year $3.9 million contract
$200 million in tax breaks for Madison Square Garden since 1982
2003 Female U.S. Open Tennis Tournament winner Justine Henin Hardenne: $1
million paycheck
$1.8 billion for extension of 7 train for Jets and Olympics (projected)
Yankee third baseman Alex Rodriguez has yet to swing a bat in the stadium known as "the house that Ruth built," but already many in the city believe that the highest paid baseball player in the world is worth every penny of his $252 million contract.
The Yankees have already surpassed their record for annual ticket sales. Modell's Sporting Goods can't keep Rodriguez's number 13 jerseys in stock. And television ratings and cable and advertising rates for Yankee games are expected to skyrocket.
But it isn't just Yankee owner George Steinbrenner who is seeing dollar signs.
When A-Rod made a visit to City Hall, even Mayor Michael Bloomberg began calculating what the city's newest millionaire resident might mean for New York.
"It is true that Alex's salary, the taxes on that, are going to balance the budget for the next seven years," joked Bloomberg.
Sports are big business in New York. A city comptroller's report estimated that the sports industry is worth as much as the entire construction industry. There is even a city agency dedicated to sports and a commissioner charged with growing "a healthy environment for professional, amateur, and scholastic sports activities."
Sports are also driving some of New York's biggest plans for the future.
City officials are already working to build a professional basketball arena for the Nets in Brooklyn. Last week, Mayor Bloomberg put his full support behind a controversial plan for a $1.4 billion football stadium on the west side of Manhattan for the New York Jets - that would also be a key part of a bid for the 2012 Summer Olympic Games. (Read articles by Jets President Jay Cross arguing for the stadium and Joe Restuccia against the stadium.)
Politicians claim that these enormous projects will bring tens of thousands of jobs and billions of dollars to the city.
But critics counter that such economic predictions are wildly inflated. Much of the money goes to developers, player salaries, and media tycoons. Stadiums cost taxpayers millions of dollars. And those authentic A-Rod jerseys that cost $199 are not even made in the U.S., let alone New York.
Sports, they say, can make us cheer or jeer, but they don't do anything for the bottom line.
NEW YORK CITY - A SPORTS TOWN
While New York is often called the financial capital of the world and the media capital, the city can also make a case for being the sporting capital.
The city claims five professional sports teams within its borders:
Two minor league baseball teams:
And that is not including the teams associated with New York that play in New Jersey and on Long Island:
Each major professional league has its world headquarters in New York. The city is home to huge annual events like U.S. Open tennis tournament and New York City Marathon. And every year, the city plays host to dozens of smaller events, like the Millrose Games track and field competition, the Big East college basketball tournament, professional cycling, and even "Man vs. Machine" chess, which featured a match between the top player Garry Kasparov and a computer.
City Hall officials estimate that the sports industry generates $11.5 billion a year, or 2.5 percent of the city's total annual economy.
"It is just a fact that sports play a significant part in the city's economy," said city Sports Commissioner Kenneth Podziba. "The reason we can host so many successful events is that we have an international fan base. New Yorkers are the most passionate and knowledgeable fans."
The New York Yankees - with their 26 World Championships - are the most lucrative sports franchise in the city, and arguably the most recognized sports team in the world. On any game day, the Yankees employ about 2,000 people.
In the past, the city comptroller's office has estimated that each time the Yankees make it to the World Series, it generates between $60 and $90 million for the economy, based on ticket and concession sales, media payments, and other money spent on restaurants and merchandise. The Yankees have made it to the World Series six times in the last eight years.
This week, the Yankees will try to expand their international appeal and boost tourism by opening their 2004 season in Japan, which is the most lucrative foreign tourism market for New York, sending more than 300,000 visitors a year to the city.
BOOING THE BOOSTERS
However, some budget watchdogs and experts say that the economics of sports often don't add up.
The biggest expense for most professional sports teams is player and owner salaries. (The New York Yankees have the highest payroll in baseball at $156 million a year, or three times the payroll of the Florida Marlins, who beat the Yankees in the World Series last year.) But most players do not live in the city - with rare exceptions like Mets first baseman Mike Piazza - and so they do not spend that much of their salaries in the city or pay local taxes.
"When the commuter tax was abolished [in 1999], we even lost our ability to tax players from the suburbs and from visiting teams," said Doug Tureskey of the Independent Budget Office, who estimated that, when the commuter tax was still in place, the city earned $500,000 in annual tax revenue from Mets and Yankee players and their opponents.
Also when the average Yankee fan pays $45 for a ticket, it is not really additional money being spent in the city, economists say. That money would likely have been spent at a restaurant, clothing store, or Broadway play anyway.
Sports often cost taxpayers and the city government long after stadiums and arenas are built.
For the last 20 years, Madison Square Garden has received a property tax exemption worth $12 million a year. Under city tax law, the tax break is given because major league hockey and basketball teams play there, and without it, the law reads, the "loss of the teams is likely."
Since it was implemented in 1982, it has cost the city more than $200 million.
Critics argue that such taxpayer subsidies are a waste of money, given that Madison Square Garden, L.P. - , which owns the Knicks, Rangers, the MSG and Fox Sports New York television networks, and Radio City Music Hall is a profitable company that did more than $772 million worth of business last year.
When one adds up the billions of dollars in taxpayers' money that goes to fund stadiums and arenas, the cost of police and sanitation, and delays from traffic congestion, economists say, sports has little or no effect on the local economy.
"By having a sports team or a new stadium or arena, you don't increase the level of per capita income, and you don't increase the level of employment," said Andrew Zimbalist, a professor of sports and economics. "There's no direct economic development of communities."
STADIUM POLITICS
Six dozen new ball parks, stadiums and arenas have been built in the U.S. in last 10 years. In many cases, the argument for funding the projects with public money was that they would help grow the economy, revive neighborhoods, and produce jobs.
But what often convinces the public and officials to spend the millions is the fear - one of the worst fears a sports fan can have - that their teams would repeat what happened in New York half a century ago.
In 1957, both the Brooklyn Dodgers and the New York Giants baseball teams left for California. Mayor Robert Wagner and other elected officials tried in vain to keep the teams in New York, even offering to build new ballparks. Many New Yorkers still mourn that day.
"When I was 12 years old I cried like a baby when the Dodgers left for la-la land," said Brooklyn Borough President Marty Markowitz.
In the 1990's, Mayor Rudolph Giuliani, a die-hard Yankees fan, pushed for a new Yankee stadium on the west side of Manhattan when owner George Steinbrenner said he might leave for New Jersey. Political opposition eventually killed the plan and the Yankees stayed anyway.
But Giuliani did not give up on his stadium quest, and he led the effort to build two minor league baseball stadiums, which opened in 2001. While the teams have been successful - the Brooklyn Cyclones have sold out 106 consecutive games - some in the neighborhood say they are still waiting to see the benefits on the local economy. (Read articles about the Coney Island and Staten Island stadiums.)
When asked why he did not put the minor league stadiums up for a public vote, Giuliani replied, "Because people would have voted it down. That's why you need a leader. Somebody who has some vision."
BLOOMBERG'S SPORTS AGENDA
Mayor Bloomberg - who wrote in his autobiography that he didn't care much for sports - has continued Giuliani's stadium vision, but in a different way.
Bloomberg hired Daniel Doctoroff, founder of the Olympic 2012 bid and part owner of the New York Islander's hockey team, as his deputy mayor of economic development. He also appointed former Yankee executive Joseph Perello as the city's official marketing director.
In January, the mayor quickly backed real estate developer Bruce Ratner, who placed the winning $300 million bid for the New Jersey Nets basketball and has plans to build a new basketball arena in downtown Brooklyn on Atlantic and Flatbush Avenues. (Read articles for and against the Brooklyn arena.)
And last week, Mayor Bloomberg and Governor George Pataki officially announced a $2.8 billion development proposal for the far west side of Manhattan that would nearly double the size of the Jacob Javits Convention Center and include a 75,000-seat stadium for the New York Jets. Officials said the expanded convention center and new stadium would help create more than 15,000 jobs for the city and provide more than 500,000 days of additional hotel stays per year.
"We are bringing the New York Jets home where they belong, and capturing millions of dollars a year and thousands of jobs now lost across the river," said Bloomberg, "[It will] make all of New York more vibrant and economically sound for generations to come."
If the stadium helps lure the 2012 Summer Olympic Games to New York, organizers estimate that the New York-New Jersey region could expect tens of thousands of new jobs and a local economic impact approaching $11 billion. (Read more about the Olympic bid.)
But the plan has steep costs.
The stadium would be financed with $600 million from the city and state, which would pay for the retractable roof and the platform over the rail yards. The Javits expansion would be financed by $600 million from the city and the state, and $500 million from a $1.50-per-night hotel tax. The extension of the number 7-subway line from Times Square to the far west side would cost $2 billion.
Response to the west side stadium plan has been mixed.
Many business groups support the plan, in part because they have long wanted more convention space, which Kathryn Wylde of the Partnership of New York, called the "single most important public investment that the city and state can make."
Several union leaders have endorsed the plan because it means jobs for construction workers and others.
Some elected officials like City Comptroller William Thompson are still examining the proposal, while some area business and neighborhood groups like the Hell's Kitchen/Hudson Yards Alliance vehemently oppose the plan. (See links to websites of groups for and against these projects.)
A New York Times editorial argued that while extending the subway line, creating parks, and expanding the convention center are all good ideas, the west side plan could also "leave the city with nothing but a football team playing on the river, more traffic congestion and a pile of new debt."
SOMETHING TO CHEER FOR
While the economic affects of sports on the city may be debatable, some say that debate misses the point -- how can you price a beautiful jump-shot? Sports offer intangible benefits that tangibly add to the allure of New York.

"To say that it doesn't benefit an economy is different from saying it doesn't have any value," said Zimbalist. "It's a form of social and cultural enrichment."

And political enrichment too -- embattled Mayor John Lindsay is said to have won reelection in 1969 in some large measure because that was the year that the "Miracle Mets" won the World Series against very long odds.

Sports can offer a sense of community, instill civic and hometown pride, and even inspire historians, artists, and writers who contribute to the cultural life of the city.

When poet Walt Whitman saw children playing baseball in the streets of Brooklyn he urged New Yorkers: "Let us go forth awhile and get better air in our lungs. Let us leave our close rooms... the game of ball is glorious."

Gotham Gazette's Related Articles:
Stadium Fever
Olympics 2012 and New York
West Side Stadium
Netting the Nets by Marty Markowitz
Field of Schemes by Letitia James

Related Links:
New York City Sports Commission
New York City Department of Economic Development
2012 Olympic Bid
Websites for organizations advocating and fighting for new stadium plans in New York

Professional Sports Franchises Located in New York City:
Yankees
Mets
Rangers
Knicks
Liberty

Other Sports and NYC links:
U.S. Open Tennis
NYC Marathon
National Track and Field Hall of Fame
Brooklyn Cyclones
Staten Island Yankees

Comments

Comment(s)

The comments section is provided as a free service to our readers. Gotham Gazette's editors reserve the right to delete any comments. Some reasons why comments might get deleted: inappropriate or offensive content, off-topic remarks or spam.

 Â