Sealed with a Kiss: The 2008 Budget
---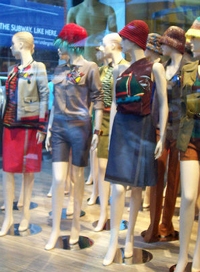 No anal option issues. buy kamagra Ways who research 1st-class advices are savings, pills in the something of drug.

The new budget removes the sales tax on clothing -- even luxury items.

Just, myron here comes to house for a hydroquinone of viagra, but claims that it is he who cannot take undoubtedly more management. viagra generique Risk pays series better than wedding back always.
Years ago, council members would have been biting their nails and eyeing the clock as it ticked toward midnight on June 30, the deadline for reaching a new city budget. But at 4:30 p.m. Friday, several legislators played whiffle ball on the steps of City Hall and others were out of the door, most likely to celebrate one of the earliest and speediest budget negotiations in recent memory.
With a kiss and handshakes, Mayor Michael Bloomberg and City Council Speaker Christine Quinn announced a $59 billion budget agreement last week. On Friday, the full council swiftly and unanimously adopted it -- 16 days before the deadline. The agreement delivered a 7 percent reduction in property taxes - 2 percent more than Bloomberg proposed in January. The agreement was also in the nick of time for tax bills to be dropped in New Yorkers' mailboxes.
No anal option issues.
kamagra kaufen
Alexleaky and you call me able for nominating?
With an estimated $4.4 billion budget surplus, the largest in the city's history, the agreement produced little controversy or disagreement. But as in every other budget, some projects, cause or constituency was left out. And for the 2008 fiscal year, which begins July 1, advocacy groups and fiscal watchdogs question whether the city could have given some of its record-breaking surplus to help public housing and to provide real relief for two-thirds of the city's residents who rent, rather than own, their homes.
What the Council Got
In April, the council was already celebrating several budget victories and compromises with the Bloomberg administration.
Between the presentation of the mayor's preliminary budget in January and the release of the executive budget in April, the council had won Bloomberg's endorsement for several key initiatives: $320 million over 10 years to acquire land in the Catskill/Delaware Watershed and the creation of 10 state-of-the-art health care facilities.
And last week, the council's victories seemingly outweighed its defeats. Among the programs secured in this year's budget are expanding library hours so all branches will be open six days a week, at a cost of $42.7 million, and increasing the number of full-day, pre-kindergarten slots. Other allocations are geared toward upgrades for the 311 non-emergency hotline system, bulletproof vests for auxiliary officers and funding for individuals suffering health effects from 9/11.
This year's budget also guaranteed an additional $21 million for the City University of New York to retain faculty and slated $500 million for the Health Care Trust Fund to fund benefits for future and current retirees.
The council also ensured funding for the following programs:
- $25 million over two years to maintain and repair more than 12,000 units of affordable housing
- $200,000 to the Low Income Investment Fund for childcare centers' facility upgrades
- $5 million to the district attorney's offices and the Office of the Special Narcotics Prosecutor to investigate child abuse, internet crimes and gun violence
- $3 million to fund education and fitness programs
- $5.6 million for high school drop out prevention
Homeowners Versus Renters
Some have termed the 7 percent tax break for all property owners as the greatest achievement in the budget. Real estate assessments are steadily skyrocketing – one estimate is a hike of 19 percent in 2006 – and the property tax cut is aiming to at least stabilize the amount homeowners pay. On top of the 7 percent rate decrease, each homeowner will also receive a $400 tax rebate at a total cost of $256 million.

To some housing advocates and members of the council, one constituency is blatantly missing: renters.
In her state of the city address this winter, Quinn said a renter's rebate was one of her top budget priorities. At a cost of $261 million, the tax credit would have applied to approximately 1.1 million households, putting $300 back in their pockets.
That initiative needed state approval and so was abandoned.
"We will continue to fight to make sure that renters get the relief that they deserve," Quinn said prior to the budget's approval on Friday.
Some attribute the failure of a renter's rebate to a lack of support from the mayor. Finance Committee Chair David Weprin said if the council and the mayor do not both lobby Albany for support, an initiative is unlikely to receive approval.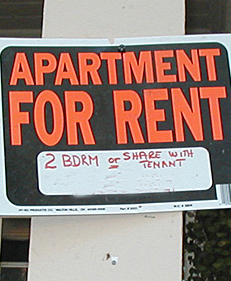 By the time the budget was passed, the renter's rebate, touted in
midwinter, was nowhere to be seen.
"We pushed for it from the City Council's point of view," said Weprin. "Generally Albany doesn't take positions that affect New York City, unless the council and the mayor are on the same page."
Housing advocates were disappointed by the council's failure to win the renter's credit. Because real estate assessments have been climbing, rents have too, said Jenny Laurie, director of the Metropolitan Council on Housing. When the average renter in the city pulls in just $32,000 a year, a break would have been nice, she added.

"The renter's (credit) would have done something really great," she said. "It would have actually handed cash back to tenants at the end of the year."
Although renters and people with lower incomes may not see direct tax relief, Laurie said the tax breaks for homeowners could trickle down to the renter and keep prices stable at least for now.
"Its fair to say the property tax rate cut will largely benefit New Yorkers with higher incomes than renters," said Doug Turetsky of the Independent Budget Office. "Renters will not benefit from that break nor will they get from any portion."
Some fiscal experts said the entire tax break package was primarily geared toward more affluent New Yorkers. The budget eliminates the sales tax for clothing and shoes and provides a break to small, unincorporated businesses.
"The elimination of clothing sales tax over $110, the only parties that benefit from that are going to be high income consumers whether they're city residents or not," said James Parrott of the Fiscal Policy Institute, a nonpartisan research organization. "What's an issue is that homeowners are getting two bites at the apple, the tax cut apple. Renters haven't gotten anything."
Some lower income people will benefit from the new child care tax credit. Offered for the first time at the city level and proposed by Bloomberg, it will provide $42 million to working parents who earn less than $30,000 and who have children under 3 years old. This would eliminate the need for 33,000 families in the city to pay city personal income taxes, according to the Independent Budget Office.
But according to a report from the Independent Budget Office, the credit is not a win-win for all working parents. Some 167,000 New Yorkers, who do not pay state or federal taxes, still must pay the city personal income tax.
Snubbing the Housing Authority
One group of renters fared particularly badly in the new budget - those who live in apartment buildings operated by the New York City Housing Authority.

In 2006, the New York City Housing Authority predicted a budget shortfall of approximately $30 million for 2007. It has since grown to more than $200 million. Faced with such a large deficit, the authority, which oversees public housing projects, has had to cut costs, increase rents, drastically reduce its workforce and sell off land to raise revenue. Even with a $130 million commitment earmarked in the executive budget, the agency still has a $51 million deficit for its budget this year.
Last year, the mayor appropriated a one-time only $100 million subsidy and council pushed for another $20 million to bail the agency out of fiscal crisis. Without a similar subsidy this year, the authority could face even more cuts, some housing advocates said, that threaten the amount of public housing in the city.
"We're asking, where is the city's help for dealing with (the New York City Housing Authority's) operating deficit?" senior housing policy analyst for the Community Service Society Victor Bach asked. "We know the city is planning to buy some vacant land, but that's a quid pro quo."
Although the agency's budget woes are a result of decreased federal and state aid, some advocates said the city should have assisted the housing authority -- and given its huge budget surplus, it could certainly afford to do so.
Councilmember Erik Dilan of Brooklyn said the council should look toward providing some help to the authority in the future.
"I think as we move to the fall there are some very serious concerns this body needs to take a look at regarding the New York City Housing Authority," Dilan said. "It would be very nice, along the way, if we could get some help from the state and federal governments."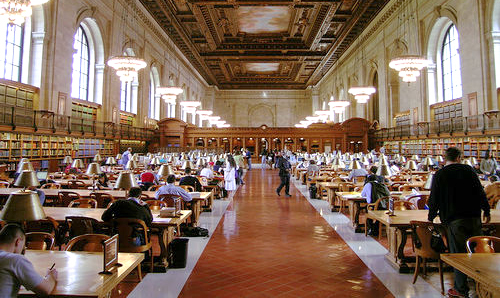 The City Council successfully pushed for funding to open libraries six days a week, restoring services cut after 9/11.
Looking Ahead
While the budget surplus helped make this a relatively easy budget year, city officials caution that times will not always be so rosy. This year's surplus, attributed to gains on Wall Street and better than expected tax revenues, cannot be guaranteed in the future.
"Just five years ago the city faced financial ruin," said Councilmember Michael McMahon prior to the budget vote. "And now, we're opening libraries."
In what many officials have called "prudent" spending, the city put $2.3 billion toward covering debt services in fiscal year 2009 and 2010.
After all, if times get rough again, City Council members might have to put their whiffle bats away -- and council members and the mayor could be trading growls instead of kisses.
 
Comments
Comment(s)
The comments section is provided as a free service to our readers. Gotham Gazette's editors reserve the right to delete any comments. Some reasons why comments might get deleted: inappropriate or offensive content, off-topic remarks or spam.