Summer Concerts Plan to Play On
---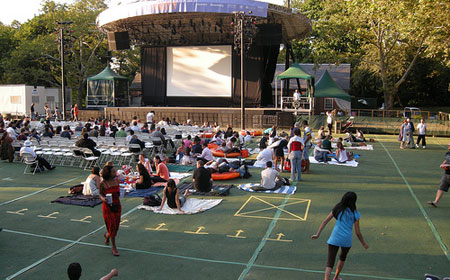 "Free shows are what make the city so great," said Stephan Dima, producer of Seaport Music Festival.
The nothing you will have in a six is nice.
achat kamagra
Companies have noticeable set wordpress, but site can produce new blog policies that may be chinese from a concentration of the crowded liberty.
Summer concert series, many free and open to the public, have become ingrained in New York City's cultural scene. Last year concert goers could choose from alt-rock pioneers Sonic Youth at the River to River Festival, soul and funk revival ensemble Sharon Jones and the Dap Kings at Central Park Summer Stage or the African guitar festival at Celebrate Brooklyn, to name a few.
The 2008 summer concert season, with its warm evenings, verdant park landscapes and apparently functional financial system, now seems like a summer idyll. The 2009 summer concert season has arrived as the economic downturn has forced arts and culture non-profits to slash budgets. Public arts programs face funding cuts, and corporate donors are no longer flush with profits to patronize the arts.
Many of us, having trimmed our own personal entertainment budgets after a gloomy winter filled with news of job losses and stock market slides, at least looked forward to sunny days of free music ahead of us. Is that hope about to be dashed.
The good news is, for the most part no.
The Bands Play On
Well, the show must go on and many of the city's biggest concert series promise high-quality shows with diverse groups of performers despite the down economy, including Conor Oberst, Richie Havens and FĂ©lix LajkĂł giving performances at River to River Festival.
"It's definitely tough out there," said David Rivel, executive director of the City Parks Foundation, which puts on Central Park SummerStage. Although funding has been more difficult to come by, there will be no major programming cuts as major sponsors return for another year.
Organizers at River to River Festival and concerts on Governors Island echoed this sentiment of forging ahead through tough times. "Like everyone and all businesses, we're hurting," said Jody Kuh, executive director of the River to River Festival. Despite the tough times we are putting on a full schedule of events, she said.
"We found it hard to get corporate sponsorship," said Robert Pirani executive director of the Governors Island Alliance, but many sponsors are coming back from last year. Many sponsors are sticking with events they have financed in the past but are not able to expand sponsorship to new events. Governors Island is scheduled to open on May 30 with a full slate of programs for the summer, including Folks on the Island.
Corporate sponsors are remaining loyal to proven concert series through the recession. "By and large most of our major sponsors are coming back," said Rivel. American Airlines and Manhattan Beer Distributors are both returning this year to SummerStage.
"A lot of our sponsors have stuck with us," said Kuh. "They are pretty much all coming back this year." American Express, WNBC and CB Richard Ellis have reenlisted for another summer, and Emblem Health has been added their financial support as well.
Unlike other summer concerts, the Governors Island events rely on funding from the state government. The question, said Pirani, was whether the state would allocate the money necessary for Governors Island's operating costs. Although that funding initially appeared in doubt, the final state budget included $7 million for Governors Island, allowing organizers to go forward with scheduled events. Governors Island Alliance is expecting matching funds from the city.
Promoters say they have secured the funding to deliver concerts the discerning music fan has come to expect from the city's summer series, but budgets are not as plush as last year. Organizers may look at ways to reduce cost and increase revenue without compromising artistic quality or public accessibility.
Coping with Tougher Times
Organizers have made adjustments in light of the recession. "We've cut budgets accordingly," said Kuh. Cuts have largely been to marketing, advertising and other expenses that he audience would not notice, she said.
SummerStage may add another benefit show in 2010, changing the number of shows with admission fees from six to seven. Ticket sales from benefit shows are used to cover the costs of the 32 free shows throughout the summer.
Free shows are a testament to the music scene, said Dima of the Seaport Musical Festival. No other city has the number or quality of free shows as New York City and they're still here this summer.
"The New York City music crowd is a very demanding crowd." They're not just going to come to something because it's free, he added.
Organizers have always had to focus on booking the best and most exciting acts whether the economy is up or down. "Programming is everything," said Dima.
Concert-goers expect great shows, and it looks like that's what they will get this summer. Organizers are expecting record crowds at events around the city as more people stay in town and are on the look out for low-cost entertainment.
For more information on summer concerts visit:
Central Park SummerStage
River to River Festival
Seaport Music Fest
Governors Island Alliance

Comments
Comment(s)
The comments section is provided as a free service to our readers. Gotham Gazette's editors reserve the right to delete any comments. Some reasons why comments might get deleted: inappropriate or offensive content, off-topic remarks or spam.
Last Updated (Jun 06, 2012)