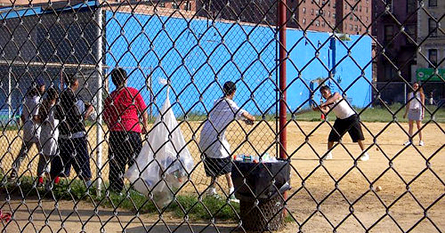 Kids Playing Baseball in Harlem
That which ails society as a whole is usually at crisis level in the poorest neighborhoods and communities of color. This is particularly true when dealing with issues of health. Ailments such as diabetes, hypertension, stroke and AIDS occur at alarming rates in Harlem, the area I represent in the New York City Council.
A 2004 report by the Department of Health and Mental Hygiene illustrates the significant correlation between income and health. For instance, those who live in low-income neighborhoods are more than six times more likely to contract AIDS than those who reside in higher income neighborhoods. Likewise, low-income residents are more than three times more likely to have diabetes and suffer from a stroke.
The relationship between an individual's income level and their physical condition exists for a number of reasons.
First and probably most importantly, the overwhelming majority of low-income families have poor or no access to preventive health care. Annual visits to the doctor can often prevent serious illness or deteriorating health conditions.
Poor eating habits also play a key role. Many neighborhoods in New York City are in desperate need of grocery
Public School Yards Should Be Open to the Public
By Gale Brewer
On weekdays, the schoolyard at PS 9 on West 84 Street in Manhattan buzzes with students climbing on the jungle gym, skipping rope, and playing basketball. But on the weekends, the scene is different; the playground is empty and the gate to the yard is locked.
It was not always this way. In years past, the schoolyard was open on evenings and over the weekends and neighbors used the area as a place to play with their children and to meet with one another.
This is also the case in more than 700 other schoolyards across the city. All of the underutilized schoolyards occupy approximately 948 acres of public land - an area greater than that of Central Park.
Despite a clear lack of recreational open space for residents, the Department of Education has closed most of its schoolyards to the public during the evenings and on weekends. In fact, 73 percent of all Department of Education schoolyards lie empty when school is not in session.
The citywide closure of playgrounds has occurred only in the last ten years. The exact rationale for closing schoolyards to the public seems to be unclear, but in most cases, the policy has persisted with little resistance.
And although the majority of schoolyards are closed to the public outside of school hours, roughly 300 schoolyards across the city do remain available to the public when children are not in the building. The majority of these are operated by the Department of Parks and Recreation, although additionally almost 25 have been "adopted" for operation by the Trust for Public Land, a national nonprofit land conservation organization.
As more and more families are denied access to outdoor recreational spaces, it has become increasingly challenging for parents to promote their children's physical health.
Designating or creating new public space in New York City is an enormous challenge, requiring us to be creative in our effort to provide residents of all neighborhoods with access to adequate recreational facilities.
Let's open our public spaces to the public and give New Yorkers the space they need.
Gale Brewer represents the Upper West Side district 6 in the New York City Council
stores that offer more quality foods. Unfortunately, some residents only can shop at smaller stores that do not offer many fruits, vegetables, or other healthy foods. Likewise, nutritious food is often more expensive, which is why many parents purchase items with little nutritional value, such sugar-filled fruit drinks, rather than real juice.
Finally, too many New Yorkers ignore the benefits of exercise, particularly for children who are forming the habits that they will carry into adulthood. Physical fitness classes in our schools have become more lax, and we have simultaneously allowed our children to spend more and more free time on the Internet, playing video games, or watching television. There is little green space in many of our neighborhoods and what we have is often not maintained.
The only solution to this growing health crisis is to educate and engage our communities in healthy practices, beginning with young people.
HEALTHY EATING
Studies have shown that 27 percent of New York City's kindergarteners are obese and 15 percent are overweight. It is likely that these children will grow into adults who continue these unhealthy practices, causing harm to their own bodies and risking the well-being of those who depend upon them.
City agencies and various community-based groups have been gradually developing and implementing programs that will hopefully help us put our community on the track to good health. And fortunately, we are beginning to see these initiatives take shape.
Dr. Gregory Hodge, who is the principal of the Frederick Douglass Academy in Harlem, has created an evening cooking class for both parents and students. This class is geared toward teaching how to cook healthy and fulfilling meals while also increasing the interaction between the parents and the school itself.
The world-famous Sylvia's Restaurant and North General Hospital have taken a similar course of action. These two local establishments have joined forces to create a cooking curriculum that will be implemented in public schools. This program also has the goal of teaching high school students how to diet properly, which can affect one's performance in the classroom. The curriculum will teach children how to tweak familiar foods and recipes in order to make them healthier. The program is still in the planning stages, but when it is complete it will act as a model, giving students the ability to prepare savory foods that are also healthy.
A coalition of health organizations and philanthropists have also created the Healthy Schools Program, designed to improve the nutritional value of food served in cafeterias, increase physical activity during the school day and after school, and implement classroom lessons on healthy lifestyles.
City agencies have created innovative ways to promote healthy living. For example, the Department of Mental Health and Hygiene recently encouraged the owners of small grocery stores in Harlem to sell low-fat milk. Historically, stores in Harlem have been reluctant to sell low-fat milk because they felt that it was not in demand. City officials helped with the promotion and even gave out free samples to children and their parents. The response was very positive and a number of small grocery store owners have recently committed to buying low-fat milk in the future.
PROMOTING PHYSICAL ACTIVITY
We must also make a push to increase physical activity in our schools.
As a City Council member, I have received numerous complaints about the shortcomings of gym classes in our public schools. Overcrowding, lack of gym or classroom space, poor equipment and inadequate lesson planning have created an environment in which physical activity is no longer emphasized. Schools must begin to implement physical education programs that are more demanding, and it is essential that these classes take place five times a week.
Programs such as S.P.A.R.K. (Sports, Play and Active Recreation for Kids), a school based program that promotes physical activity, should be used as the model in engaging our children, parents and teachers in different types of physical activity that will strengthen both their body and mind.
HIV EDUCATION
HIV/AIDS continues to be a problem in the New York City, particularly in low-income neighborhoods.
The mayor's office has taken a tremendous step by setting in place a curriculumthat seeks to educate young children on this particular topic. It is well documented that prior to this initiative the city was falling far short of its mandated responsibility to educate students in grades K through 8 on health, particularly HIV and AIDS awareness. Moving forward, we hope that this new initiative will make children more aware of their bodies and the responsibility that comes with having sex.
I hope we will continue to create innovative ways to encourage New Yorkers, both young and old, to take proactive health measures that increase their chances of living a long and productive life.
A COMMITMENT TO THE FUTURE
With all of the negative things that are taking place in our nation and New York City, we must work to correct things over which we have direct control. Preventive health programs are a necessity for all New York City residents, and we must encourage proactive health initiatives in low-income communities.
We must not allow socioeconomic level be a deterrent from healthy living. Healthy schools and parents create mentally and physically sound children that will one day affect the path of our beloved city and great nation.
Inez Dickens represents district 9 in the New York City Council.
Â