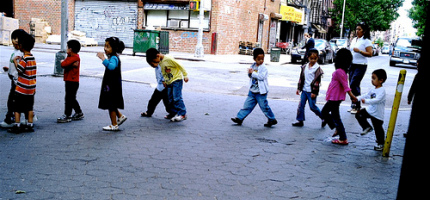 For many, physical education class meant enduring the pain of a dodge ball to the gut or the dread of being picked last for basketball. It's no wonder there was little outcry over the past 30 years as physical education gave way to math, science and reading classes. Today, though, PE, as it was called, might be making a comeback.
Since the city's fiscal crisis of the 1970s, the physical education budget has been cut in half. As parents, educators and politicians focused on how to improve poor academic performance and the quality of the public school system in general, the emphasis on gym class diminished. At the same time, the childhood obesity rate began to rise across the country, more than quadrupling from the 1960s to today. Now, almost half of New York City's elementary schoolchildren are overweight. Of those, one in five, including kindergarten students, is obese, according to a 2003 survey conducted by the New York City Department of Health and Mental Hygiene with the Department of Education.
Video games, computers, fast food and more sedentary lifestyles deserve much of the blame, said a spokesperson for City Councilmember Robert Jackson, chairman of the Education Committee. But, she said, "Change in the mindset of the Department of Education to emphasize math and reading test performance above all else combined with school overcrowding and lack of or inadequate gym facilities" are also factors.
"They keep telling us to stay physically fit, but they're not practicing what they preach," said Kelly Zito, a parent at PS 42 in Staten Island. "They push testing all the time. You can't promote health and fitness and not devote any time to it."
A New Type of PE?
To improve fitness levels among schoolchildren, in 2003, the Department of Education created the Office of Fitness and Physical Education. Director Lori Rose Benson has implemented Physical Best, a new curriculum that shifts the focus of physical education class away from competitive games, toward exercises and activities that help students improve their fitness levels and learn about the benefits of physical activity.
Schools also participate in NYC FitnessGRAM, an assessment of each child's fitness and health level that compares the students to the national standards for their age group. Kids in kindergarten through third grade are assessed only by their Children's Body Mass Index "BMI" (height to weight ratio). The kids in higher grades are tested in endurance, strength and flexibility. The schools send the results to the parents, with suggestions to maintain or improve their child's weight and physical abilities.
Both parents and physical education teachers applaud the programs.
"It was a rude awakening, but I liked it," said Zito, whose child was considered "overweight" based on her BMI result. Her family has been exercising and walking more since they got the report.
Alison Ryan, PS 42's new physical education teacher, likes the creativity of the curriculum. "I try to keep the kids moving as much as possible and make the best use of the limited time," she said. It also helps that she tells the kids why activities that they do, like aerobics, strength training and stretching are important.
Sedentary Students
Now that these school programs have taught parents and kids how important physical fitness is, many of them would like the schools to devote more time to put these lessons into practice.
A 2004 study by Public Advocate Betsy Gotbaum's office randomly sampled 100 elementary schools (20 per borough) about the amount of time devoted to physical education classes. Almost all of the 100 schools were in violation of state laws requiring elementary school students to attend physical education classes at least 120 minutes per week, spread over the five days. This does not include time spent in dressing rooms, showering or recess time.
Bernadette Riotta, PTA president at PS 42 in Staten Island was shocked when she heard about the state requirements. When her two kids, now in second and fourth grade, started school they had no gym periods at all.
"They had 'allotted time slots' for gym once a week. But, it was up to the teacher whether to take them or not, and most of them didn't bother to do it," Riotta said.
After years of pleading by the PTA, the school, under the leadership of a new principal, finally got a dedicated gym teacher two years ago. Now the kids get one 50-minute class per week, still below the state standards.
Director Benson herself admits the city is not complying with the state rules. Although the NYC FitnessGRAM program, which collects the information in a database, has garnered praise, it has no effect on the amount of time devoted to physical education classes. "The assessment doesn't measure the quality of the school's physical education program or its physical education teachers," she said. "It is purely to help students and their parents individually to incorporate health and fitness into their lifestyle."
The public advocate questions the value of the FitnessGRAM program unless school accompany it with additional gym time. "While assessment measures and tests are important for gauging student progress, the Department of Education needs to make sure that schools are providing students with the amount of physical education required by the law," her office said. "I don't see the point of investing resources in another test before students have access to the physical education they need."
Â